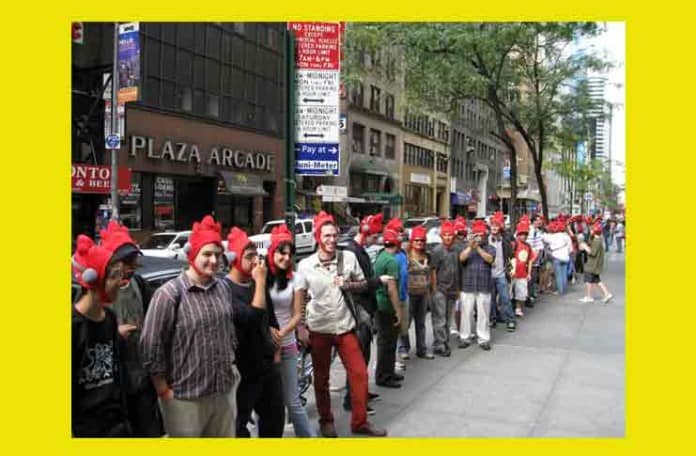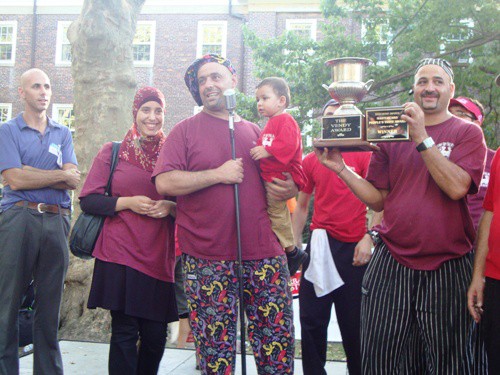 The King of Falafel & Shawarma won the 2010 Vendy Cup and was recognized as the best street food vendor in New York this year.  Not only did they win the Vendy Cup, which is voted on by a panel of judges, but they also won the MasterCard People's Choice Award, voted on by everyone attending the Vendy's.
Freddy (above, holding his grandson) started his cart in Astoria 8 years ago, and this was his 3rd time as a Vendy Finalist.  Third time was definitely a charm for the King of Falafel & Shawarma!
King of Falafel sandwich
That's a nice one-two punch for Freddy and Company, who are also the current NYSF Featured Vendor.  You can read our recent interview with Freddy here.  We had a falafel sandwich from there today, and it was wonderful.  Nice flavorful falafel in a pita with jalapeno, pickles, lettuce, red onion, white sauce and I added hot sauce. It's not hard to see why they won the Vendy Cup (picture above).  Congratulations to Freddy and Company.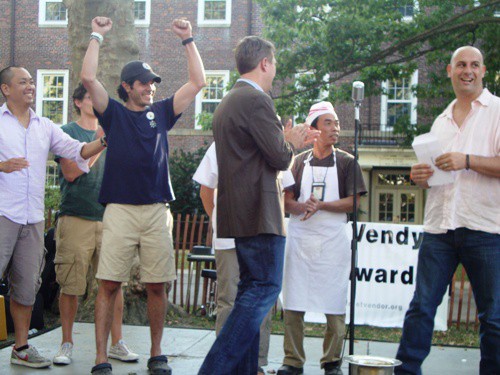 The Dessert Category was won by the Kelvin Natural Slush Co.  Kelvin Slush was the perfect accompaniment for the Vendy Awards today because it tasted great, cooled you off, and didn't fill you up.  There were so many vendors to try, the "taste great, not filling" drink was just right in mid-80 degree weather with a lot of food to eat.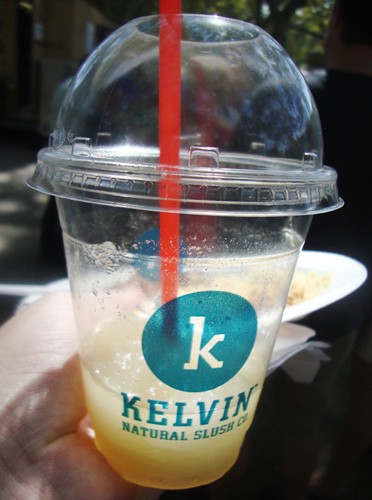 We started the day with a slight variation of their Vendy Special – 1/2 ginger, 1/2 citrus and we asked for carmelized pineapple instead of blueberry.  Unfortunately, we drank most of it before remembering to take a picture, but take our word for it, it was delicious.  If you want to read our first review of Kelvin Slush, click here.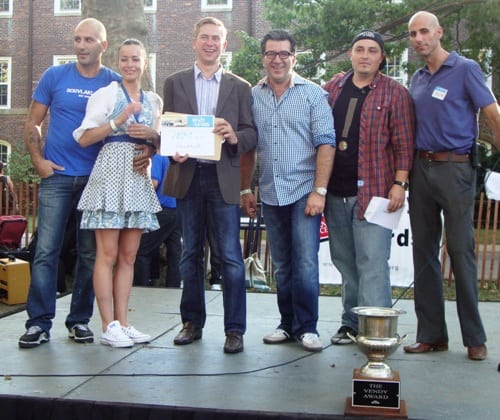 The Rookie of the Year Vendy Award was won by Souvlaki GR, which was sweet music to our ears.  New York Street Food was the first one to write about Souvlaki GR, and we have gotten pretty friendly with them, as they are very appreciative of our early support.  Sometimes your babies grow up so fast!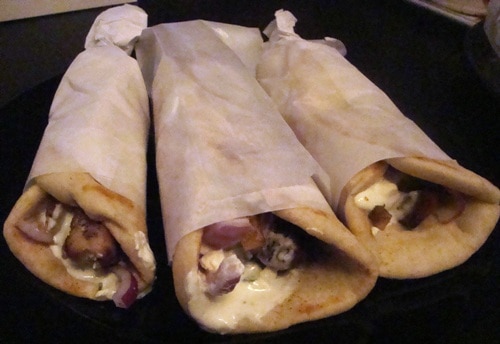 We didn't have any souvlaki today because it had the longest line of the Rookie Vendors – and we just went to the Souvlaki GR truck last weekend!  For a full review of Souvlaki GR, click here.
Congratulations to Pavlos, Abby, Kosta and the Souvlaki GR team.  We knew you could do it!
Now we need to shower and rest.  Check back tomorrow for a full review of the Vendy Awards and write-ups of the other Vendy Finalists, who were all amazing.