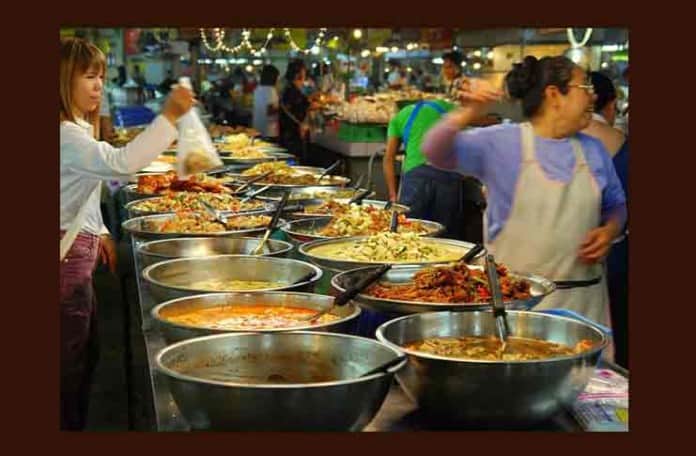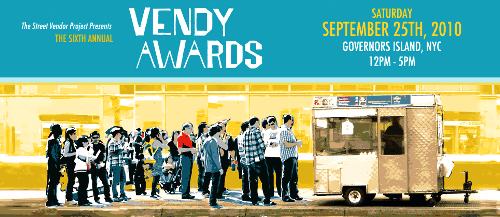 In addition to the Vendy Award finalists
voted on by the public
, the Vendys people usually try to nominate one vendor who is not well known to the midtown or downtown hordes.
In 2009, Country Boys Tacos was not well known to people in Manhattan, and their winning of the Vendy Cup brought a lot of attention to them, as well as to all of the Red Hook Ballfield Vendors.
Last year, Patacon Pisao, a Venezuelan food truck that makes patacones, was a worthy Vendy Award finalist they found all the way uptown in Inwood.
The Vendy Awards people recently took a stroll along Roosevelt Avenue in Queens looking for potential nominees for the 2011 Vendy Awards, which are being held on Sept 24th.  They were joined by Queens-based foodie, Jeffrey Tastes of I Want More Food.  (With the last name of Tastes, I guess Jeffrey's line of work was pre-ordained.)
Jeffrey wrote a guest post about the experience, with the highlights featured after the jump.
From Jeffrey Tastes:
I was excited to take the Vendy's crew on a scouting tour of Roosevelt Avenue.  These vendors don't generally participate in food events throughout the city, so I was happy to take this crowd here to experience it in person.
We started the tour at 90th St. and aimed for an ending at 111th St.
Here were our highlights:
Coyote Dormilon (92nd St.) – The two ladies run the most likable taco cart in Queens, in my opinion. When they aren't stepping on a block of wood trying reach the griddle, they are flattening masa to make fresh tlacoyos, flautas, or quesadillas. Many in our crowd LOVED the tlacoyos, but by the time I finished sampling papalo leaves from the truck on 91st St., the tlacs were all gone. I can attest to the quesadillas being creamier than your average version (and way better) and the fresh herbs growing at the cart are something I haven't seen at any other taco location.
Guayaquileno (on Warren St., south of Roosevelt) This is one of the most successful street businesses in the area, in my opinion. With its mothership on Corona Ave, I believe they operate 4 trucks. On the night of our tour, this traveling Ecuadoran restaurant was definitely on their game. We ran the menu with guatita, seco de chivo, carne asada, fish soup, and other items. Thumbs up on all ends. Someone handed me a bowl of rice with tripe gravy leftovers. I'd have been happy to eat that all night — great rice. (NYSF Note: We enjoyed food from one of their trucks on 37th St & 6th Ave, before the police crackdown in midtown chased them back to Queens.)
On 102nd St. and just south of 43rd Ave. is a Dominican truck that operates only at night. I'd seen it before during the daytime, always closed, and only weeks before the tour was the first time I'd been witness to it in operation – and the small crowds that regularly hang out there. This was the stop I was most looking forward to exploring.
Other than chinolas (maracuya aka passion fruit drink) and a very interesting oatmeal and lemon drink, a couple of patacons were ordered. I heard praises from the crowd about how nice a plantain was as a substitute for bread, but the most jaw-dropping order of the night was the Yaroa.
This could get legendary. Inside a styrofoam boat, the yaroa is a layer of mashed maduros, topped with a mesh of chicken and pork, then squirted with extra heavy mayo, ketchup, pink sauce, and more. The thing weighs minimum 2 pounds. It would be hard to imagine just one person eating it, or being appetizing after a night of drinking, but it's definitely is something mysterious, dangerous, and rare – you'll probably want to experience one in person. They also make a french fry version, I'd like to see what that's about.
There are 3 tamale vendors on the north side of Roosevelt between 102nd and 103rd St, and while the majority of our crew took to the initial dude, I held off. I have this aversion to the cool kids table – I'm attracted to the under-appreciated and downtrodden, so I held out. About 30 feet after the first vendor, I saw this native looking lady, no sign and operating out of a shopping cart – my foodie senses started tingling…
Best tamale I've ever had.
I loved having the Vendy people with me because they know Spanish and are interested in getting the inside scoop on the vendors. The tamale lady said she is out there from midnight til 8am. Maria is Ecuadoran with three children. They interpreted my question: why are her tamales are so much better than the others, and she said it must be the seasoning. Then with further prodding, she said it is probably the lard. That makes sense. They were extremely creamy and delicious. Members of our crew ordered bunches to bring home. You gotta check her out.
I've been going to the Amigos truck west of 111th St. on Roosevelt for about a year – it was the truck I wanted to show the crowd the most. By this time, though, we were mostly full and knew we had to keep the ordering concise.
I always get the carne frita with moro (fried meat with rice & beans), but another friendly customer recommended that we get the combo which is shrimp & meat sauteed with white wine sauce. It's creamier and was favored by most of the group, although the savory and simple carne was more of my preferred taste.
We found out that this truck has been there for 20 years. It's a chimi truck, but the owners are Colombian, as evidenced by the Colombian flag lining the skirt-area of the truck. One thing I always notice here is that the customers are frequently big dudes. I'm usually one of the taller people on Roosevelt Avenue, standing at a towering 5 foot 10 inches on a good day, but here I'm quite dwarfed. I believe a large portion of the crowds on the avenue are people getting off work from the service industry. Here, it might be those in security. It's one of the more expensive trucks on the avenue, so I wonder if the dishwashers are being priced out.
The scouting tour made major headway in our knowledge of Roosevelt Ave. We still have a lot more to do, though, because these vendors are ever-changing. My hopes are to give these great trucks the attention they deserve and to learn more about the street life myself. I also hope more of you can explore and tell me what's good! Thanks for coming along, we're not done.
Make sure you follow @VendyAwards on Twitter for updates and other food truck news or on Facebook: Facebook.com/VendyAwards.
The awards take place in NYC September 24th!