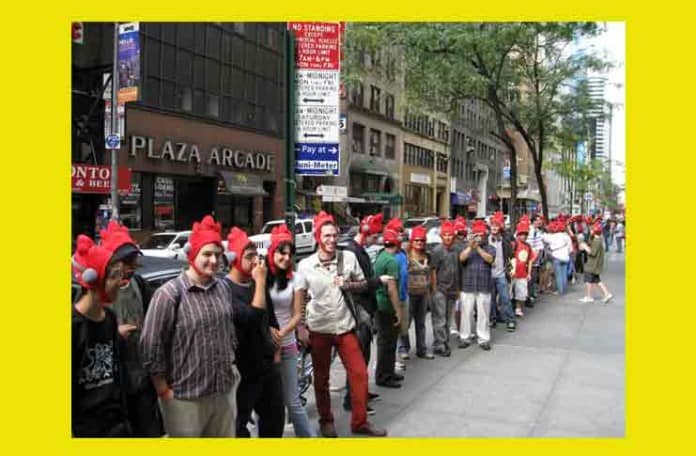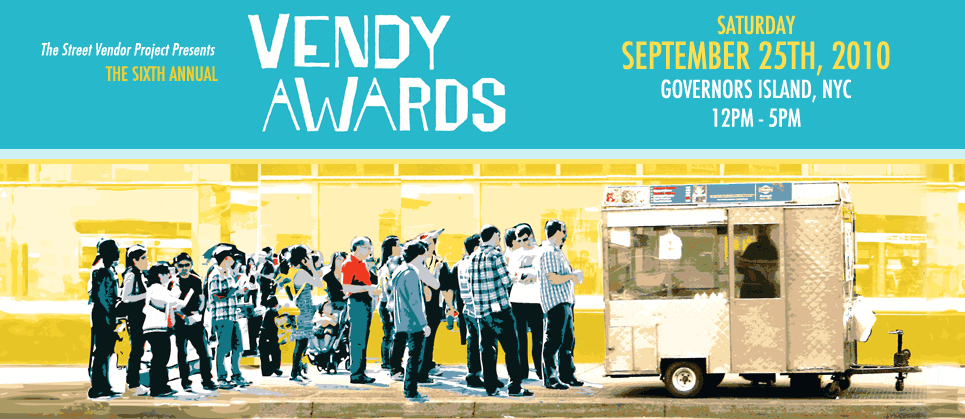 The final Vendy Award nominees were announced today – for Rookie of the Year.  Last year was the first time there was a Rookie of the Year category, and the winner – Schnitzel & Things – has moved up to the main Vendy Award category this year.
This year's Rookie of the Year nominees are (in alphabetical order):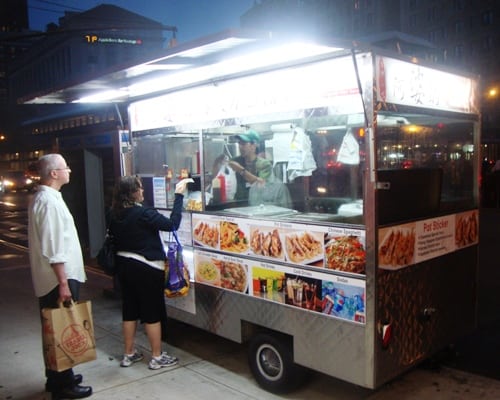 A-Pou's Taste: We have not yet had the opportunity to try the Taiwanese pot sticker dumplings of Wen Pin, who named the truck after his grandmother.  Here's a quote from the Vendy Award website: "My life is better because of these pot stickers. Even during this hot summer, I looked forward to eating here several times a week and inhaled a plate of 10 with joy. The vendors are incredibly nice. This is an excellent addition to the street food world in NYC.".  They are in the East Village (Astor Pl & Lafayette St) and Financial District (Broadway & Liberty St) from 11:00AM ~ 10:00PM and their twitter address is @Apouspotsticker.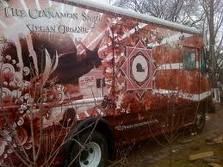 Cinnamon Snail: Adam Sobel started his organic, vegan food truck last year, and it usually operates in Hoboken and Red Bank, NJ, although he did make it into the city for the NYC Food Film Festival and Parked.
Adam's donuts and pastries are amazing, and his savory dishes disprove the notion that vegan food has to be bland.  Adam loves using those chili peppers, and creates intricate and complex dishes using a whole host of organic and vegan ingredients that you would never know were. twitter@veganLunchTruck and website www.cinnamonsnail.com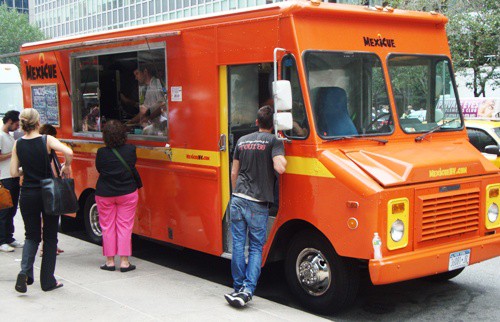 Mexicue:A combination of Mexican and barbecue – what's not to love? David Schillace and Thomas Kelly serve up short rib tacos, smoked chicken sliders, chorizo tacos and pulled pork sliders.
However, if you want to know just how good they are, we're huge carnivores, and our favorite dish from Mexicue is their bbq beet tacos. twitter @Mexicue and website www.MexicueNY.com
Souvlaki GR
Souvlaki GR: Our interest was piqued ever since we ran across a tweet that said "Souvlaki truck passed it's inspection today…so proud, we are.  Gettin' ready, folks! Guess i better crack open my "twitter for dummies"!"  We've been in touch with Abby, Pavlos, Kosta and their gang since before they hit the streets, and found out that we live in the same neighborhood too!
Once Souvlaki GR was out on the street, we've enjoyed some great, authentic chicken souvlaki, pork souvlaki, and beefteki.  Don't forget to order the Greek fries with crumbled feta, thyme and oregano. twitter @ souvlakitruck and website www.souvlakigr.com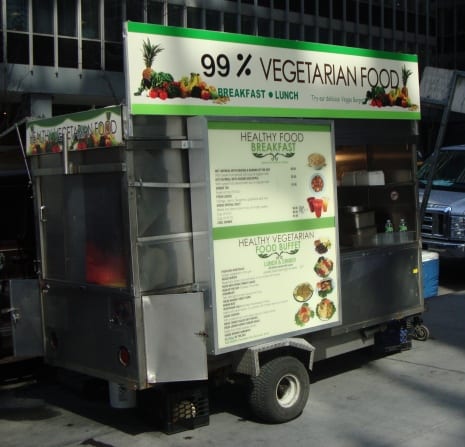 99% Vegetarian Food: We were lucky enough to try 99% Vegetarian in midtown back in March, before they decided to move downtown for good.  Brothers Michael and Sergio Susano are now permanently stationed in the Financial District.  For everyone who asks what the other 1% is, the answer is chicken!
We enjoyed a sampler plate of their vegetarian chili, curried tofu scramble (which looked and tasted just like scrambled eggs), and our favorite – the mashed sweet potatoes.  Yum!
Congratulations to all the Vendy Rookie of the Year Finalists.  We look forward to seeing (and tasting) you at the Vendy Awards on Sept 25th.