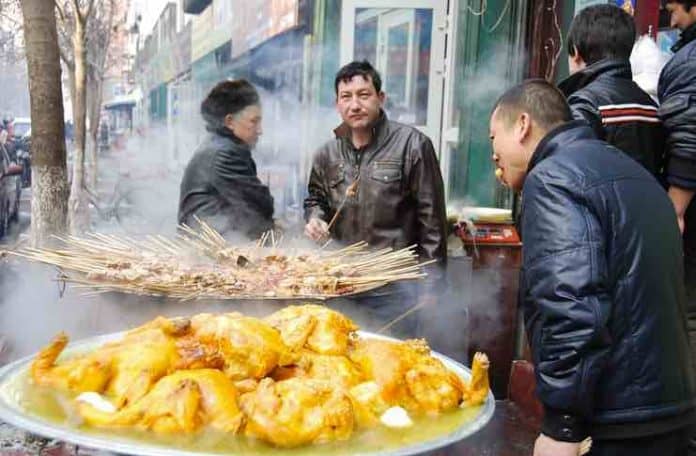 Just because you're vegan doesn't mean your diet has to be boring. Check out this guide to vegan street food for great recipes.
Veganism is one of the fastest-growing dietary choices in the world, and for good reason. 
Some people do it for health reasons, some because the idea of killing and eating animals simply doesn't sit well, and some for environmental reasons. Many people do it for a combination of the three. 
Whatever your reason for going vegan, it doesn't mean you're stuck eating salads for the rest of your life. 
As veganism grows, so do your options for eating delicious food.
One of the biggest growing food trends in the country is street food, a culinary style that's been commonplace in many other countries for hundreds of years but is only recently gaining popularity in America. It only makes sense that the growing choice of veganism should blend with the growing trend of street food. 
If you're wondering how to go about making vegan street food, you aren't alone. That's why we're here. 
Welcome to your ultimate guide to making vegan street food. Read on for some of our favorite recipes that will have you tasting global flavors without breaking the bank or harming our planet. 
Asian Street Food
It would be a sin to talk about street food without giving you recipes from Asia, a continent rich in cuisine and one of the best places to find incredible street food. Much of Asian street food is naturally dairy-free, which means that usually making vegan street food is as simple as replacing the primary protein with a vegan alternative.
You can find so much amazing vegan Asian food at a good vegetarian restaurant but if you want to make it yourself, read on. 
Vegan Bao Buns
Bao is a hugely popular street food that is attributed to Taiwan but is found in many other Asian countries as well. A bao bun is dough that has been steamed into a bun and sliced open. Traditionally it is stuffed with pork belly or duck, but the protein varies depending on the country you're in. 
For a delicious vegan alternative to this classic street food dish, stuff your steamed bun with this bbq jackfruit recipe. Once you add the jackfruit to the piping hot but, cool it off with some fresh veggies. We recommend finely shredded cucumber, turnip, spring onions, shredded cabbage, and chopped peanuts. 
Add some chili sauce or chopped fresh chilis if you like it spicy.
By the way, Bao Buns with chips on the side, but since I'm into vegan products only in the last few years, I prefer vegan-friendly chips.
Vegan Banh Mi 
Banh Mi is the quintessential Vietnamese street food, with those warm baguettes of deliciousness being sold on every corner of major cities and stealing the heart of our late beloved Anthony Bourdain. 
Banh mi is traditionally served with chicken, pork, beef, or even egg in the morning, and usually includes pate, a paste made out of liver, and is heavy on the mayo. Basically, it contains everything that isn't vegan. 
But where there's a will, there's a way, and we found several delicious vegan alternatives. 
The first alternative involves using chili cauliflower as the main ingredient. Chop up some cauliflower, marinate it in a chili garlic sauce, and saute those bad boys. Another delicious alternative is seared tofu. 
Make sure that tofu is deliciously sauced and then sear it in a pan before sliding it into that fresh bread.
No matter what your protein alternative is, keep in mind that you'll need vegan mayo (we like to add sriracha to ours to keep it spicy). The other banh mi essentials are pickled carrots and radishes, cucumber, fresh jalapenos, and cilantro. Stuff these all inside a warm baguette and you have yourself a delicious vegan banh mi. 
Vegan Satay or Chili Skewers
Skewered meat is one of the most popular and cheapest street foods no matter where you are in Asia. 
Every street you turn down you'll find somebody with a grill and some raw meats or vegetables on skewers just waiting to be sauced up and grilled to order. 
This classic street food is one of the easiest to make vegan at home, and also one of the easiest vegan street foods to find while visiting Asia. Simply swap out the meat for your vegetable or alternative protein of choice.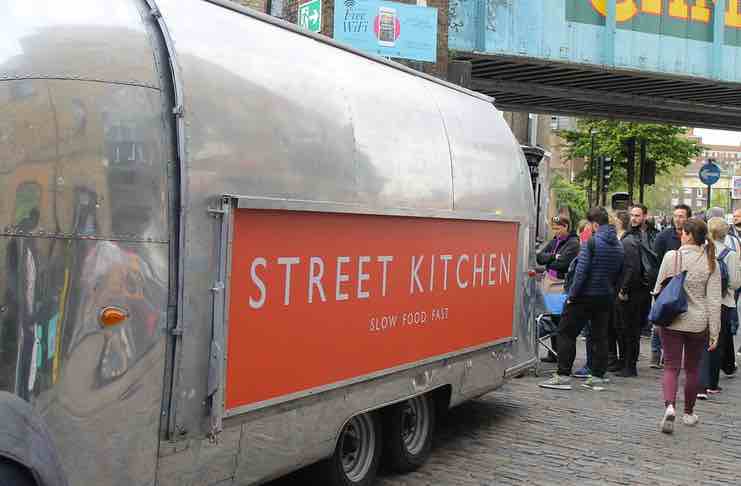 Some of our favorite alternatives include mushrooms, broccoli, and tofu. As for the sauce, if you're feeling spicy slather it in a chili sauce before grilling it up. The other main sauce for skewers is a satay peanut sauce. It's delicious, savory, and not too spicy.  
Latin American Street Food
Another part of the globe that immediately comes to mind when talking about street food is Latin America. Whether you're in Mexico, the Carribean, or South America, street food is prevalent and delicious. It's also very meat-heavy. But don't worry, we have plenty of delicious vegan street food alternatives for you.
Vegan Arepas
Arepas are a simple and delicious snack popular all over South America, but especially in Colombia, Ecuador, and Peru. The arepa at its most basic is simply corn flour, water, cheese, and salt, rolled up into balls and then pan-fried or grilled.  
As a simple snack, this is all that's required. They are often combined with grilled meat or vegetables for a heartier meal. 
Our favorite vegan version of the traditional arepa swaps out the ricotta cheese for a vegan cheese alternative, and add roasted vegetables. Slice up some onions, bell pepper, chili pepper, and throw in some corn kernels. Roast them all up and throw them on top of your freshly fried arepas. Delicious!
Vegan Elotes (Street Corn)
Elotes are the ultimate street food. Their English name literally has "street" in the name. It's such a popular street food item because it's inexpensive, easy, and irresistibly delicious. 
Street corn is easy to make and even easier to make vegan. First, find yourself some sweet corn (still on the cob) and grill it up. Once it's lightly charred, sprinkle some cayenne pepper all over it. This is where we stray from tradition, as cojita cheese usually goes on next. 
To make elotes vegan, simply leave off the cheese or use a vegan alternative. Follow that up with a vegan chipotle sauce and fresh cilantro. That's it! It can be served either still on the cob or with the kernels shaved onto a plate or a bag. 
Vegan Street Tacos
We can't talk about Latin American street food without mentioning street tacos, the delicious treat good for breakfast, a midday snack, or drunken munchies. While street tacos are traditionally soft corn tortillas filled with whatever meat or fish your heart desires, these are ridiculously easy to make vegan.
No matter what your vegan alternative, you're going to want to stick with tradition and top these street tacos with guacamole, chopped onions, and some fresh cilantro. If you want quick and simple, grilled vegetables are the easiest alternative, and super delicious.
If you're feeling more adventurous, a delicious alternative is fried avocado. Slice up some delicious avo, lightly bread it, and fry it up to perfection. Another favorite meat alternative is pulled jackfruit, sauced up to perfection. 
American and Canadian Street Food
We may not have invented or perfected the art of street food in America, but we certainly have some greasy favorites. If you don't feel like sending your tastebuds on a worldwide adventure, we have some great vegan street food alternatives to some American and Canadian classics.
Vegan Corn Dogs
America's answer to Asian skewers, we took meat on a stick and deep-fried it! The traditional corn dog is simply a hot dog covered in a corn flour batter and deep-fried. Easy, greasy, delicious. 
For an easy vegan alternative, swap out that processed meat stick for a vegan hot dog. Or if you want to go even healthier, try swapping out the vegan hot dog for a roasted carrot! Either way, simply slather that thing in cornflour and deep fry it up. 
Vegan Poutine
If you haven't had poutine before, you're missing out on street food at its gluttonous glory. This Canadian dish consists of french fries topped with cheese curds and then smothered in brown gravy. Lucky for us vegans, I found an alternative that might be even more delicious than the original. 
The alternative is simple. Swap out the cheese curds for a vegan mozzarella. Make sure the cheese is firm so it can be scooped into balls to represent the cheese curds. Next, use a vegetable brown gravy. Fry up those fries in a skillet, drop the cheese balls on top, and once they've started to melt a bit, pour that gravy all over.  
More Vegan Street Food Tips and Beyond
These were just a few of many vegan street food recipes that are out there. Lucky for you, it's easy to whip up some delicious vegan street food without even looking up recipes. 
Street food is usually fairly simple, and so is a vegan alternative. Most times you can simply swap out the meat for a vegan alternative like tofu, jackfruit or cauliflower. 
For even more delicious street food, whether you're a vegan, vegetarian, or full-blown carnivore, we have it here. Everything you need to know about street food is at your fingertips.