If you're looking to seeing iconic food venues while visiting in New York City – you could consider doing a few New York Food tours. We came up with a list of 10 of our favorite places, this includes top restaurants, steakhouses, delis and pizza places. By visiting these, you'd be sure to get a taste of a wide variety of New York's finest cuisines in unique and interesting settings.
Here's our Take on New York Food Tours:
One of the key foods associated with New York, is pastrami, and there's no better place to taste it than at Katz's Delicatessen, which was established in 1888 You can purchase Katz's Pastrami Hot Sandwich which is smoked and juicy, or perhaps a half sandwich with matzo ball soup. For dessert there are cheese cakes, layer cakes, fruit and filling pie and cookies.

Photo by Beyond My Ken

Patsy's Pizzeria was one of the first to open in the city. It's based in Harlem and opened in 1933. It uses coal ovens which makes the pizza have a slight unique delicious chargrilled taste. Make sure you have your sound turned up, if you visit their website; Frank Sinatra, Dean Martin and Tony Bennett were regulars there. Their classic pizza is a margherita with a traditional thin crust, topped with tomato, mozzarella and basil. But, there's a huge variety of other types of pizza to choose from.

Photo by Paul Lowry

If you like seafood, and fancy an aphrodisiac, then you could attend The Grand Central Oyster Bar & Restaurant. The restaurant is in the basement of Grand Central Station, and does platters of fresh oysters, or a creamy oyster pan roast. The restaurant itself is 105 years old. They also have a superb American white wine list which has won awards.

The Grand Central Oyster Bar
4. If you like Chinese food, Jing Fong's in Chinatown or on the Upper West Side is definitely worth a visit. It's a banquet hall dim sung restaurant. It's a thriving busy place to eat, with 800 sears and people wanting food from the carts that go between the tables. Some specialities include the Udon noodles in XO sauce, and the Stuffed Lotus root with Golden Mushroom. It has been running since the later 70s.

5. The Spotted Pig is in the West Village and is a gastropub, with British food, created by Chef April Bloomfield. One of its famous entrees, is a chargrilled burger with Roquefort cheese & shoestring fries. Or perhaps you could have brunch there and opt for a lemon ricotta pancake with apples and candied almonds.
New menu item – Summer Gazpacho with Heirloom Tomatoes, Basil & Mint! #heirloomseasonrealness pic.twitter.com/0puG6Fqa9Z

— The Spotted Pig (@thespottedpig) August 8, 2017

6. The Shake Shack used to be a hot-dog cart in Madison Square Park, now it is a burger-empire. It's burgers though are made with 100% all-natural Angus beef, and therefore are high quality ingredients. Since 2004 a permanent kiosk opened in the park. If you like a smoky taste you could try the burger that it topped with applewood smoked bacon, chopped cherry pepper and shacksauce. Or if you're a vegetarian, there's a 'Shroom Burger, which is a portobello mushroom with cheeses, lettuce and tomato.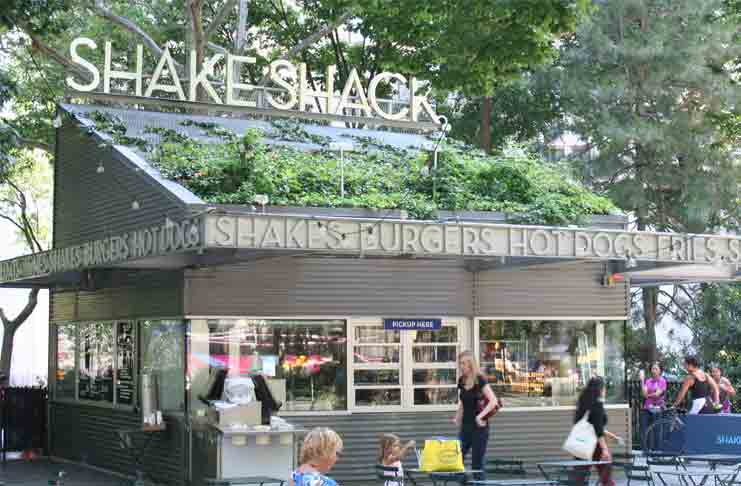 7. Keens Steakhouse in Herald Square is near to Penn Station and Times Square. It used to be a gentlemen's club in the past, and all the walls are wood-panelled, and there are pipes hanging from the ceiling, which gives it a very unique atmosphere. Some of the pipes belonged to Teddy Roosevelt, Babe Ruth and J.P. Morgan. One of the foods it is most well-known for is its Mutton Chop, to the extent the menu refers to it as 'Legendary'; there are also sirloin, prime rib, porterhouse and chateaubriand. There's a wide variety of desserts including Key Lime Pie, cheesecake, mousse and sundaes.
8. There's an Italian restaurant called Il Bastardo, which offers a very chic and trendy atmosphere. At the weekend there's a champagne brunch. The venue, based in Chelsea, also has live DJs which can make it feel like a club, rather than a restaurant. Depending on how much alcohol you wish to consume with your meal, may depend on which price package you opt for.
View this post on Instagram
9. The Tavern on the Green is in Central Park. It's definitely an iconic restaurant, one at which Grace Kelly and John Lennon used to dine at. It was originally in the 1880s a sheep fold, it was transformed over the decades. Throughout the summer it has live music, it's a very popular place with people booking reservations months in advance, so if you wish to go here, do ensure you've planned your visit and have made a reservation. The menu has a good selection of meat, fish and seafood dishes.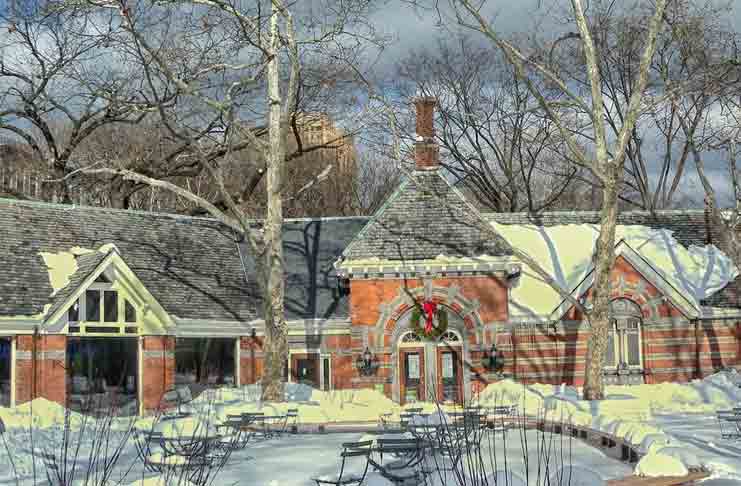 10. The Russian Tea Room is an interesting place to visit. The décor is very ornate and beautiful and the staff have outstanding customer service. It's a great place to have an afternoon or 'high' tea. If vodka is more your kind of drink, they have over 40 varieties! The entrees for evening meals include a Boeuf a la Stroganoff, and a Cotelette a la Kiev amongst other delicious choices.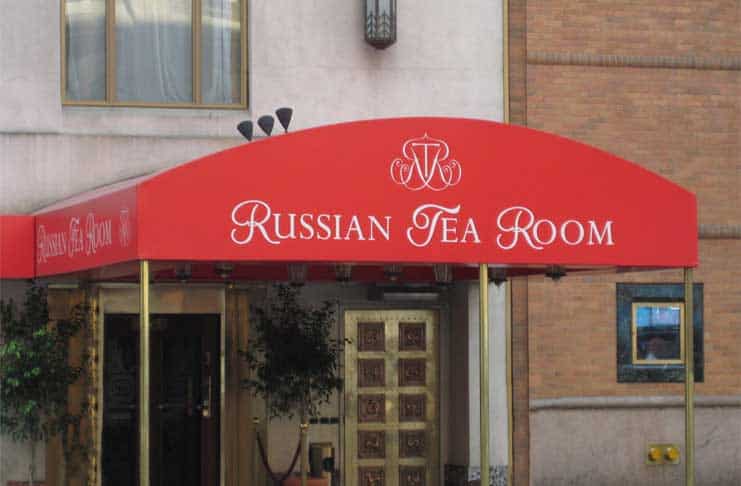 View this post on Instagram
Tips for International Visitors to New York City
If you're traveling to New York City and want to sample some of these delicious iconic food venues, you need to ensure that you have sorted out all the proper documentation prior to traveling, so that your trip goes smoothly and you're allowed entry into America.
You will need an Electronic System for Travel Authorisation (ESTA) – this allows you entry into America, and you can stay for less than 90 days, providing you're here on holiday or a business trip. This is the visa waiver program. An ESTA is possible if you're a citizen of a visa waiver country.
What items will you need to process your ESTA Application?
A passport from one of the Visa Waiver Program countries
A Credit card or PayPal to pay the visa application fee
Your contact details
Details of your employment, if applicable.
You'll then be able to check the status of your ESTA application online. Generally you will get an application status update within 72 hours – generally with 3 outcomes, whether it's been approved, not authorized or is pending. The ESTA website has a good FAQ section, and help too. If it's not authorized, it may be that you're not authorized to travel to the US under the Visa Waiver Program, but can still obtain a visa.
Have a safe and delicious trip!