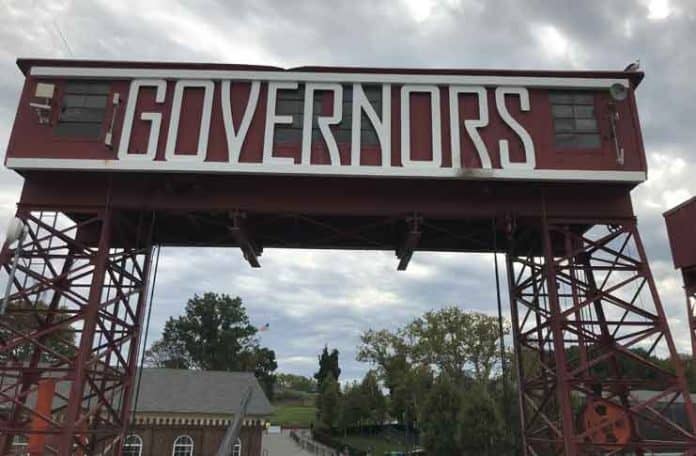 Saturday, September 22 was the Vendy Awards on Governors Island.
I have never been to this Island but always had wanted to.
Also the idea of covering an Awards Ceremony especially for food appealed to me.
My photographer, Mike Morrissey, AKA my boyfriend accompanied me.
As a NY'er or any person in the free world the experience of going to lower Manhattan is not to be missed. It has everything.
Stone Street is the oldest Street in NY. Seaglass Carosuel at the Battery a place for young and old.
We sat for a minute or 2 at Battery Gardens while waiting for the Ferry ride across the very tip of Manhattan watching boats sail past Lady Liberty and Ellis Island. All which looked particularly gorgeous this pre-fall perfect day.
Boarding the Ferry ride to the Vendy's was not even 15 min. As I do on any Ferry in NYC I tend to get that huddled masses feel and can't help but be reminded of my grandmother's stories. Holding her mother's hand as a 3 year old coming from Scotland and seeing Lady Liberty for the first time. Knowing that would be their home.
As we walked off the Ship we found our way to the field where the Vendy's were taking place. 25 Vendors and a few more tables and booths just for fun.
Flavors from around the world.
NYC has over 10,000 street vendors. In a city that prides itself on culinary sophistication. Street Food has been proving its street cred so to speak.
This years finalist for the Vendy Awards 2018 are…
Rookie – Nansense NYC
Dessert – Baonanas
Breakfast – Mama Jo's Breakfast Cart
Market – D'Abruzzo NYC
People's Choice – Burmese Bites
Vendy Cup – Royal grill halal food
Check out the entire list here.
A standout for this reporter was Jiannetto's Pizza.
JIANNETTO'S PIZZA AND CATERING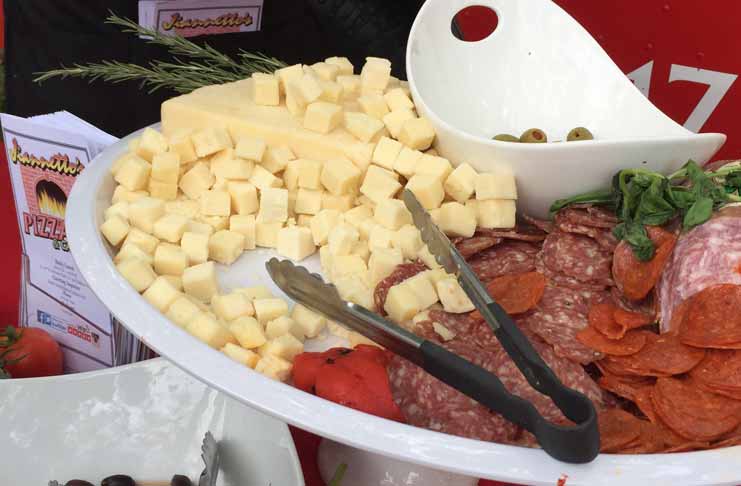 When it's not broken, don't try to fix it. That's the philosophy Joe Jiannetto follows when it comes to his grandmother's recipe for Sicilian pizza. Jiannetto's Pizza has been serving up "grandma-style" pies since 1998.
Specialty is the Grandma's Sicilian Pie. Nice crust. Great thick crust, not doughy but held a generous portion of sauce. The Sauce or is it Sunday Gravy had a sweet note at first but you could taste the richness and freshness of the tomatos.
What's the different between gravy and sauce ? Gravy has meat ? This did not. Yet it was delicious and full.
The meatballs…I assume drenched in Sunday gravy was moist flavorful and the best meat ball I've think I can recall tasting. Better than mine and I make a pretty good meatball for a non-Italian.
The food truck currently operates on 47th Street between Park and Madison Avenues.
Follow them on Twitter and Facebook. You can visit their website here
We moved on the NANSENSE truck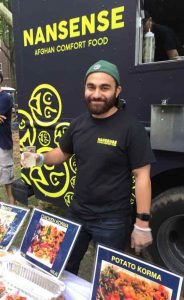 Not ever to have tried Afghan food we were greeted with the biggest smiles and generous plates. I was attracted to the naan draped across the table. But the flavors were bold yet not overpowering.
Offering us 3 dishes which I couldn't decide what I liked best. Steamed dumplings, Mantu were beautiful meat and onions in a light dumpling sitting in an exotic familiar sauce. Very much like Korean homemade mandu. My Korean friend Mary would teach me how to cook Korean since I was adopted and grew up American. Or rather Caucasian. This Mantu makes you feel warm inside and at home.
Mo Rahmati was born in Woodside, Queens, into a family of Afghan refugees who fled their country in the 1980's during the Soviet-Afghan War. Mo went to school in Queens and then took a series of jobs. He knew that there was a large community of Afghan street vendors in NYC, most of whom sell coffee and bagels. None sell real Afghan food, like his mother makes – from kormas to kabuli to salata to his favorite, mantu (steamed dumplings stuffed with beef and onions). After several years of planning, he launched his food truck in January 2018.. Find out more about Nansense on their website and follow them on Twitter and Facebook.
D'ABRUZZO NYC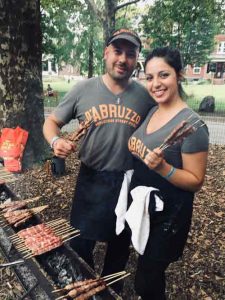 This was the standout for beautiful lamb and amazing back story.
The beautiful couple explained how they shipped the custom-made grill from Italy specifically for them.
They can grill and grill the tender lamb skewers the best of Colorado.
D'Abruzzo NYC was started by Tommaso Conte in August 2017. While growing up on Long Island, Tommaso's family, in particular his nonno (grandfather) instilled in him the values, traditions, and work ethic that he learned in Abruzzo, Italy. Early on, Tommaso grew tomatoes, helped make wine in his Cantina and turned the soil in his nonno's garden. This connection to the land at an early age has inspired Tommaso to pay homage to his roots with D'Abruzzo (meaning "of Abruzzo"), where the focus is on simple, fresh ingredients from the Abruzzese region, which he hopes to shine a spotlight on with his food.
Best dish of the day was Tommaso's arrosticini, simple skewers made from tender pieces of lamb and served with a homemade spicy oil.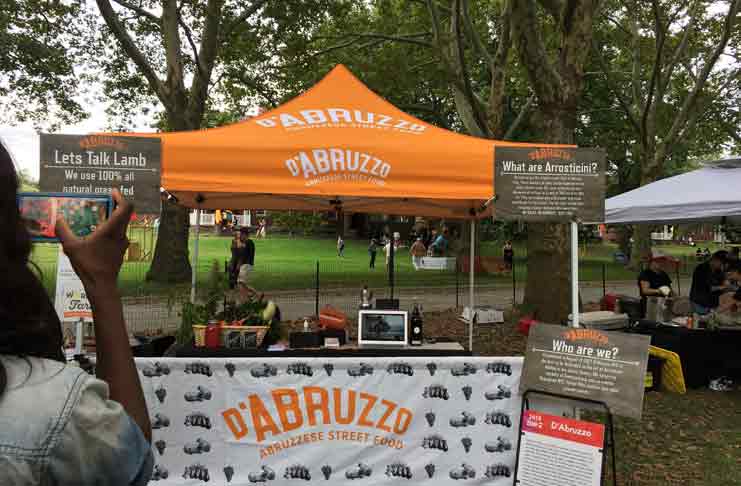 You can find him at Smorgasburg, Forest Hills Stadium and at various pop-up events throughout NYC. Check our their website. Follow them on Facebook and Instagram.
BONSAI KAKIGORI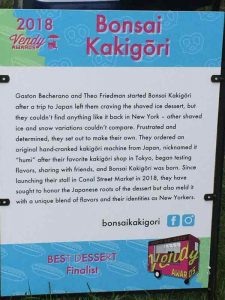 The longest lines at the entire event. It grew longer as the day grew long and as tired as my legs were after 3 hours of wander eating I too joined the long long lines.
The day was beautiful, sun coming out intermittent and on the cooler side. Yet Shaved Ice was the stand out.
Gaston Becherano and Theo Friedman started Bonsai Kakigōri after a trip to Japan they feel in love with the shaved ice dessert but couldn't find anything like it in the US. They ordered an original hand-cranked kakigōri machine from Japan, nicknamed it "humi" after their favorite kakigōri shop in Tokyo, began testing flavors, sharing with friends and Bonsai Kakigōri was born. You can find them on Canal.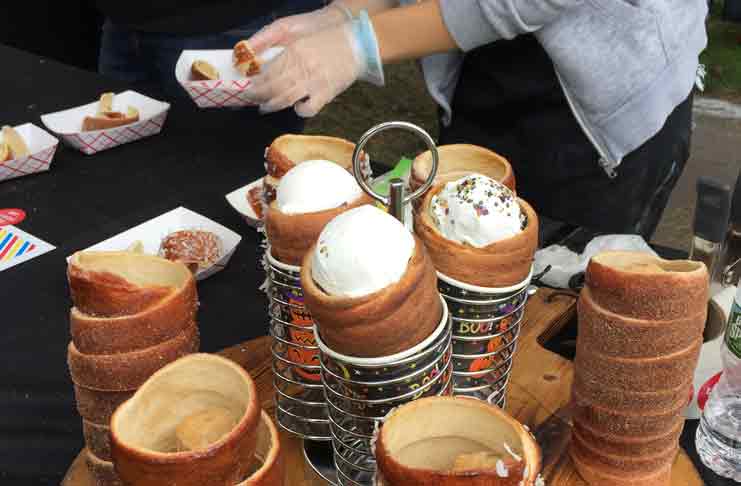 Check out their website and find them on Facebook and Instagram.
Thank you Vendy's for a great experience and we give props to these very, very hard working men and woman of the Street Food World.
NYC has an abundance of street food. Never enough. It's NY. New restaurant's open every year if not every month. We have a lot of streets here in NY. Even though it may seem we don't need more vendors we are always hungry.
Ending the day on this tiny Island with a stroll past the zip line…another up close and personal salute to that lady in the water, the skate Rink and across the beach to huddle with the masses as we traveled back to Manhattan…home.
Where else can you eat a hotdog while standing on the end of the pier gazing at the Statue of Liberty.
Only in NY.
Living and loving in NYC, food has been a passion of hers. East Coast to West, Faith's goal is to explore and learn with the contribution of other like-minded foodies. Faith Rein has written for 2Girlsfromabar@blogspot.com. Youtube channel – faith.rein, love food love faith. You can find her @: Faith.rein/facebook (always looking to add friends) / faith rein@twitter / faith.rein@instagram / faith.rein@gmail.com