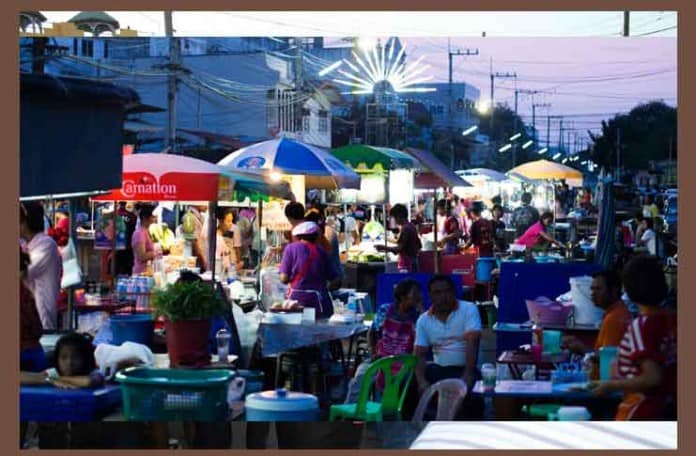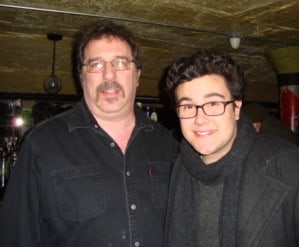 Tonight was the 1st Birthday Party of VendrTV, and what a year it's been!  In the past year, Dan has posted fifty episodes, visited twelve states and eaten tons of delicious food.  His webisodes are always entertaining and informative, and I look forward to another year of watching them.
For the 1st Birthday Party of VendrTV,  Dan hired 3 of the best street vendors in New York, all past Vendy Award winners;  Schnitzel & Things, Calexico Cart and Wafels & Dinges.  He also had free beer generously donated by Brooklyn Brewery, and the music was provided by the Eclectic Method.  It was an offer we couldn't refuse (even if we did have to go to Brooklyn).
After grabbing drinks and a table, our first stop was the Calexico Cart, the 2008 Vendy Award Winner.  Tonight they had 3 choices; pollo asada tacos, pulled pork tacos and spicy vegetarian tacos.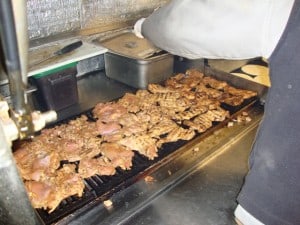 We started with a pollo asada taco and a pulled pork taco.  The pulled pork taco was very tasty, but the pollo asada taco was amazing!  Char-grilled marinated chicken, shredded lettuce and a green sauce.  We asked for no tomato, which was a good choice, as it helped the various flavors of the chicken and green sauce come through better.  We squirted some lime on top and thoroughly enjoyed every bite.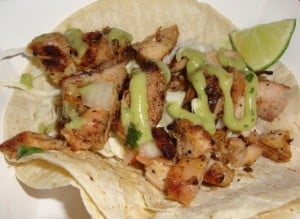 After talking to Dan for a little while and some other people, and checking out some of Dan's videos on the screen in back of the club, we went for some Schnitzel & Things next.
Tonight they had chicken schnitzel, bratwurst, and the schnitz burger, as well as potato salad and cabbage salad.  I recently had the schnitz burger, so we decided on the chicken schnitzel and bratwurst.  Plus, we had to save room for dessert later, and eating a schnitz burger would have seriously jeopardized this plan.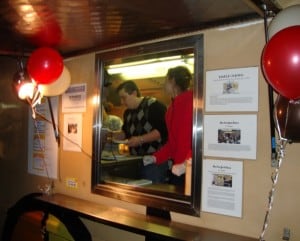 The chicken schnitzel was awesome, as usual.  A little lemon and this thinly-pounded chicken schnitzel was quickly resigned to the annals of history.  We haven't tried their bratwurst before, and this wurst was nicely done, although with only half a brat, we were left wanting more.   Definitely have to get a bratwurst one day for lunch.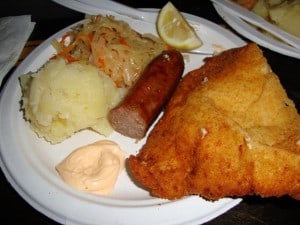 We took a little break from the food, talked to a few more partygoers, had another drink, and gave a short video congratulations to the cameraman for Dan.  It took about 5 minutes for my sight to come back after having the video camera in my face, and at that point, it was time for dessert.
Outside we ran into Thomas DeGeest, founder of Wafels & Dinges.  We talked about the Bobby Flay Throwdown, which Thomas won, as well as a few other things, and Thomas thanked us for the recent Featured Vendor Profile we recently ran about Thomas and W&D.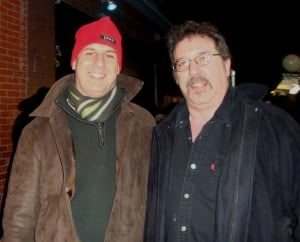 At that point, it was time for dessert, and we went for a classic Belgian wafel; the Liege wafel with spekuloos and confectioner's sugar.  Spekuloos was featured on the Throwdown episode, and it sounded great, a graham cracker flavored spread.  Well, it was as good as it sounds, and was the perfect ending to a wonderful evening.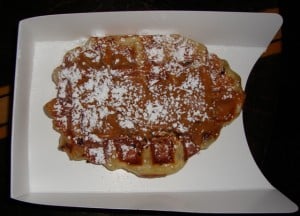 Thank you Dan.  We look forward to watching you eat and discuss more great street food in the future.