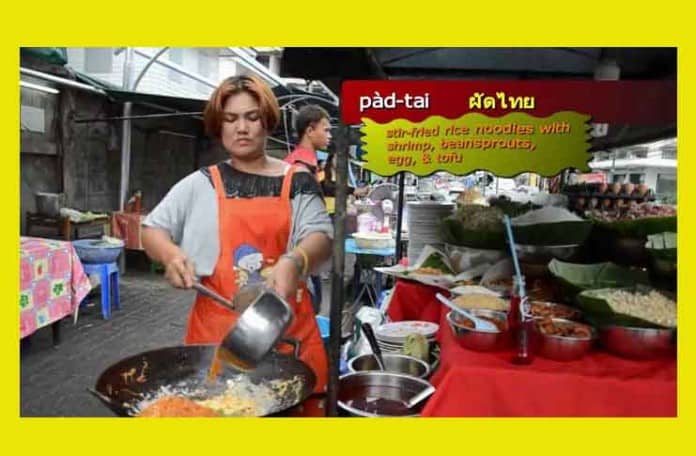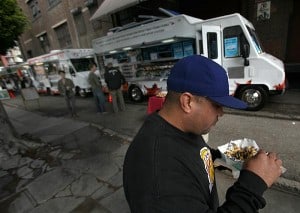 With the complaints  food trucks have been getting from local business owners in L.A. about parking, littering and the siphoning-off of business, mobile food courts are starting to emerge.  Portable food courts are the latest trend in the food truck scene, eliminating the need for the typical cat-and-mouse chases around town.  Thursday's event in front of the loading docks off Traction Avenue and South Alameda Street was a test run that vendors hope will address concerns about the vehicles, such as parking, littering and confrontations with restaurant owners.
"We don't want to make waves," said Matt Geller, vice president of the SoCal Mobile Food Vendor's Assn.  Geller, who organized the downtown event and is planning future mobile food courts, said he hopes to find property that's not too close to restaurants.
In August, food truck vendors were told to leave the Miracle Mile along Wilshire Boulevard. In January, vendors set up shop on a former used-car lot in Santa Monica, but the operation was shut down after one day because of zoning issues.
Alex Rocha, general manager of Spitz in Little Tokyo — not far from Thursday's mobile food court — wasn't concerned by the experiment.  The vehicles might take some of his business, but they don't offer the ambience of a restaurant, Rocha said.  "You can go to a restaurant, sit down, get out of your head for a second and go back to work," he said.
The concept, though, appears to be catching on.
Another lot is planned near the Beverly Center, and truck vendors are expected to assemble during the monthly Downtown Art Walk, Geller said.
Dave Reiss, owner of The Brig, a bar in Venice's Abbott Kinney district, started letting multiple food trucks use his parking lot in the fall of 2008. To Reiss, having trucks in the lot is almost like a built-in restaurant.  "It almost is a modern food court," he said.
Molly Taylor, who sells everything from cookies to cupcakes from various L.A. bakers out of her Sweets Truck, said the lots are an added element in the success of the industry — which, for her, is all about people.  "It's definitely an opportunity for community," said Taylor, known on skid row as the "sweet lady."
Back at the downtown mobile food court, four men in teal and blue scrubs munched on barbecue from a truck.  "It's better for us," said David Stempel, a radiologist. "Competition breeds better business." [LA Times]  We couldn't agree more.
There must be places in New York that can accomodate a mobile food court.  I'm sure some enterprising foodie will read this and bring the concept to New York.  Can't wait.