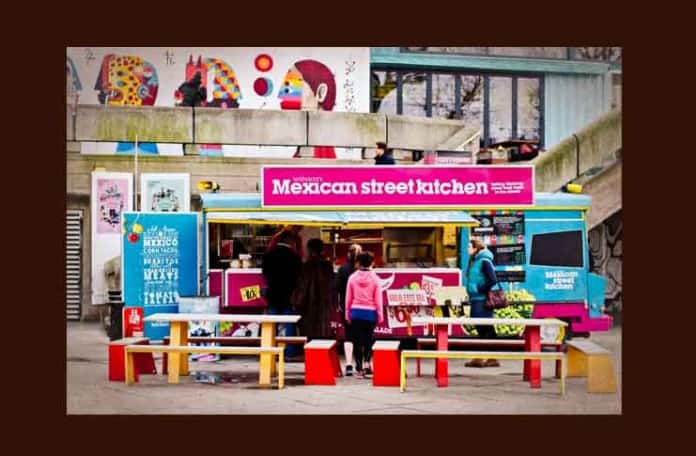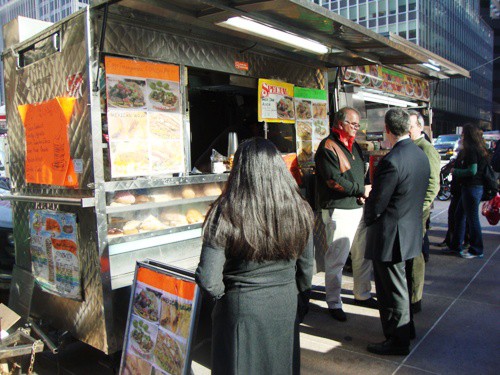 I was over by Park Ave at lunchtime today and wasn't that hungry, so I thought a chicken quesadilla from the Eggs Travaganza cart on the NE corner of 52nd St & Park Ave would fit the bill.  It shouldn't be as filling as a Mexican wrap, but hopefully it would just be as tasty.
Today's Lunch is a chicken quesadilla ($5) from Arturo at the Eggs Travaganza cart.
I had a few minutes to chat with Arturo while the food was being cooked.  They told me things had been going well, and the Cooking Channel had just been there filming yesterday.  The episode with Eggs Travaganza will be shown on Jan 23rd.  We'll give you more details as the date gets nearer.
I got there on the late side, but things must be going well for Eggs Travaganza, because they had already sold out of tacos and were out of rice.  That's why I got rippled potato chips with my quesadilla instead of rice.
Actually, I was pretty happy with that – rippled potato chips are my favorite junk food, and I have rice several times a week.  I'll take that substitution any day for lunch.  Unfortunately, the guys in front of me were not too happy because Arturo sent someone to get more small tortillas for tacos, and it was taking too long for these guys.  Luckily for me, quesadilla tortillas are a different size, of which they still had a few left.
The quesadilla had plenty of pieces of white meat chicken (not shredded) and cheese inside two tortillas that had been grilled and folded over.  On top of the quesadilla were lettuce, salsa and two strips of jalapeno pepper.  The chicken and cheese were fresh and definitely not as heavy as a burrito or Mexican wrap.
The salsa and jalapeno gave the quesadilla a little bit of spiciness.  Not a huge amount, but enough to notice.
Today's Lunch gets an 8 out of 10.  It was fairly light compared to the usual Mexican fare I have, and the ingredients were all fresh and good.  I would have liked some sour cream on top, but this was stilla good lunch overall, and the $5 price tag is nice too.
Eggs Travaganza started out as a breakfast business only, but with the addition of tacos, burritos and quesadillas, they have successfully obtained a following for lunch as well, and rightfully so.