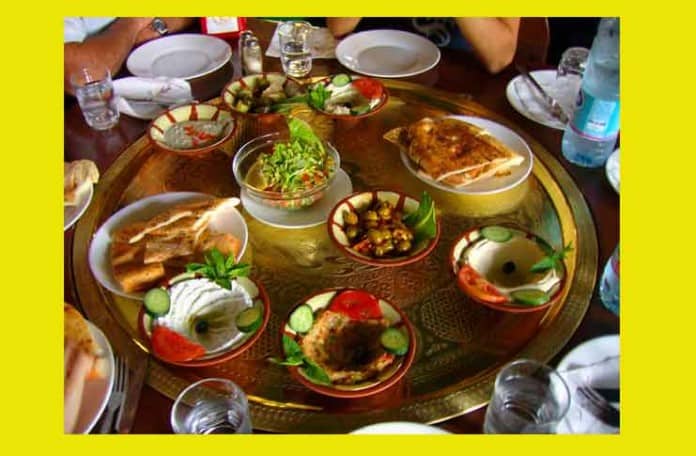 I had to be near Union Square today, so I stopped by the Bistro Truck on the west side of 5th Ave between 16th & 17th St.  IMHO, they are one of the best new food trucks around, with Moroccan-French cuisine instead of the usual halal chicken or (fake) lamb over rice that many of the street carts serve.  The Bistro Truck is definitely a cut above what is commonly thought of as street food.
Today's Lunch is Lamb Marrakech over couscous for $7.  There's no question this was real lamb.   It was marinated and mostly shredded, but there were still some large chunks of lamb remaining.  It was nicely spiced and not fatty at all, which lamb can be.  It was a little saltier than I like, but that's more my personal taste.  It certainly was not overly salty.  There was a yogurt sauce on the side, and it went very well added to the lamb and couscous.  Next time I'll make sure to ask for extra yogurt sauce.
The lamb was served over your choice of basmati rice or couscous.  As someone who eats a lot of street food, it was good to have an option other than rice, and the couscous was a nice change of pace.  It was cooked just right – firm but not hard, with a decent amount of butter used.
This dish comes with one of the best salads I've gotten from a street vendor.  There were at least 3 kinds of lettuce, two large slices of tomato, and a balsamic vinaigrette dressing.  Once I ate a little salad, there were even bonus bites of lamb and couscous under the salad.  No stinting on portions here.
Today's Lunch was a 9 out of 10.  The Lamb Marrakech was very tasty, and I really enjoyed the couscous, but it didn't quite reach the heights of the poached tilapia lunch I had there previously.  Guess that's why the tilapia was a Daily Special.
Nevertheless, this is one of my favorite food trucks, and I will definitely be going back on a regular basis.