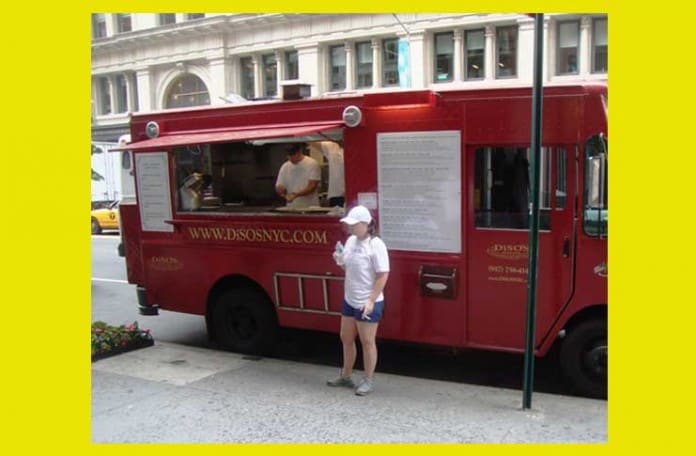 It's a beautiful day out.  Perfect for some street food from the vendors on the right and the trucks below.
As we already mentioned, Street Sweets is celebrating their 1st birthday by giving away 100 free gelato/sorbet  sandwiches and 100 $5 Sweet Dough gift certificates.  They are already on 52nd & Lexington Ave, and the promotion starts at 12:30pm.  Simply show them this twitter or facebook message on your mobile device.
StreetSweets – It's our Birthday! As a small token of our appreciation to our wonderful customers, show us this Facebook or… http://bit.ly/c0sFOo
schnitzeltruck – Mornin.. Park ave & 26th.. You ready for wieners? We got em! Come come getcha some. @ 11:30
waffletruck – Feels like Tuesday, it's Wednesday. Hanover Square today, btw Water & Pearl. Tell us what dinges u have in your pocket…for 1 free….
fritesnmeats – Howdy FiDi! Were bringin' Burger Love & sunshine to Water & Broad St today. Taking preorders til 12. 917.292.9226
BistroTruck – Special: fish & chips; Dessert: creme brûlée – yummy
RickshawTruck – Wed 6/2: dumplings love summer time! Come enjoy, serving at 57&8 also 26 btwn 11&12 from 11 till 3
CupcakeStop – Original truck on 50th bet 6/7, New truck on the South Street Seaport and our shoppe inside the Limelight Marketplace, 6th and 20th (1st fl). Wednesday: RV,Funfetti,Van Choc,Oreo Crumb,Choc PB Swirl,Nutella,German Choc,Choc Oreo,PB&J,Lemon Meringue,Vanilla Strawberry and Marble!!
CalexicoCart – Both carts are out & cooking it up. The special today is shredded chicken in a coconut/citrus mole sauce. Come & get it!
Hoboken/Jersey City

laspicetruck – LST returns for lunch today at 11:45. C U @ Hudson & York.
VeganLunchTruck – If you have enjoyed food from our truck recently, we want to hear from you! Write us up on yelp.com,… http://bit.ly/a1nOA3
TheKrave – 6/2 – 12:00-2:00, Hudson & Essex, Inside Liberty Towers Gourmet 12:00-2:00, Hudson & Harborside Pl…. http://tumblr.com/xl1auvvrz
TheTacoTruck – Lunch in Hoboken today 11:45-2:30 at Sinatra @ 1st. See you there! http://fb.me/tT8GrTQi