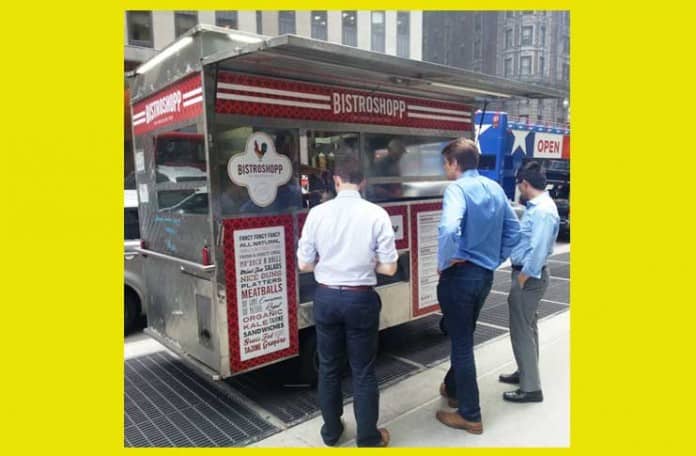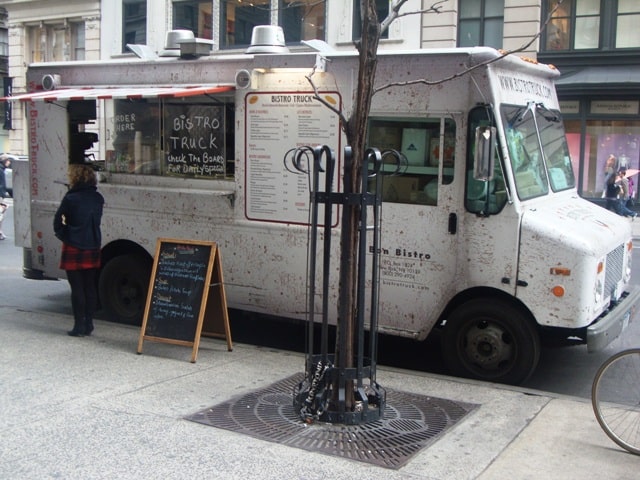 I happened to be on lower Fifth Avenue around lunch today (NYSF note: actually yesterday) and decided to go back to the Bistro Truck for lunch.  The Bistro Truck has a regular spot on the west side of 5th Ave between 16th & 17th St, and they have been around since last summer.  On my previous visit, I enjoyed a merguez sausage sandwich, and their Moroccan cuisine was a nice departure from the usual street food of chicken over rice, falafel, cheese steaks or gyros.
The Daily Special yesterday was the mixed grill, which sounded great, but would they have it again today?  As I approached the truck, the Daily Special said poached tilapia with olive oil over rice and a side salad.  Another special was baked potato soup.  I asked if they had the mixed grill available, and he said they could make it, but the tilapia today was very good.  I really like fish, but since I'm the only one in my house that does, it's rarely on our dinner table.  I said "sold" and changed my order to the Daily Special.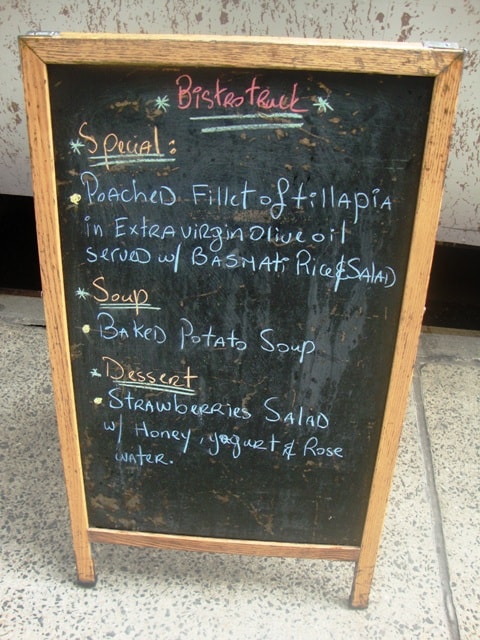 In the last week or two, I've been talking about a rule I often follow when ordering from a place with a particular dish in their name (Biryani Cart, Jerk Pan, etc).  Another guideline I often follow is to order the Daily Special if it's something you normally like.  Daily Specials are usually what was bought at the market that morning because it looked good to the chef.  Dishes that are on the menu every day can be made with ingredients from the previous day, although some places have been known to use the previous day's leftovers to make the next day's Daily Special.  Most reputable places will not do this though, and it would be nearly impossible to do with fish because of the smell.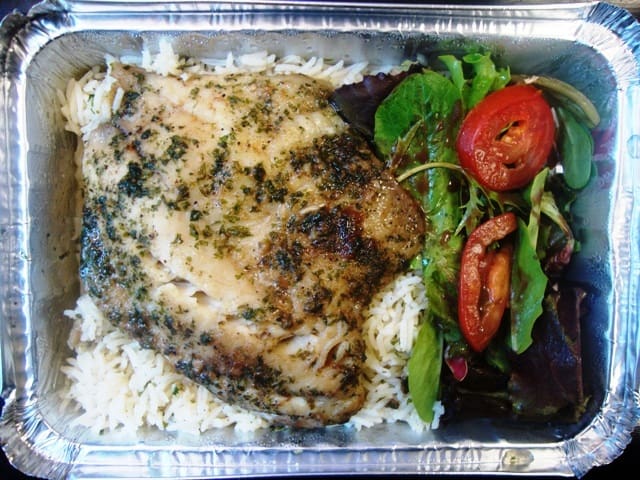 Today's Lunch was poached tilapia with extra virgin olive oil and herbs over basmati rice, with a salad and harissa on the side ($8).  Upon opening my lunch, there was a beautiful looking fillet brushed with herbs and olive oil over rice.  The fish flaked perfectly upon sticking my fork in, and the taste was awesome.  Poaching the tilapia gave the fish a delicacy that would have been lost if the fillet had been fried or even sauteed.  This dish was definitely a cut above most street food, although the salmon fillet at Kwik Meal and Biryani Cart were both excellent, too.
The harissa sauce which came on the side was not spicy at all.  Most harissa I've had in the past has been very spicy, but this was more akin to a lightly spiced mayo.  The harissa went well with the fish, but I would have like it spicier.
The basmati was also very lightly spiced, and it too could have stood a bit more seasoning.  This is preferable to too much seasoning, but it was still a little bland and could have used more of something.
The salad was very nice.  There were a few different types of lettuce, some tomato and a balsamic vinaigrette dressing.  The salad was small, but definitely better than most street food salads.
Today's Lunch gets a 9.5 out of 10.  The fish was wonderful, one of my favorite dishes so far.  The salad was good, but the basmati rice and harissa could have used a little more spice.  Overall, I was very happy, as the main course was a definite knockout.