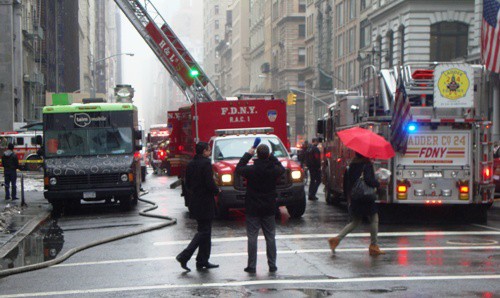 We've seen Taïm Mobile tweet about their corn jalapeno soup a few times, and this was perfect weather for giving it a try. But thick soup and a falafel sandwich seemed like too much to eat for lunch, even on a cold, damp day.
Yesterday we were able to walk right up to Taïm Mobile at 1pm with no line. Why? Because there were 3 emergency vehicles there responding to a small fire in a building on the block. It didn't seem to be too serious, but it was enough to keep people away from the window.
Solution: Corn jalapeno soup for $5 and a side order of 6 falafel for $4. Let's see how that worked out. BTW, this is a good lunch for vegetarians too.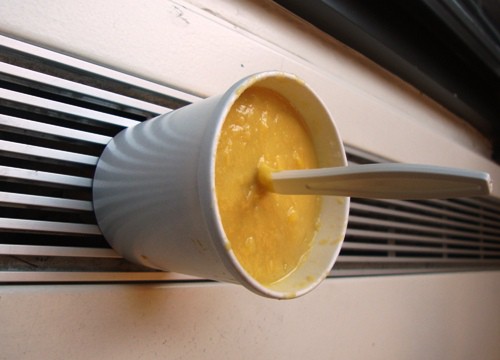 We had to start with the soup, since that was our whole reason for going.
And it was worth the trip. The soup was thick enough that it was easy to stand up your spoon without it falling over.
The soup had a nice, sweet corn taste that we enjoyed a lot.
It was funny, but the soup had plenty of jalapeno flavor, and wasn't the least bit spicy. It was more of that green veggie flavor than any heat.
To answer the burning question, yes, we would get the corn jalapeno soup again. $5 is on the high side for soup, but the quality was high too.
When placing our falafel order, we asked for 3 regular and 3 harissa falafel, which was the special of the week. When we got back to the office and opened lunch, what we ended up with was 3 regular and 5 harissa falafels (falafi?). That's 2 more than we expected.
Taïm can lay claim to the best Israeli falafel in city. There might be arguments of taste, but they are certainly contenders for the title. The falafel are crispy on the outside, and soft and moist inside.
The harissa falafel were mildly spicy, with an orange-ish color from the harissa. Harissa can be brutally hot and spicy, but this wasn't. The harissa falafel had a nice zing, but that's about it. Nothing more.
Taïm's regular falafel is an entirely different animal. It's much herbier, with chopped cilantro visible, and a bright green color all the way through. World-class falafel.
An order of falafel comes with a piece of zahatar pita, which is brushed with olive oil, herbs and sesame seeds. It was soft and warm, and great to eat.
The final touch was tahini sauce, which also comes with each order of falafel. We love sesame flavored things, and Taïm's tahini was very good. Creamy, with a light herb sesame flavor.
If you're not overly hungry, a side order of 6 falafel for $4 is a great deal. You can mix and match (as long as they have a special falalfel that day), and you get pita and tahini. what more could you want?
How about corn jalapeno soup? Between the two, there was plenty of food for lunch, but we were not overstuffed. Good job.
You can find Taïm Mobile on twitter here or our Mobile Munchies twitter feed. If you don't want to do that, they have a small storefront in the West Village that's just as delicious. It's just a little tricky to find.