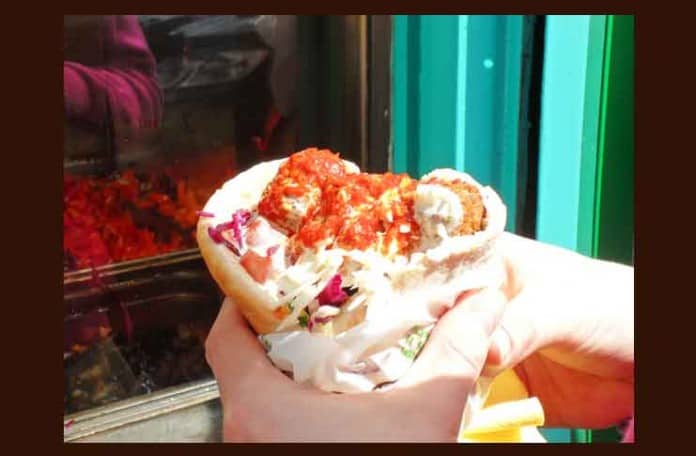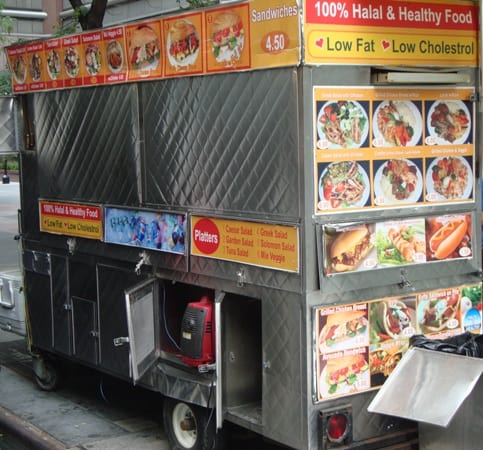 I needed a quick sandwich for lunch today near Park Ave & 57th St.  One of the best vendors in this area, 100% Halal & Healthy, actually has 2 carts – one just inside the NW corner of 55th St & Park Ave featuring grilled food, and one on the SW corner of 54th St & Park Ave featuring fried chicken, fish, shrimp and more.  Today's Lunch is a kofta sandwich ($4.50) from the 100% Halal & Healthy (grilled) cart on 55th St just west of Park Ave.
There are several things about the 100% Halal & Healthy cart which help them stand out from the crowd.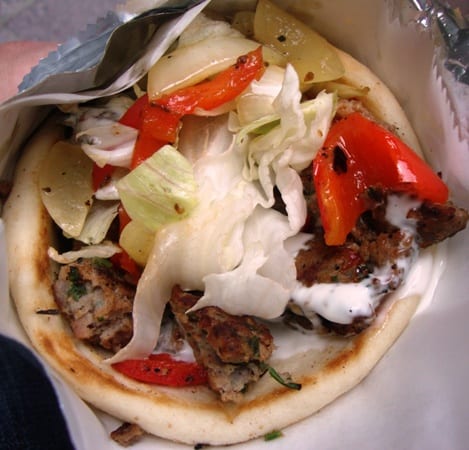 The first great thing about these carts are the vendors.  These are two of the nicest guys out there. Gamal started the business across from Syms on 54th St in 1986, and he's still there.  Gamal added the 55th St cart a while back with more of an emphasis on grilled and healthier food.  The vendor at the 55th St cart is just as friendly and nice, but I neglected to get his name. Sorry.
The second great thing about these carts is how every ingredient is kept in a separate container prior to serving.  This keeps the meat, vegetables, onions and other ingredients as distinct flavors.  Everything doesn't get all muddled up before serving.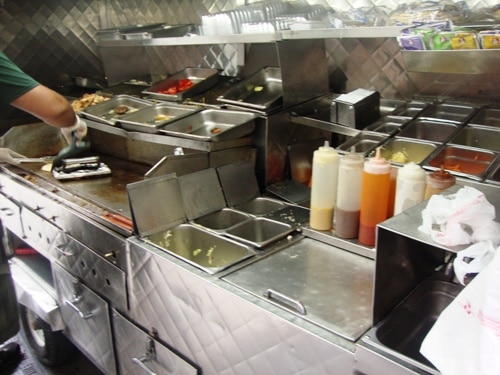 The third great thing about these carts is the "extra spicy" hot sauce.  Every cart has a hot sauce, but 100% Halal & Healthy has two – a regular hot sauce and an extra spicy hot sauce.  Guess which one I get?
As far as Today's Lunch, for the kofta sandwich, he put 3 Mediterranean-spiced beef patties on the grill, chopped them up, added some sweet red peppers, and put a pita on the grill to warm up.  This cart puts more of an emphasis on veggies, and their red peppers have a very nice taste to them – slightly marinated and it looks like they were roasted.
I asked for onions, lettuce, white sauce and of course the extra spicy hot sauce.  On my first bite, the first thing that struck me was the warmth and sponginess of the pita bread. The next thing was the rounded spiciness (as in spices) of the kofta, and then came the hot sauce.  This was a tasty sandwich, and the kofta was a nice change of pace from gyro meat or chicken. It was spiced differently and seemed to be a better quality than gyro meat.  At least my gastro-intestinal system thinks so.
The one down side to this sandwich was that towards the end of my lunch, the sauce leaked out the bottom of the wrapper making a mess of my shirt, and to a lesser extent, my pants.  This is a definite no-no for street food.  When something is meant to be eaten on the go, it can't be messy.
Today's Lunch gets an 8 out of 10.  The sandwich and ingredients were definitely better than your average street cart, and the price was right at $4.50.  The 100% Halal & Healthy carts are a regular part of my lunch routine, and you might want to make them part of yours as well.