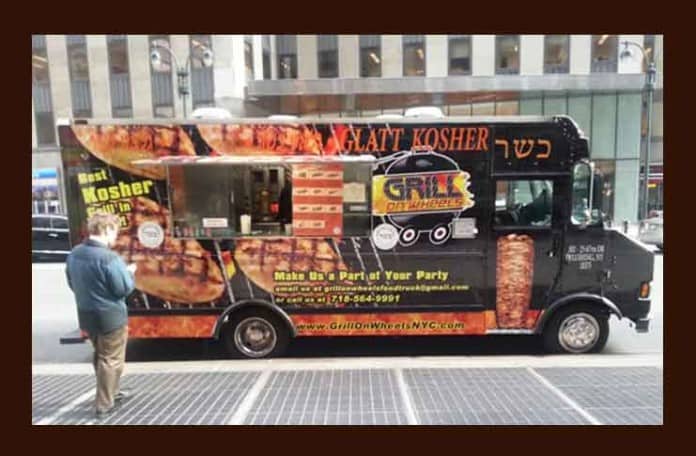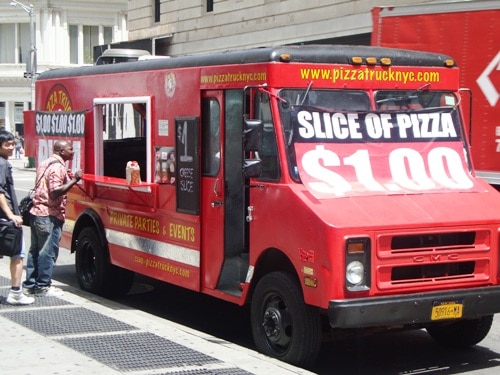 Looks like another beautiful day in the Big Apple for enjoying some great New York Street Food from the vendors on the right and the trucks below.  Frites 'N' Meats had their rear axle break on Friday, but they expect to be back on the street by Wed. Kelvin Slush is also down today for repairs, but expects to be back on the street tomorrow.
We're still waiting to hear who this year's Vendy Award finalists will be.  Maybe they will be announced this week :).  When they are, New York Street Food will have all the info you need.
A bunch of the trucks seem to be running late today, so make sure to check back with the pink Mobile Munchies twitter feed on our homepage before heading out for lunch.
1 new tweet.
nyccravings – 48th and 6th. Ready by 11:10!
Mexicue – Mexicue is on 23rd & Park Ave today, opening at 11:15.
schnitzeltruck – Morning Schnitz fiends. Today you know the drill. Slinging schnitz goodness your way. In position on water and broad.. Ready…set….. SCHNITZ!!! let's do it!
EddiesPizzaNY – (Mon 8/9) EPT is on 38th and 5th until 3pm then off to 32nd and 3rd until 9pm. Come try our hawaiian pizza w/fresh… http://fb.me/DepwHQp0
StreetSweets – Street Sweets is running late due to some truck difficulties, we should be on 46th St & 6th Ave by 10am, we apologize for the inconvenience
joyridetruck52nd and 6th, we're back. Stop by for some @Stumptowncoffee any time between 8:30am and 5:30pm.
waffletruckHappy Columbia Monday!! We're on Broadway & 113 til 4:30pm. Tell us the best thing about summer vacation for 1 free dinges today.
CupcakeStop – Find the CupcakeStop truck on 52nd & Lex,our shoppe inside the Limelight,6th & 20th 1st fl & our bakery in Montclair, NJ 1 Greenwood Ave. Red Velvet,Oreo,Van Choc,Funfetti,Triple Chocolate,Boston Cream,French Toast, Nutella Crunch and introducing Blueberry Cheesecake!
VLAIC – Serving cold brew, cappucinos and ice cream at 5th & 15th, 5th & 23rd till 5:30pm both locations.
fritesnmeats – Howdy Folks. Disaster struck friday night. Need to replace trucks rear axle…Just got some good news. Truck should be fixed tomorrow. Which means we should be ready to dispense Burger Love on Wednesday!
KELVINSLUSH – The slush truck is unfortunately down for repairs today. Hope to be up and running again tomorrow.
Hoboken/Jersey City
laspicetruck – hudson & York 12:00- 2:00 pulled chicken, caramelized onions and portabellos