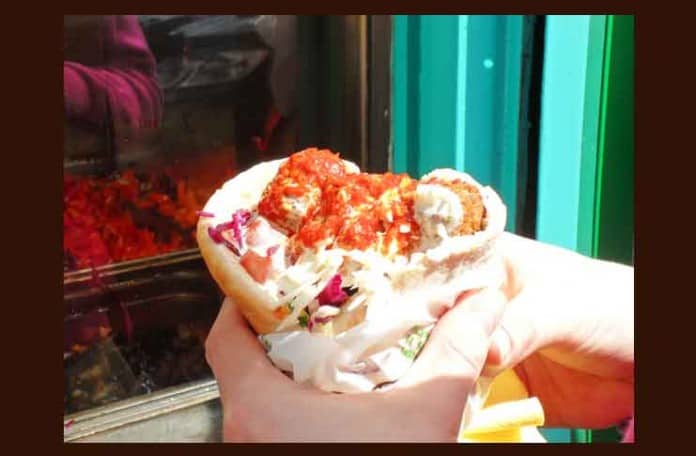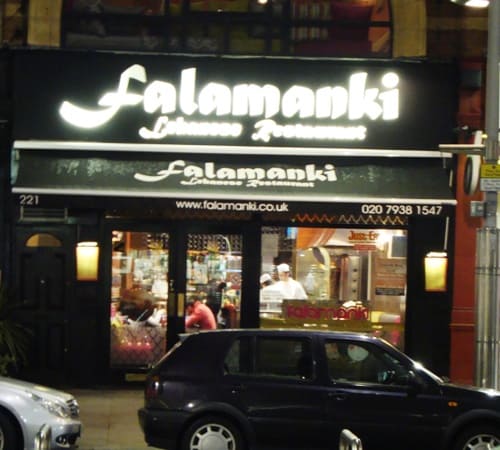 I haven't been able to find any street food near where I'm staying in London (Kensington), but I did find a small Lebanese restaurant called Falamanki that would fit nicely into our Honorary Street Food category.  It only had about 6-8 tables and serves what I would call street food – falafel, shawarma and similar dishes.
Today's Lunch is a lamb shawarma sandwich £3.75 ($6) from Falamanki at 221 Kensington High Street.  You can see from the stripes on the left that after the sandwich was made, it was put onto a sandwich press for a few minutes, which warmed the sandwich up and toasted the pita bread a little.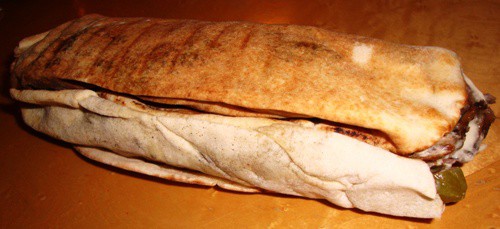 The menu said the lamb shawarma sandwich was made with roasted lamb.  When I opened up the sandwich, inside was thinly sliced roasted lamb (not gyro meat), white and red onions, pickles, tomatoes, chopped parsley and tahini sauce.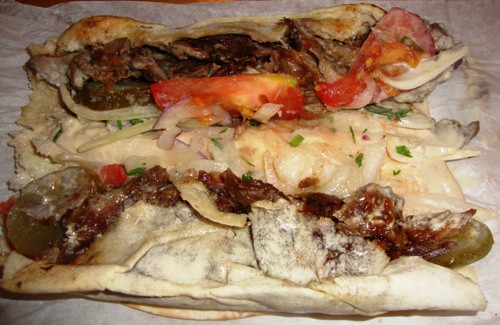 With the sandwich open, I could see there was meat folded into both ends of the pita bread, which was double the meat I expected to get.  Nice!  I took a piece of lamb and popped it into my mouth.  It was crispy on one side and tender on the other – yum.
I really like pickles on my falafel and shawarma sandwiches, which only some places in New York include.  They did here, and it was just the right amount of pickles and onions, although there could have been a little more tahini sauce.
Today's (London) Lunch was a pretty good lamb shawarma sandwich.  For the equivalent of $6, there was a lot of nicely roasted lamb in every bite, as well as all the other fillings.
If I can't find any other street-type food around here, I may be back here tomorrow.  They have a homemade soujouk spicy sausage sandwich on the menu that looked pretty good.