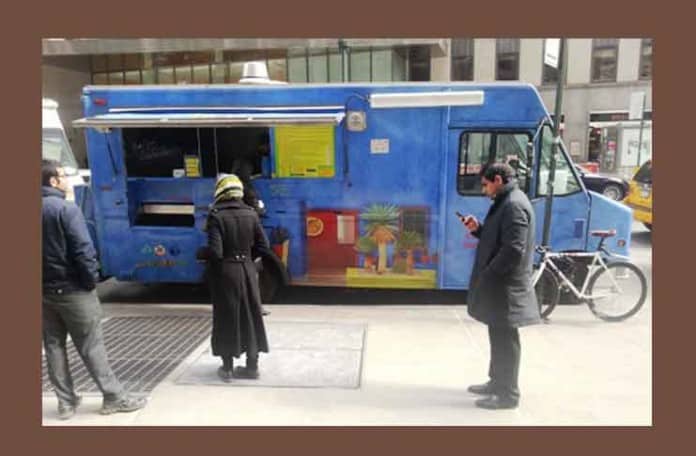 Nice day today in New York, mid-40's and dry.  We seem to be coming out of the winter doldrums.  Enjoy a pick-me-up from one of these great food vendors:
CupcakeStop – Morning! We're on 5th and 23rd w/ Red Velvet, S'mores, Vanilla Vanilla, Pumpkin Spice and introducing Mexican Chocolate (incredible)!
fritesnmeats – Howdy all! The sun's shining (sort of) & the Burger's are grillin'. We're on Broad & Water & taking pre-orders. Give us a shout 917.292.9226 . Today not only are we packin' Burger Love but we've also got insane 2ble choc brownies & some killer Corn Bacon soup
schnitzeltruck – We'll be @ 48th bet 6th & 7th today… Looking forward to it
StreetSweets – NEW LOCATION ALERT. Today we will b on Hudson btw King & W. Houston St. all day. Stop by & check us out.
VLAIC – Kangaroo @ 5th & 15th 7am-6pm….pour overs coming soon to the trucks
VLAIC – Panda Bear @ 6th & 22nd till 10am, then 23rd & 5th 10am-6pm.
waffletruck – Happy Thursday! We're on 46 btwn 5 & 6 today til 4:30pm. Do an impression of a lion or a lamb for 1 free dinges. Grrrr. Baaaaa.
nyccravings – Today: Ready by 11:30 at 53rd btw park&lex! Tomorrow: 48th btw 6th&7th! Monday: Closed!
2 new tweets.
CalexicoCart – Both carts are out and the special of the day is Pollo Verde. Come and get some! 6 minutes ago via TweetDeck
New Jersey Food Trucks
TheTacoTruck – Lunch in Jersey City @ Hudson St & York St from 11:30-2:30. Call ahead 201.577.4214 http://fb.me/5Zx4nzB
As always, check the pink Mobile Munchies twitter feed on our homepage for the latest information.