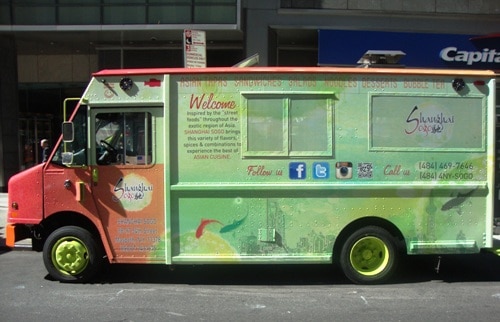 We were heading over to Rock Center for lunch yesterday, but a new food truck was spotted right around the corner from our office, was parked on Broadway & 56th St. The truck is named Shanghai Sogo, and they advertise themselves as serving "Asian Tapas". The guy taking our order said it was their 1st week out.
That's a tough order to fill, with Asian appetizers among our favorites. There are times we will order in a bunch of Chinese or Thai appetizers for dinner, and not even get a main course.
With a new truck, it's nice being able to try several things at once, which was achieved by ordering their Meal Deal for $12. This consisted of any $6 or less item, plus a sesame sandwich with hibachi chicken, and a drink. It used to be $10 was enough to buy lunch in NYC, but now $12 seems to be the norm for anything more than 1 main dish. Guess $12 is the new $10.
They had several Asian drinks such as mango passion fruit juice and coconut juice. They also have bubble tea, which is not eligible for the Meal Deal, but they were running a "buy 1 get 1 free" on bubble tea when we were there.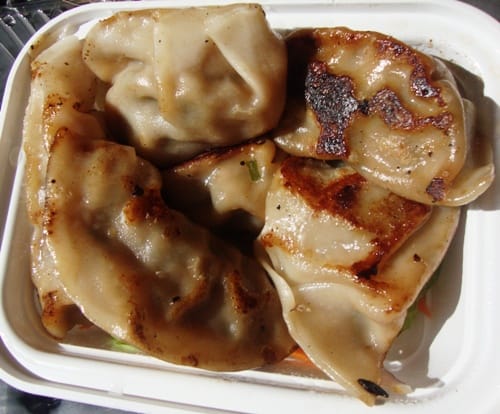 Being a new truck, they were giving away lots of free samples. While waiting for our order (about 10 minutes), we were able to try a dried plum, hawberry flakes (more like wafers), boiled peanuts, homemade kimchi & pickled vegetables, and a piece of spring roll. Giving people free samples is a great idea for a new truck. We particularly enjoyed the dried plum, but beware the pit in the middle.
Heading back to our office, we took out the first part of our Meal Deal, pork & chive dumplings. You can get them a la carte – 6 for $6 or 12 for $10.
The dumplings were essentially steamed, then pan-fried on one side. We generally prefer steamed dumplings, and these were soft and supple, but the one fried side did add a different texture, plus some grill flavor.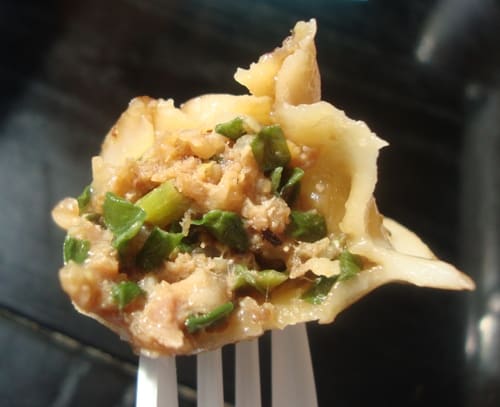 The dumpling filling was a nice-sized ball of seasoned ground pork and chives. Tasty. The only thing was the dumplings were a little oilier than we would have liked.
The sesame sandwich was about the size of a large slice of pizza, and it was stuffed with hibachi chicken, lettuce, onions, and julienned carrots.
It was messy to eat, After picking it up for one bite, and lots of chicken falling out, we took off the top slice and filled it with about half the stuffing, folded it over and ate it.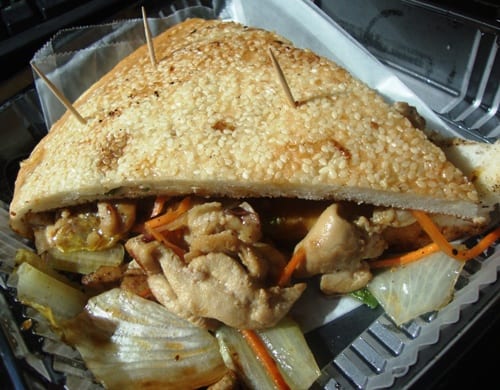 The chicken was served in a teriyaki sauce, which came into play even more on the bottom half of the sandwich. While the top half of the bread was filled with sesame seeds, the bottom half was more like a focaccia. It was almost fully absorbed with sauce and juices, and was a great way to finish the meal.
The mango passion fruit juice is a "product of Thailand", and a nice change of pace from water or soda with lunch. Sweet, fruity, and a little tangy.
Shanghai Sogo is a good addition to the New York Street Food scene. Their menu is different enough to set it apart from all the Asian taco trucks, and we love Asian appetizers.
You can find Shanghai Sogo on twitter here, but our request to follow them is still pending. Maybe they want to read this review first 🙂 Facebook is here and a currently inactive website is here.
Welcome to the neighborhood Shanghai Sogo.