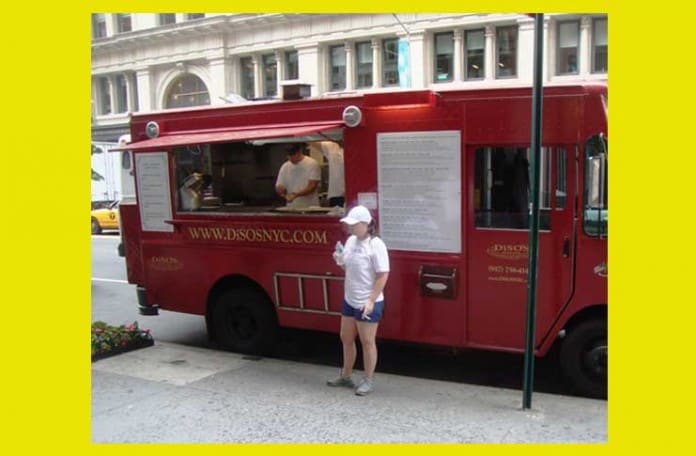 RickshawTruck – Wed: Hey Columbus Circle! Dumplings at 57th & 8th, from now until 3. Sweet! Er.. Savory!
schnitzeltruck – Hey all, we're and ready to open by 11:30… Park bet 26th & 27th. C u soon.. No veal today 🙁
nyccravings – State btw Pearl & Bridge: Ready by 11:30! Come try our shumai!
CalexicoCart – Both carts are out and about today. Pulled chicken in a roasted jalapeño/tomatillo sauce is the special of the day. Come and get it!
fritesnmeats – Bringing Burger Love to a new 'hood today. We're on Broad & Water in FiDi. C'mon people show us ur love! 917.292.9226
CupcakeStop – Happy National Cupcake Day!On 60th and Lexington w/ Red Velvet, Hostess, Oreo Crumb, Chocolate Peanut Butter Swirl and Pineapple Crumb!
VLAIC – Panda Bear @ 6th & 22nd till 10am, then 23rd & 5th 10am-6pm.
VLAIC – Kangaroo @ 5th & 15th 7am-6pm.
StreetSweets – Gd Morning St Sweets will b on 50th St (btw 6th & 7 Av) just west of 6Av from 8:30 until 3:45, then off to 9thAv & 59th St from 4p until 7p.
waffletruck – It's downtown wafel day on Hanover Square, with real Belgian weather! Get a free dinges if u tell us: Leno or Letterman??
New Jersey Food Trucks
TheTacoTruck – Lunch today in Hoboken on Sinatra btwn 1st & 2nd from 11:30-2:30. Call ahead 201.577.4214 http://fb.me/6K4wVWV
thekrave – Location 2: Hudson and Harborside Pl, 12:00-1:30 http://tumblr.com/xl170ngdq
thekrave – Location 1: Hudson and Essex, Inside Liberty Towers Gourmet, 11:45-2:30 http://tumblr.com/xl170nfyv
laspicetruck – Sorry peeps, no lunch nor dinner today. The little white truck is going in for inspection today in Hoboken.