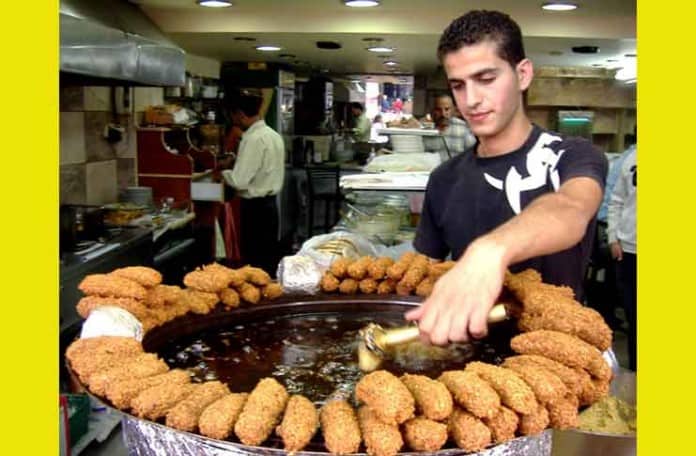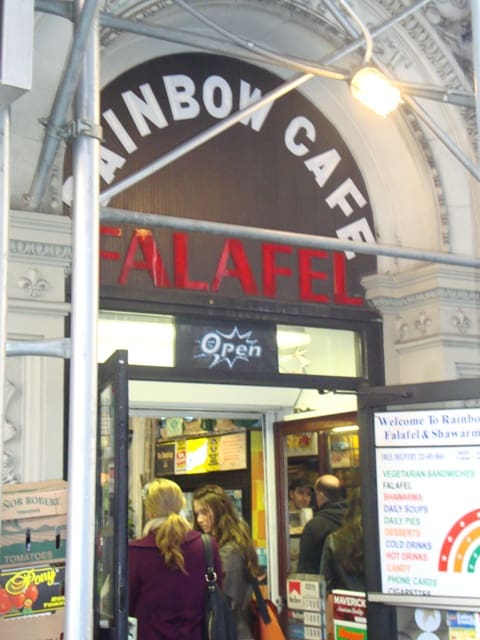 I was in the Union Square area for an appointment and decided to stop by Rainbow Falafel for lunch.  They are in a tiny storefront with no seats on 17th St, a few stores in from Union Square.  We made them a member of our Honorary Street Food category in 2010, and wanted to check in again to see if things had changed.
Rainbow Falafel has excellent falafel, but they also have a big spit of chicken roasting behind the counter used for making chicken shawarma.  That was Today's Lunch, and it cost $5.75.
I don't often get dessert with lunch, but Rainbow Falafel has several types of fresh Middle Eastern pastries for sale that looked great.  The Bird's Nest ($3) looked tasty, so I got one for after lunch.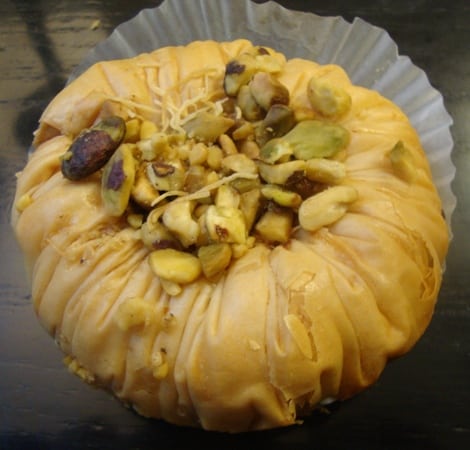 I'll get back to the Bird's Nest later, but first let's talk about the chicken shawarma sandwich.
The sandwich was very thick and stuffed with all sorts of goodies.
In addition to tons of roasted chicken, there was shredded red cabbage, lettuce, tomato, a generous amount of tahini sauce, and at my request, hot sauce.
The sandwich had a nice kick from the hot sauce, and the tahini had a creamy sesame taste.  The chicken was all white meat, and as I said, there was a large amount of meat in the sandwich.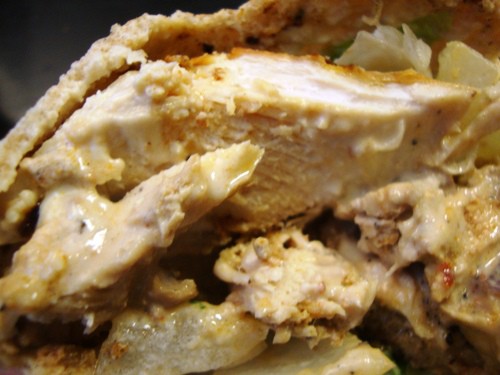 This was a delicious and quite filling lunch by itself, but I still had the bird's nest.  Luckily, it was fairly light, with layer upon layer of phyllo dough tinged with honey.  On top of the nest were a bunch of pistachio nuts, some chopped and some whole.
The bird's nest was tasty, but it did get a little dry about halfway through.  With all the phyllo and the nuts, it could have used more honey.
Today's Lunch from Rainbow Falafel was good.  I really enjoy their chicken shawarma sandwiches, which are a good value at $5.75. I haven't tried a lot of desserts from Rainbow Falafel, but would probably try a different one next time.  The baklava looked like it was worth a try.