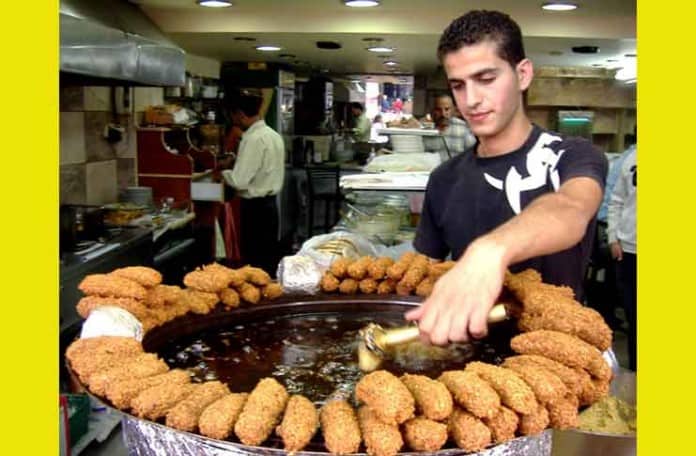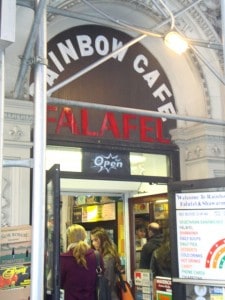 I'm taking a break from meat again today (nothing to do with religion) and decided to get a falafel sandwich from Rainbow Falafel & Shawarma at 26A East 17th St, between Union Square West and 5th Ave.  There's currently scaffolding around the building, but they are open for business.
Rainbow Falafel is a storefront with no seating that has been around for a long time, which puts it in our Honorary Street Food category.  There is often a line out the door around lunchtime, but I was there a little early today, so only 3 people were ahead of me.
I regularly get their chicken shawarma sandwich, which is really good, but I've been eating a lot lately, and wanted to bring it down a notch in terms of food volume eaten at lunch.  Their desserts are also really fresh and good, which made that last sentence especially tough to follow.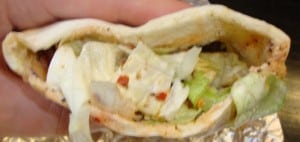 As with most falafel sandwiches, the lettuce, tomato, tahini sauce and hot sauce were on top and the falafel balls were on the bottom, but when I got to the falafel balls, there were still plenty of toppings to flavor them.  They don't do the pickle on top like Moshe's Falafel does, but it had plenty of sauce, some heat, and was pretty stuffed.  Their tahini sauce added a nice sesame flavor, too.
I don't usually get dessert with lunch, but their desserts are very hard to resist: baklava, bird's nests, honey cakes, date cookies, ladyfingers, and butter cookies plain or with fillings.  I chose the butter cookie with raspberry jam in the shape of a star.  It was very buttery, with the raspberry jam a perfect companion to the butter cookie.
Today's Lunch was a 9 out of 10.  They lose a little for no pickle, but they are Syrian, not Israeli, so it's their local version.  The sandwich was excellent, although the pita started falling apart at the end.  The dessert certainly added some points.  Next time, I'll write up their chicken shawarma, which I've had before and really like, but haven't written about yet.