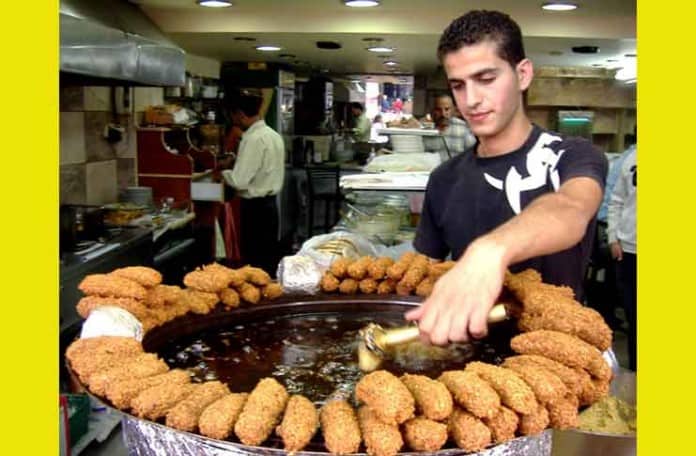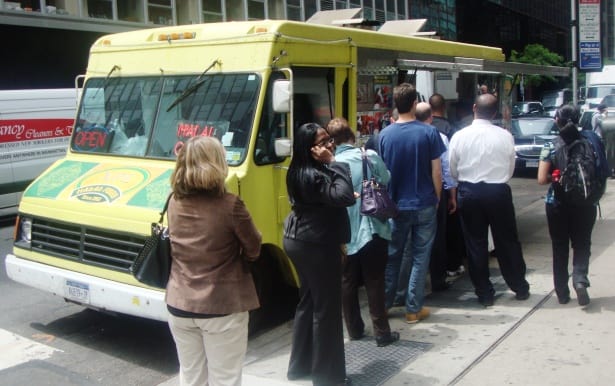 I enjoyed falafel and rice from the XPL truck on 48th & Park about a month ago and heard they have another truck on the NW corner of 52nd St & 3rd Ave.  Since falafel is one of the safest foods to get from a food cart or truck, it was time to try something a little more advanced, and to see whether both XPL trucks had the same food.
Arriving at the XPL truck on 52nd & 3rd (yesterday-no rain), I noticed a few things. It was quite inexpensive, with most platters $5 and a gyro for only $3, and the platters included a soda for $5.  With these prices, it was obvious why they had a line of people – but even the cheapest place won't get repeat business if their food sucks.
They also had an option of getting your main course with salad instead of rice.  This was a nice option for someone who eats a lot of street food.  Not only is it (a little) healthier, but I get tired of rice at times.  Although XPL has excellent rice, Today's Lunch was the chicken and lamb with salad for $5, which included a can of soda.
While I was on line, someone ahead of me asked for some green chutney sauce as well as white sauce and hot sauce on their platter.  That sounded interesting, so I asked for the same.  It was not chutney in the "Major Grey's kind-of-like duck sauce" sense.  It was liquidy like hot sauce, but very herb-y, with cilantro, parsley and other herbs adding a nice flavor.
This chutney was more akin to the green chutney we made in the Indian street food cooking class I took earlier this year.  He said the XPL truck on 48th & Park had the same food, including the green chutney, but I didn't know the first time.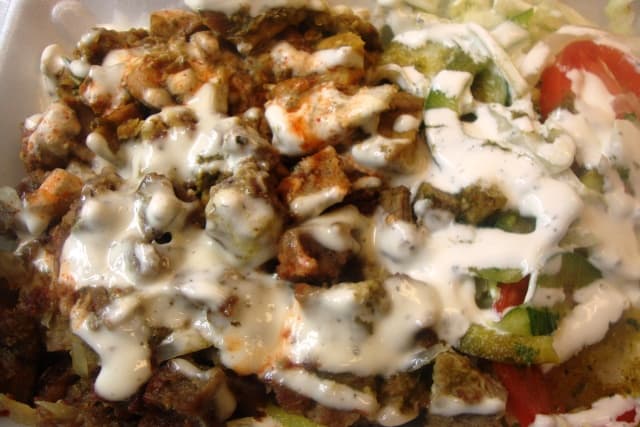 The chicken and lamb were both moist and tender, not overcooked like at some other carts and trucks.  The chicken was a mix of white and dark meat, and it was good.  The lamb was gyro meat, which I'm not a big fan of, but today it just felt right.  The lamb wasn't overly salty, and it worked well with the chicken, green chutney, white sauce and hot sauce.
The salad was fresh, with lettuce, tomato, cucumber and a little onion.  It was a pleasant finish to lunch.
Today's Lunch was an 8 out of 10.  It won't win any culinary awards, but for $5, including a soda, it was a great value.  Don't forget the green chutney sauce.  It really helped round out the flavor.  You can even see it in the picture below – a lot of white sauce with some green chutney sauce and red hot sauce.  Nice.