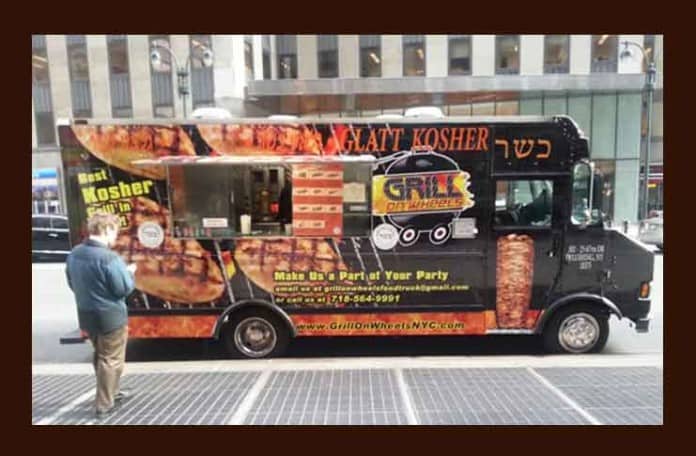 Not the nicest day outside, but the trucks are rolling.  Perfect day for some fresh, hot street food to warm your insides.
As always, make sure to check the pink Mobile Munchies twitter feed on our homepage before you head out.  We had to get this out a little early today, and you never know when one of the trucks will have to move on a moment's notice.
3 new tweets.
1 new tweet.
nyccravings – 24th st between park ave and madison ave! ready by 11:15! http://bit.ly/9da525
RickshawTruck – Tuesday! Rain rain go away the dumpling truck is here to stay! Midtown East 52 + Lex and Westside @ogilvy 11av + 46 from 11a-3p Woohoo!
fritesnmeats – Howdy MIDTOWN!!! Surprise!!! We're heading your way to bring some Burger Love on this dreary day. We'll be on 48th & 6th Today & Tomorrow. Dont wanna wait in line for Burger Love? Call in your order & just stop by to pick up. Taking preorders til 1130 917.292.9226
waffletruck – Rumor goes, wafels, sweet dinges, pulled pork & syrup at 52nd betw 3rd & Lex till 5pm. Free dinges for anything that rhymes with Flanders.
StreetSweets – Hey Olgivy here we come, see you at 8:30a.
schnitzeltruck – We stay poundin schnitz even in this weather. All day! 5 days a week:) 46th between 6th @ 5th we coming for u. No preorder min. 347-772-7341
ETRAVAGANZA – Come for the chicken quesadillas ! 100% chicken breast, non-fat ! NE corner of 52nd & Park.
CalexicoCart – Sorry guys, the Broome St cart is closed today. Calexico is open on Wooster & Prince and cooking it up, come on down!
CupcakeStop – At our Limelight Marketplace location:Mexican Chocolate, French Toast,White Chocolate Raspberry,Nutella Crunch,Red Velvet and more! 6th&20th
Hoboken/Jersey City
TheKrave – 5/18: It's been awhile Harborside… – 12:00-2:00, Hudson & Essex, Inside Liberty Towers Gourmet (3 blocks… http://tumblr.com/xl1a384gp
TheTacoTruck – Lunch in Jersey City at Hudson St. & York St. from 11:45 to 2:30. Let Taco Tuesday brighten your day. http://fb.me/vIbEWbZO