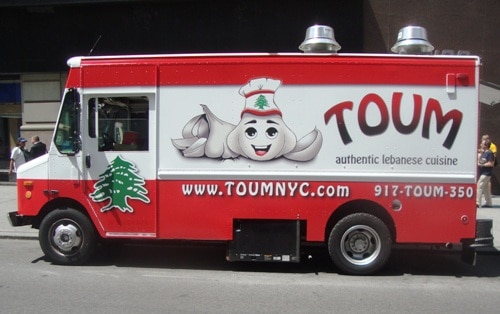 If you enjoy Middle Eastern food, you love a Chicken Shawarma Sandwich, and Toum is a definite step up from the unnamed halal carts that populate most corners of midtown and downtown Manhattan. Yes, they are also a little more expensive, but the difference in price is readily apparent in the food.
We have enjoyed several nice lunches from Toum (which means "garlic" in Arabic), but haven't had a chance to try their go-to dish, Chicken Shawarma Sandwich. A couple of times previously, the Chicken Shawarma Sandwich sold out before we got there.
This time it was a cold and rainy day, so there was very little chance of the chicken shawarma selling out before we got there. A sandwich costs $7 and a platter is $10, and we went for the sandwich.
When you see what this Chicken Shawarma Sandwich looks like being made, you'll see why it sold out before we could order the last two times we were there.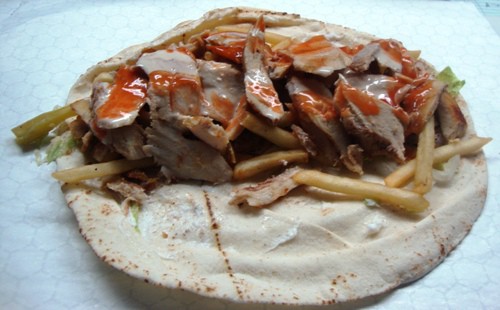 The wrap is made with a bread that's thinner and more delicate than the pita bread that we're used to. It may be thinner, but it held everything together without breaking.
The biggest difference between Toum and the halal carts around town is the quality of the meat. Pieces of boneless chicken are slow-roasted on a spit, but it's not that processed meat you see at most of the halal carts. It's real chicken, slow-roasted and carved as it cooks.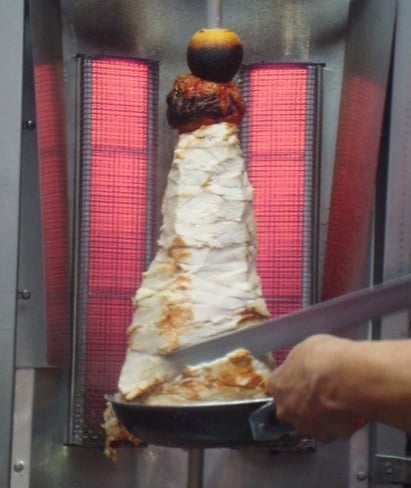 Toum also puts a bunch of crispy fries into the wrap, as well as lettuce, garlic sauce, tomato and pickles.
The pickles make this different from many of the shawarma sandwiches around town, adding a vinegary zing to the sandwich that we enjoy.
The garlic sauce is very nice too.
Toum has a much broader menu than the regular halal carts, with a number of Lebanese specialties like makanek (sausage), kibbeh (kind of like an empanada), and their version of Lebanese pizza.
Toum moves around between a few different areas, such as 46th St & 6th Ave, 5th Ave around 20th St, and the Financial District. You can check their Twitter here or our Mobile Munchies Twitter feed to find out.