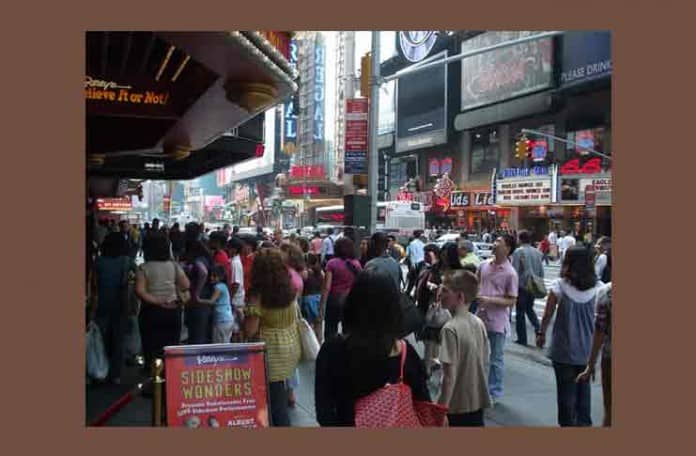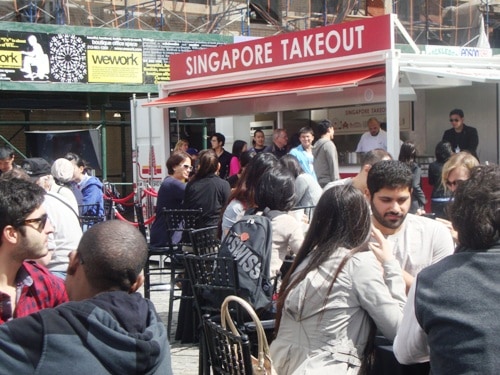 As I briefly mentioned last week, Singapore Takeout came to NYC over the weekend for a 2 day pop-up stand in Gansevoort Park.  You needed a ticket for entry, but the tickets were free.
Singapore Takeout, a traveling pop-up restaurant, is Singapore's way of bringing their cuisine to the world.  Prior to NYC, they were in London, Paris and Moscow, and they were going to a bunch of other places after NYC before finally ending in Sydney.
Chef Malcolm Lee is the head chef, and he was on hand to personally serve each dish.  There were 3 dishes available – pork buns, laksa and 48-hour short rib.  Of course I tried all 3!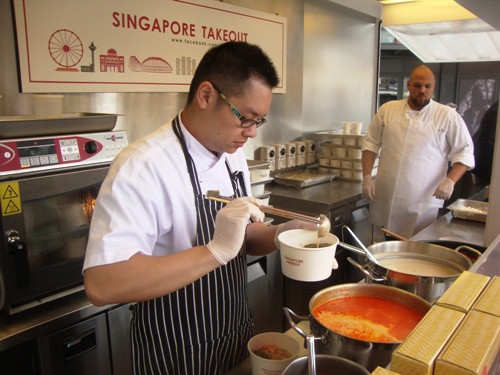 First I tried the laksa (below), which is one of the most popular dishes in Singapore.  This was a coconut curry broth loaded with noodles and some tofu.  Although coconut and curry were predominant, I could also taste fish sauce in the broth. The noodles were hollow tubes like you get in macaroni & cheese, so the broth got inside the tubes, adding even more flavor to the noodles.
A cracker was placed on top of the noodles and broth, and julienned cucumbers & red peppers and a hard boiled quail egg were placed on top of the cracker.
This was a fairly spicy dish.  One of the women I was seated near was from Singapore, and she told me they like spicy food in the morning.  This certainly qualified.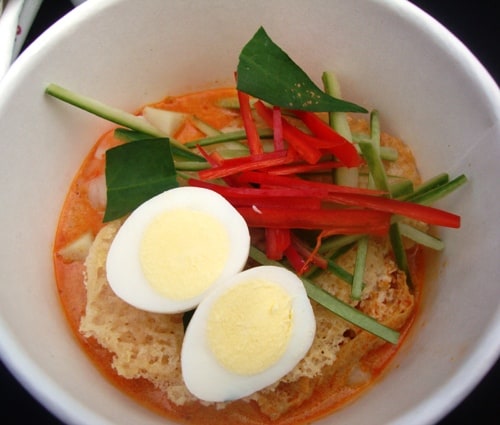 Next up were 2 steamed pork buns (below), which had a nice piece of pork belly in each one, along with a barbecue-type sauce, shredded scallions and cilantro leaves.  This was not spicy at all, and provided a nice respite in between the two spicy dishes, with a few some meaty bites in each bun.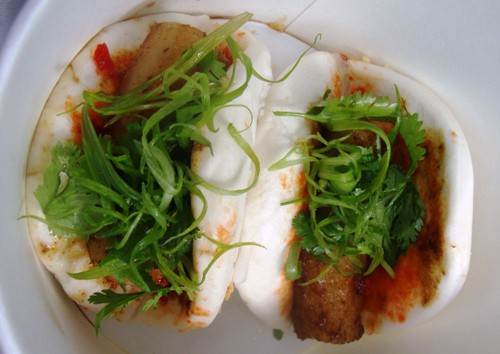 The last dish was 48-hour short ribs.  You can barely see the short ribs in the picture below because they were covered by shredded veggies, but they were there.  The short ribs were extremely tender and tasty.
In this dish, there were several other ingredients included.  Flat rice noodles and rice served as the base, with each one taking up half the bottom of the bowl. On top of the noodles and rice were string beans, carrots, the shredded veggies, as well as a nice sized of shrimp.
The 48-hour short ribs was the spiciest dish, but it was also the most varied in tastes.  Even the woman from Singapore said it was very spicy.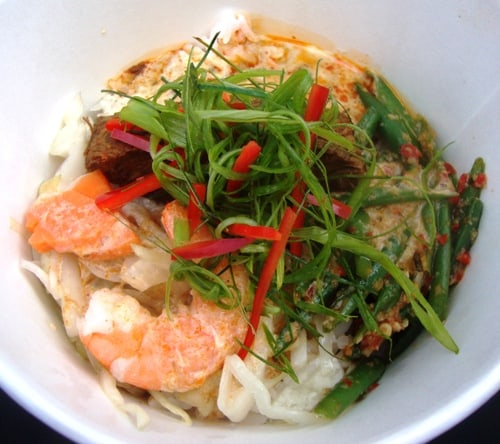 I would like to thank Singapore Takeout for inviting me to this event.  It certainly highlighted Singaporean cuisine, which is not well known in New York City.
If you like coconut, curry and shrimp, you will enjoy Singaporean cuisine, although there's much more to it – as demonstrated by the pork buns and short ribs, which were both excellent!
Want to read more of our posts? Check out our post about Hong Kong Foods and Drinks.