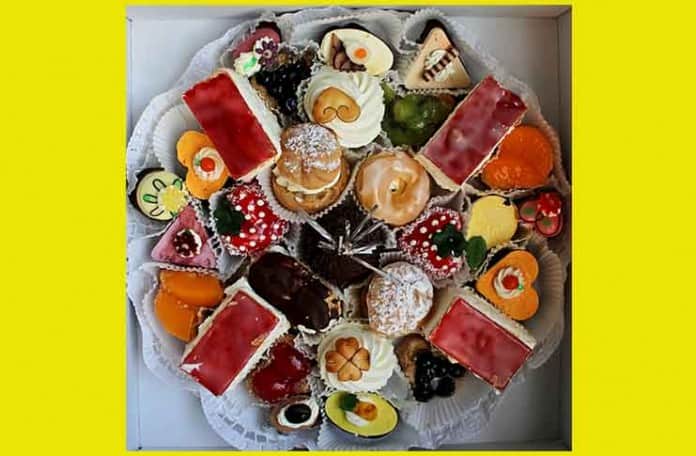 When I was at the All About Downtown Festival in Jersey City on Saturday, I had an opportunity to try a few new vendors.  One of them was Lucinda Creperie, which is owned and run by Natasha and Chris.
Lucinda Creperie has both sweet and savory crepes, but it was towards the end of the afternoon, and I was in the mood for dessert.  I decided to go for a crepe with bananas, walnuts and dulce de leche ($5).  You can see their sweet and savory menus here and here.
When I walked up to the cart, I asked which crepe they recommended.  Chris suggested getting a crepe with dulce de leche. He said his family was from Uruguay, and they have an old family recipe they use to make their dulce de leche.  I like the sound of that – an old family recipe!
While I was waiting for my order, Natasha was making a vegetarian crepe ($5) for the person in front of me.  It had avocado, brie, roasted peppers, tomato and pesto.  You can see the picture below, and it looks pretty tasty.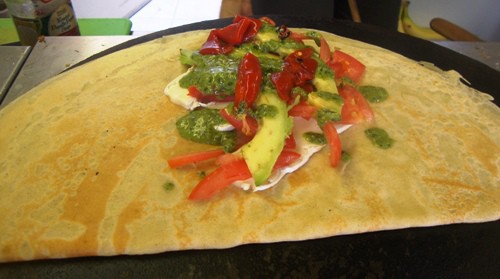 But I was more interested in dessert.  When Lucinda handed me the crepe, I took a bite.  The top was very light and crispy, and it didn't take long to get down to the fillings.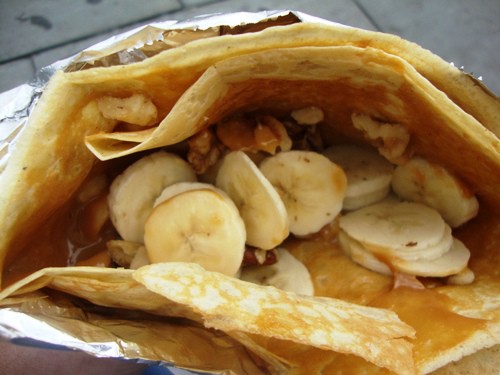 There were plenty of fresh bananas inside, with walnuts and a sweet, smooth dulce de leche sauce.  The crepe was perfectly done with a nice caramel flavor, and it held everything together nicely.
Soft bananas and crunchy walnuts are a good combination, and with homemade dulce de leche, it was fabulous.  This was a nice way to end the day at the festival.
Natasha also told me they were opening a storefront two blocks away at 24 Mercer St in Jersey City with the Krave.  I had Krave Korean BBQ tacos last year at the NYC Food Film Festival, and they were delicious.  The store should be open by mid-October.  That sounds like a winning combination, Lucinda Creperie and The Krave under one roof.
You can follow Lucinda Creperie on twitter here and on facebook here.