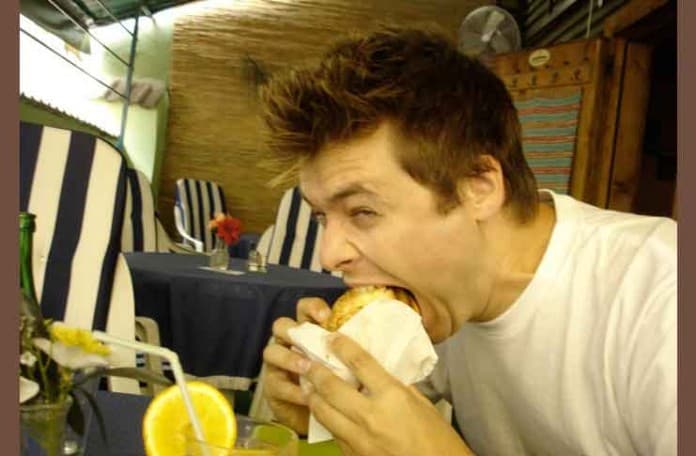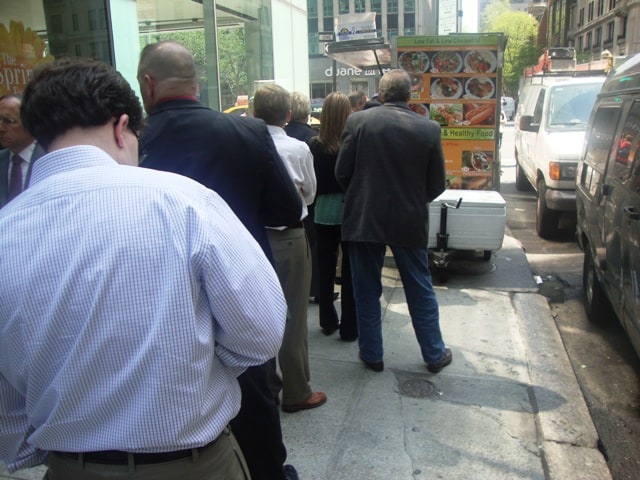 It seems like there's always a line at the 100% Halal & Healthy cart on the NW corner of 55th St & Park Ave.  Today it was about a dozen people, but what really surprised me was how quickly the line replenished behind me.  Between the time I walked up to the cart and the time I got lunch, there were from 10-15 people on line steadily.  But they got lunch ready fairly quickly, and I didn't wait more than 10-12 minutes for a fresh, healthy lunch.
A few things set this cart apart from most other halal carts – their chicken is grilled over flames (which wasn't true last time I was here), they have lots of different grilled vegetables, and you can have your chicken (or kofta) over a salad instead of rice.  It's real easy to get a good vegetarian meal here too.
For Today's Lunch, I got grilled chicken over a regular salad ($7), but you can also get it over a Greek salad, a Caesar salad or over rice.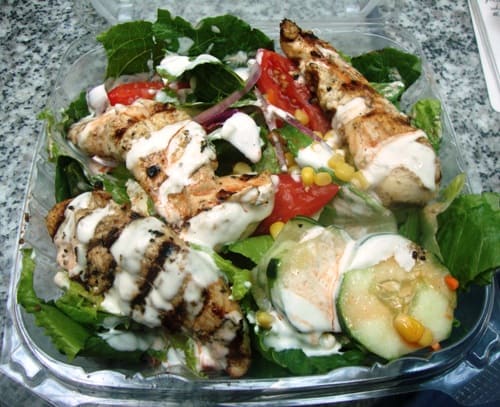 I watched them make lunches for a few people in front of me, and after they took the chicken off the charcoal grill and put it on the flattop grill, they chopped up the chicken and cooked it a little more before adding it to the salad, wrap or rice.  It looked to me like that dried out the chicken too much, so I asked him to give me whole pieces of chicken, not chopped.
I must have struck a nerve, because after putting my lunch together, he said to me "that's how the chicken is best, whole".  The woman behind me on line must have agreed, because she simply said "I'll have what he just got".
After taking one bite, I knew my decision about whole chicken was right.  It was incredibly moist and juicy, with a nice charcoal grilled flavor to go along with the mild marinade the chicken was in before cooking.  It was all white meat, and it was excellent.  It looks like chicken fingers, but it was whole breasts cut up into large finger-sized pieces, so they were significantly thicker than regular chicken fingers.
As for the salad, there are a bunch of ingredients to choose from, but I didn't feel like picking and choosing, so I said to just give me everything.  You can certainly pick and choose salad ingredients if you want – the server is very friendly and speaks perfect English.  In fact, the service here is one of the friendliest I've seen at a halal cart.
"Everything" in the salad included romaine lettuce, tomatoes, cucumbers, corn, shredded carrots, red onions and feta cheese, as well as a dressing.  I went for the classic white and hot sauces, but they also had balsamic vinaigrette, Caesar, bbq sauce and I think Italian dressing too.
Today's Lunch of grilled chicken over salad from 100% Halal & Healthy was a very nice change of pace from the standard "chicken over rice" served at most halal carts.  It was a dollar or two more, but I'm always willing to pay a little more for good food over cheaper, lesser-quality food.  The chicken and salad ingredients were fresh and tasty – and after you've eaten lunch, you will see why there's always a line here.