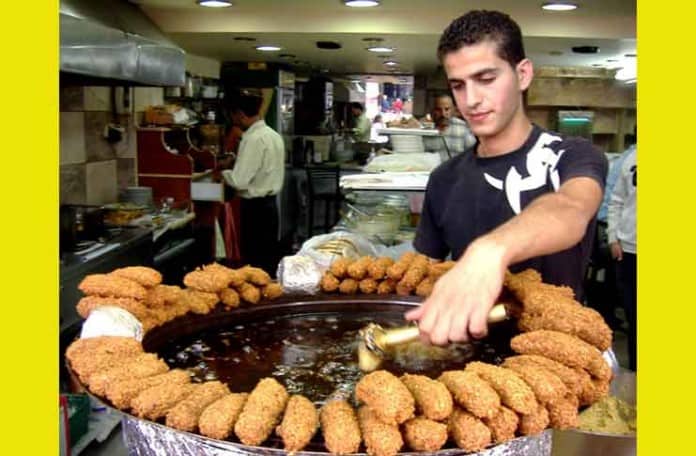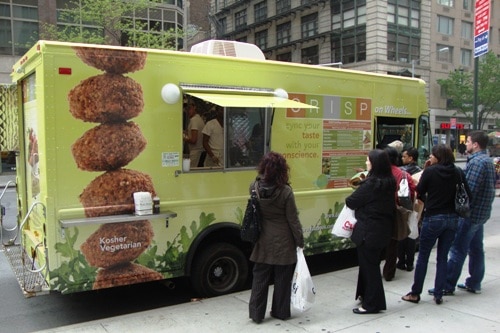 The new Crisp On Wheels falafel truck hit the streets last week when I was in L.A., but I had a chance to get there today for a NYSF First Look.  They have six different types of falafel dishes, which you can get either in a white or whole wheat pita sandwich or in a salad.
Today's Lunch is a Crisp Africa sandwich ($8.44 after tax) from Crisp On Wheels.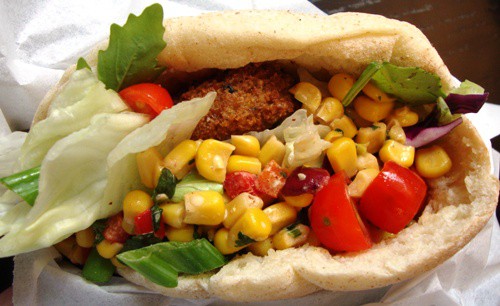 As I said, there are six different types of falafel dishes, with their names based on the country of origin of the ingredients.  There's the Crisp (falafel & hummus),  the Crisp Mexican (avocado, cilantro, salsa), the Crisp Athenian (Greek salad, yogurt sauce), and three others you can read on their truck menu here.  The menu is not quite as large as the store menu, but it's still a nice varied selection.
The sandwiches come in a "handbag" that you unzip in the middle to open.  As you can see from the picture above, it held the the sandwich nicely in place for the trip back to the office.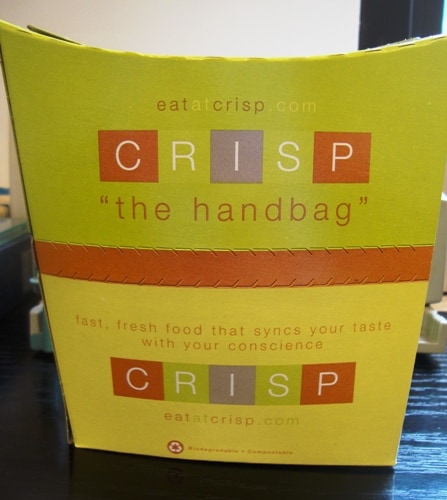 The sandwich I got, the Crisp Africa, had falafel, corn salad, cherry tomatoes, iceberg lettuce, sweet potatoes, scallions, and both a North African peanut sauce and an habanero harissa sauce.
The falafel was shaped like a thick disc, rather than a round ball or oval like the King of Falafel & Shawarma.  It was crisp on the outside and soft inside, with a nice herby flavor.
It's a good thing the falafel was herby, because there were a lot of ingredients and sauces it had to stand up to.  Among the main flavors (besides the falafel) were sweet potato, corn, and peanut sauce, and the iceberg lettuce and corn provided some crispiness throughout the sandwich.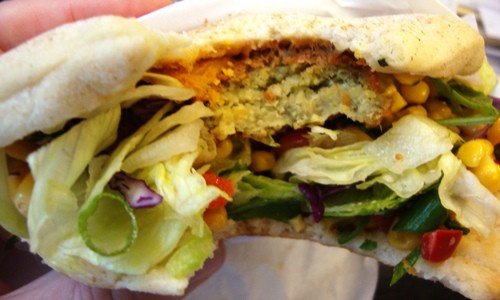 As I ate through the sandwich, the spiciness from the habanero harissa started getting hotter and hotter.  This was great with the coolness of the iceberg lettuce and corn, which took some of the edge off the heat.
It started getting a little messy towards the end of the sandwich, where much of the sauce settled, but they put a fork in the bag, which made things easier.
The Crisp Africa was an excellent falafel sandwich.  The falafel was well spiced, the fillings were fresh and yes, crisp, and the combination of peanut and harissa sauces was delicious.
Today's Lunch, the Crisp Africa, certainly lived up to it's name.  There are already several very good places to get falafel on the New York streets, and Crisp On Wheels is definitely another.  Welcome to the New York Street Food scene.
BTW, Crisp also has 3 brick-and-mortar locations – one downtown and two in midtown.