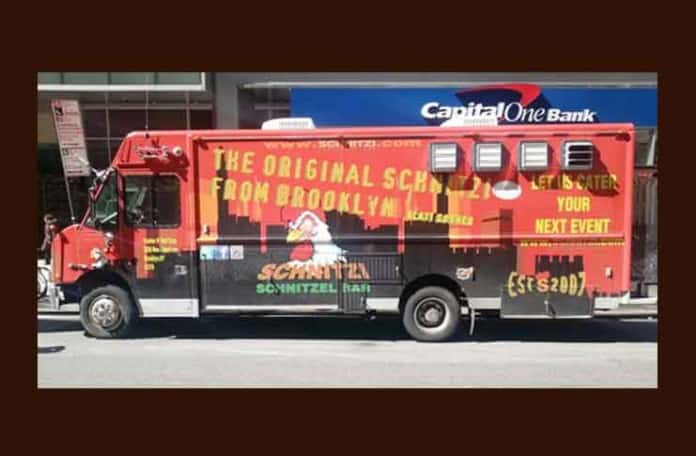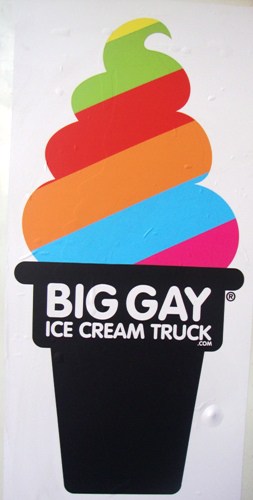 Today's the day – the return of the Big Gay Ice Cream Truck!  As Doug tweeted earlier, "I'm off to get the truck set up.  Schedule today is 100% TBA- no idea what issues await."  Since Doug doesn't know what to expect on the 1st day of the season, make sure to check their twitter here for updates.
There are plenty of other vendors around for lunch before you get some Big Gay Ice Cream.
KorillaBBQ
Headed to SOHO at Varick & Vandam! Ready by 11!
waffletruck DeWafelTruck@ 52nd btw3rd+Lex til 4:26.  Goesting Cart@ 60th+Colum til 5:41.  Vedette Cart@ 60th+5th til 7:03 Bierbeek Cart@ Park+31st till 5:01. FREE DINGES for giving us the name of your racing pigeon.
TaimMobile
Hudson and Kid today with kalamata olive falafel today 🙂
Mexicue
45th Street & 6th Avenue @ 11:30. We have a great special today: 3 chicken tacos & a drink for $9.
biandangnyc Ready by 11:30 at 24th btwn Park and Madison!
cupcakecrewnyc
Good morning FIDI 🙂 Today Cupcakecrew truck is parked on Hanover Sq. btw Water & Pearl St w/6 flavors of "LOVE"..Come say Hi!. Todays menu:Red Vel,Bklyn blackout,Lemon Poppy,Banana Blueberry,Van/Van & * Black Forest(Choc cake filled w/Marascino cherry filling!
RickshawTruck
We have szechuan chicken on board the trucks today and we spring cleaned! Our trucks are so clean and ready for you! yfrog.com/gz8stduj
UncleGussys
Good morning everyone, mucho sunshine on park avenue and 51st. A few specials for today including dessert :))) We even had aunt Georgia come over And hook us up with some cherry cheesecake. Were going cCCRazzzy 2day
PapaPerrone 55th Btwn Park&Mad. Calzone Tuesday w/ cheese or w/cheese & meatballs or pepperoni. We also have the Porto bella riceball & Italian ices
Cevaptruck
Goodmorning FiDi!!! Cevap Truck will be serving food on Water Street and Old Slip.
SweeteryNYC
A dreadful reminder, sad but true, Sweetery won't be out today. We will miss our great fans & friends hopefully as much as you will miss us.
KimchiTruck
Good morning! We're closed for lunch today due to a private event. Enjoy this beautiful day!
schnitznthings Morning peeps:) truck won't be out again unfortunately:( still in repair. Store is open from 11:00-8:00. Hope to see you soon