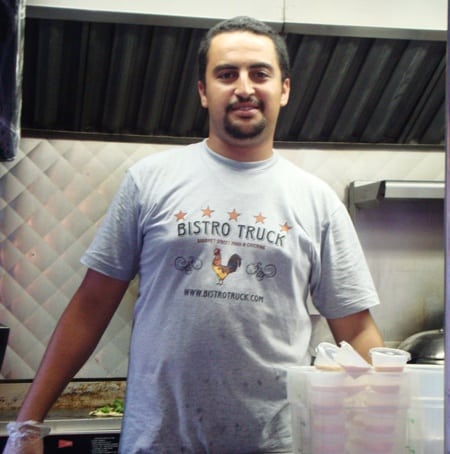 In our opinion, one of the best street vendors of high-quality food in New York is Bistro Truck.  They have been parked on the same block, 5th Ave between 16th & 17th St, since August 2009.
Bistro Truck was founded by Yassir Z. Raouli, who was born in Morocco and came to New York about 9 years ago.  Yassir brings North African and French sensibilities to the streets of New York with dishes such as Marrakech lamb, merguez sausage, cous cous, Dijon chicken, vegetable tajine, Moroccan mint tea and more.
The Bistro Truck's Daily Specials are even better.  Poached tilapia with olive oil and herbs was one of our favorite all-time lunches, the mixed grill is a meat lover's delight, and the fish tacos are delicious too.
This is the type of food driving the current street food renaissance – interesting, restaurant-quality dishes served from a truck.  We will be quite surprised if Bistro Truck is not nominated as a Vendy Award Finalist this year.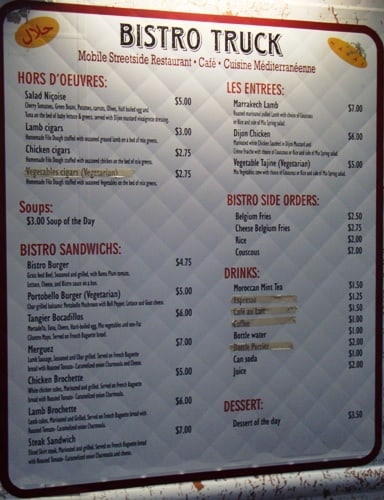 We caught up with Yassir and filed the following New York Street Food Featured Vendor Profile.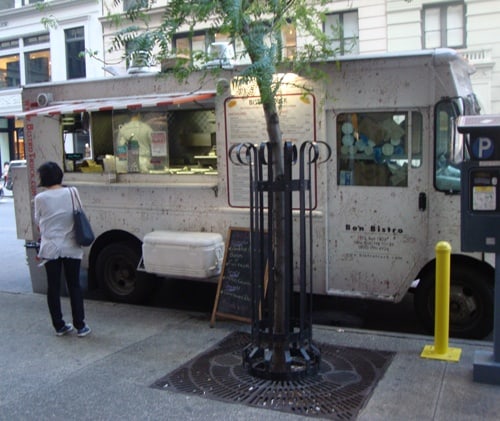 NYSF: Hi Yassir. Thank you for taking the time to speak with us. Did you have any cooking or business background before starting Bistro Truck?
Yassir: I worked at a nightclub and managed a restaurant, and my wife and I had an online womens clothing company. She designed the clothes and I ran the operations.  We tried to expand but couldn't get the financing, so we had to close down.  I had never cooked professionally before – but I love to cook.  It's my art.
NYSF: When and how did you decide to open a food truck?
Yassir: When the clothing company closed, we had to decide whether to get jobs or do something for ourselves.  I was a huge fan of the Dessert Truck and decided to go for it with a food truck.  If Dessert Truck could serve restaurant-quality desserts from a truck, I thought we could serve restaurant-quality food from a truck.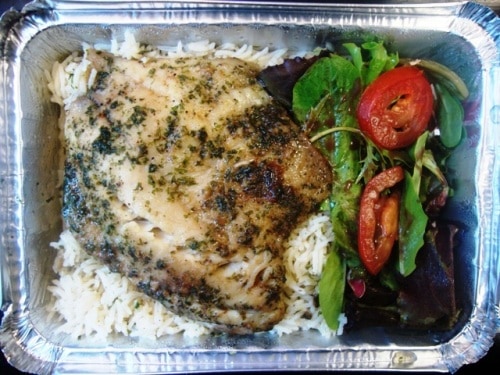 NYSF: Was it difficult to find a truck?
Yassir: Not really. It's actually an old Con Ed truck that we bought at an auction in New Jersey.
NYSF: How long did it take between deciding you were going to start a food truck and actually being on the street?
Yassir: It only took 4 months. Once I decide to do something, it's full steam ahead.
NYSF: Did you have any problems with other vendors or retail stores?
Yassir: No. This was our 1st location, and we're still here.  We didn't want to be in the zoo of midtown, and have built up a nice following here on lower 5th Ave.  The stores never bothered us, and we had 1 day of problems with 1 vendor, but that was a long time ago.
NYSF: What are some of you favorite foods to eat?
Yassir: Well, I love Moroccan food, but other than that, for me it's more about quality than cuisine.
NYSF: Do you have any future plans for Bistro Truck?
Yassir: Of course we would like to expand.  We are looking for investors and talking with banks.  We would like to own our own commissary and kitchen, and have more trucks.
NYSF: What advice would you give someone who wants to open a food truck?
Yassir: Don't do it!  Seriously, it's very tough. I've been up since 6am and won't get home until around 9pm.  But I enjoy doing it.  If you do what you love, it's not really work.  It's also nice to get the recognition when people compliment your cooking.  It feels good.
NYSF: Thank you Yassir for your time. Best of luck with Bistro Truck.
Yassir: Thank you.