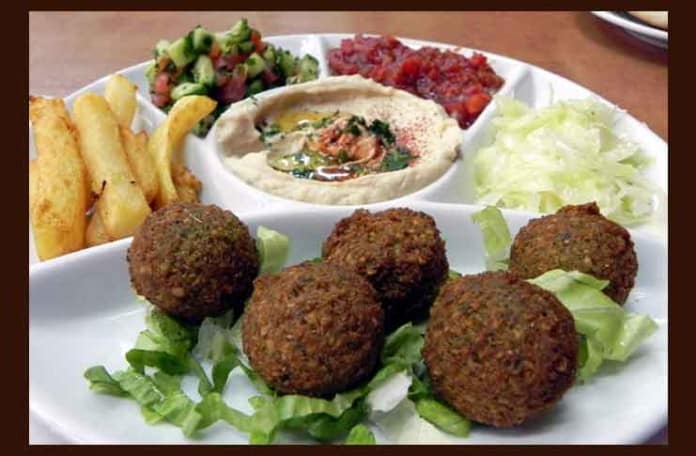 It's Thursday, which means it's time for another Wall Street Winner, provided by FiDi Mama of the Money Grub website.  For Today's Lunch, FiDi Mama reviews Alan's Falafel, one of the better-known and highly regarded falafel vendors in the Financial District.  How did she (and her daughter HD) like Alan's Falafel?  Find out after the jump.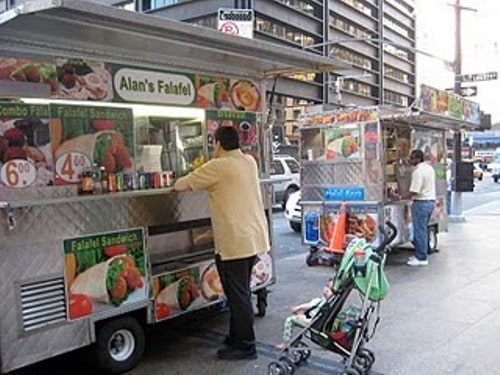 Cuisine: Middle Eastern
Grub: Falafel sandwich ($4) and off-menu side of two falafel balls and two slices of fried eggplant ($1). Meal total = $6, including $1 tip to feed 1 adult and HD.
Diners: One guy in front of me at 11:30. But we had to wait a bit. The cook is slow and he took his time between customers.
Review: Alan's Falafel is one of the most famous and highly regarded food carts in lower Manhattan. Everyone's written them up. And the falafel balls are good. Freshly fried. Crispy on the outside and green and moist on the inside. Not terribly flavorful, but good. The pita sandwich is packed with pita balls (perhaps 6 or so) and includes iceberg lettuce, diced tomato, a slice of fried eggplant, and a pickled hot banana pepper on top. Then he douses it in tahini, which was very good.
These falafel sandwiches do not travel well. By the time I got home, the tahini and salad juices had soaked through the bottom and the pita was falling apart. And I was disappointed that there was no red hot sauce on it even though I'd asked for it. I'd only order the sandwich again if I were eating it right there at the Brown Brothers Harriman plaza. However, HD's falafels, wrapped separately in foil traveled very well. I'd order the falafel platter next time and ask the cook to wrap the falafels separately in foil and then assemble my pita sandwich at home.
Rating:
You could get me to return again next week. [
Money Grub
]