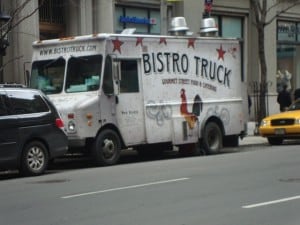 I've been hearing good things about the Bistro Truck, so Today's Lunch is their merguez sandwich. The Bistro Truck has been around for a while, and features North African French-inspired cuisine, such as tajines, chicken and lamb brochettes, dijon chicken, marrakech lamb, couscous, and they also have a well-regarded hamburger.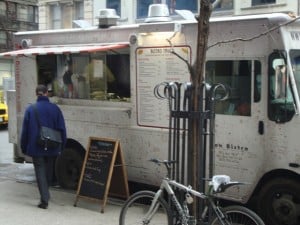 The merguez sandwich featues a spicy grilled lamb sausage served on a French baguette with roasted tomato-carmelized onions, charmoula (a Moroccan marinade), cheese, lettuce and some french fries (in the sandwich).  It was a tasty combination, the spicy sausage, cheese, marinade, onions and everything else.  It went together beautifully.  I don't usually like tomatoes, but they were good roasted with onions in the sandwich.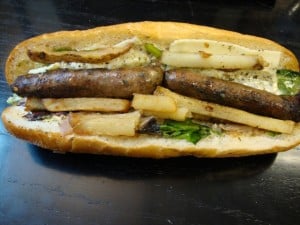 I also wanted to try their chicken or lamb cigars (appetizer-sized chicken or ground lamb in filo dough), but they didn't have them today.  Oh well, there's always next time.
The merguez sandwich was really tasty, so Today's Lunch was a solid 9 out of 10.  Looking forward to trying some of their other dishes.