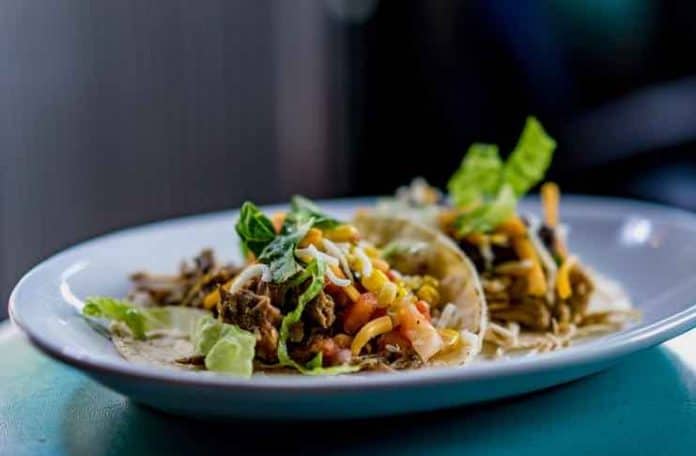 Searching for a healthy Vegetarian Moo Shu recipe? Well, Moo shu (also seen as mu shu) is a popular dish in many Chinese restaurants and with good reason. It's a tasty combo of shredded and spicy veggies, served in the West with hoisin sauce and mu shu pancakes.
Originally from the Shandong province of China, moo shu often features chicken or beef, but you can use tofu for a tasty vegetarian version.
In some ways, moo shu is like a Chinese answer to taco night: you can make a wide variety of fillings, drizzle the filling with your favorite sauce, and wrap them up in a tasty Mandarin pancake.
Let's dive into this recipe, which is vegetarian and vegan and serves 6 people.
Recipe for a Vegetarian Moo Shu with Tofu
Ingredients
1 tablespoon tamari, Nama Shoyu, or soy sauce

1/2 teaspoon sesame oil

1 tablespoon hoisin sauce (plus more for serving)

Ground pepper

Hefty pinch of salt

3 1/2 tablespoons stir fry oil, divided

2 medium carrots, julienned

4 oz firm, spiced tofu (also called 5 spice tofu), julienned*

2 stalks celery, julienned

1 sweet pepper (red, yellow, or orange), julienned

Six Shitake mushrooms, thinly sliced (use fresh or rehydrate dried ones in a bowl of warm water)

2 cloves garlic, finely minced or pressed

1 large leek, julienned

1 tablespoon Shaoxing wine

Mandarin pancakes, steamed (buy them, or make your own, see recipe in the link above)
*You can find 5 spice tofu in Chinese grocery stores, or make your own
Method
In a small bowl, combine the soy sauce, sesame oil, pepper, salt, and the tablespoon of hoisin sauce. Set aside.
Heat 1/2 tablespoon of stir fry oil in a wok or large skillet over high heat. Toss in the carrots and stir fry them for a minute and a half, then remove the carrots and set them aside.
Repeat this step, using 1/2 tablespoon of oil each time, with the tofu, celery, sweet pepper, and mushrooms. It is important to sauté each of these ingredients separately to add depth of flavor. Your filling will also be crunchier (rather than mushy from too much water from the fresh vegetables).
Now heat the last tablespoon of oil and stir fry the garlic and leek for about 2 minutes. You want the leeks to just start to wilt. Next, put all of the previously sautéed ingredients back into the wok.
Pour the Shaoxing wine around the outside of the veggies. Add in the soy sauce and spice mixture, and stir fry everything together for one more minute to heat through.
Serve right away with your steamed Mandarin pancakes and some extra hoisin sauce on the side. You can serve the hoisin sauce in small dipping bowls for each person.
Vegetarian Moo Shu FAQs
Can I use firm tofu instead of 5 spice tofu?
You can use firm tofu, but you'll need to press it to remove excess water for best results. You can use a tofu press like the one at https://tofubud.com, or put it on a plate with a heavy or weighted plate on top.
You can then marinate your tofu with a teaspoon of five-spice seasoning before using it in the above recipe.
You could also use smoked tofu for this recipe. Just be sure to press out the excess water.
What other veggies can I use in Moo Shu?
Other veggies that are delicious in Moo Shu are:
Finely diced eggplant

Julienned cabbage (Chinese, red cabbage, or green cabbage)

Finely sliced endives

Bean sprouts

Green onions

Julienned zucchini

Bean sprouts

Sweet corn

Fine green beans
What other substitutions can I use?
You could:
Add toasted sesame seeds on the side for serving

Use thinly sliced seitan instead of tofu

Use other types of mushrooms

Add 2 whisked eggs (if you aren't vegan)

Use any other veggies in place of the celery or carrots
What can I use instead of Mandarin pancakes?
You could use dumpling wrappers as a shortcut instead of making your own Mandarin pancakes, or if you can't find them in the grocery store.
All you need to do is stack the dumpling wrappers, roll them out, and then steam them. Each dumping wrapper makes one Mandarin pancake.
If you have dumpling wrappers leftover, you can wrap them tightly in some plastic wrap (individually) and then freeze them.
How do I steam my Mandarin pancakes?
If you have a steamer, your pancakes will be ready in just a minute or two.
If you don't have a steamer, all you need to do is boil a pot of water. Hold each pancake over the steam using a pair of chopsticks. Once the pancake is heated through, it's ready to serve.
Want some more yummy recipes? Check out our healthy chicken breast recipes, or our exotic meat recipes!