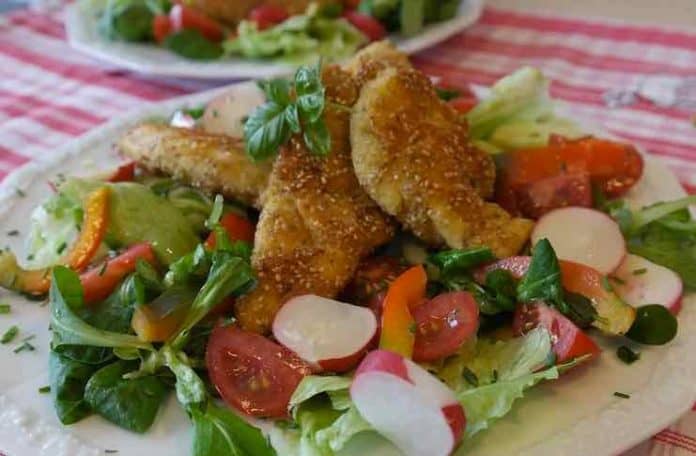 Chicken is a really delicious meat that is also easy to cook and a go-to for quick meals. But did you know that chicken has lean proteins that are essential for the daily diet? Another amazing fact about chicken is that it can absorb any flavor and nutritional aspects of other food combined with it. Tip: always look for chicken breast fillet outlets that are responsible and efficient on quality.
So here are some healthy chicken breast recipes that are ready to enlighten your dining table and provide nutrients: 
Garlic Butter Chicken Bites with Asparagus
Asparagus is a whole vegetable packed with vitamins, iron, antioxidants fiber, and folates. Using chicken bites in a recipe instead of entire breasts makes them tender and juicier while they also grab on to the flavoring amazingly. Here's the easy, low-carb recipe to serve the family:
INGREDIENTS 
3 

chicken breasts

, cut into bite-sized chunks – You can check prices on Amazon.

2 bunch of 

asparagus

1/2 cup 

butter

, softened

1 tsp 

olive oil – You can check prices on Amazon.

2 tsp minced 

garlic

1 tsp 

Italian seasoning

 

1 tbsp hot sauce, optional 

1/2 cup

low-sodium chicken broth

Juice of 1/2 

lemon

1 tbsp minced 

parsley

Crushed 

red chili pepper flakes

, optional

Slices of 

lemon

, for garnish

For the chicken seasoning:

1 tsp 

salt

1 tsp fresh cracked 

black pepper

2 tsp

onion powder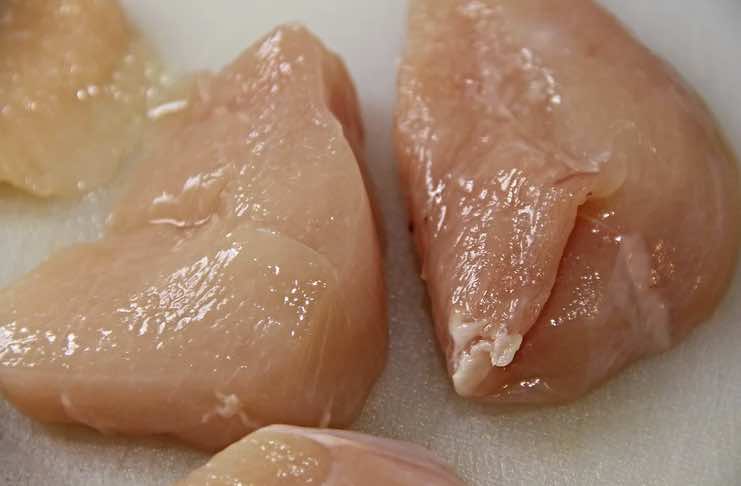 DIRECTIONS
Slice chicken breasts into bite-sized chunks. Season with salt, pepper, and onion powder. Let sit.

Blanch trimmed asparagus in boiling water for 2 minutes Drain and set aside.

Heat half butter and olive oil in a skillet. Gently stir-fry the chicken bites on all sides until golden brown. Add one tsp minced garlic and Italian seasoning, and set aside. 

Deglaze the same skillet over medium-high, add minced garlic, and chicken broth. Add remaining butter, lemon juice, hot sauce, parsley, and the blanched asparagus. Add the sautéed chicken bites back to the pan and stir. Garnish with parsley, crushed chili pepper, and lemon slices.
Baked Chicken Breast with Veggies
The healthiest way to cook your chicken breasts is to bake them and serve with veggies. It is a relaxed, one-pot recipe that you can easily experiment using different flavors and vegetables. Take a look:
INGREDIENTS 
3 chicken breasts

1/2 pound (220g) red potatoes

1 small bunch asparagus

Kosher salt, freshly ground pepper

1 tsp sugar (or honey)

1/4 cup olive oil

1 lemon: zest finely grated + 2 tbsps fresh juice + lemon slices

2 garlic cloves, finely minced 

1 tbsp Dijon mustard – You can check prices on Amazon.

1 tsp Italian seasoning

1/4 tsp ground cumin

Fresh cilantro finely chopped
DIRECTIONS
Preheat oven to 420°F (210°C). Lightly oil a baking pan—season chicken breasts on both sides with salt and pepper. Whisk lemon zest and juice, garlic, mustard, Italian spices, cumin, half cilantro, and sugar in 1/4 cup oil in a medium bowl—season with salt and lots of fresh cracked pepper.

Pour the sauce over chicken, potatoes, and asparagus, top with a slice of lemon covered with foil and bake for 35 minutes. Remove foil and bake for 5 minutes crisp up the edges. Add cilantro. 
Mozzarella Spinach Stuffed Chicken
A perfect quick fix on a busy day and so flavorful that it'll have you wanting more. Chicken with cheese and spinach can never be a wrong combination. Moreover, stuffed chicken retains moisture and enhances flavors. It becomes more of a healthy edible this way:
INGREDIENTS 
2 boneless skinless chicken breasts, butterflied

3 tbsps olive oil

2 slices mozzarella cheese

2 cups  baby spinach

4 cloves garlic, minced

1 small onion, minced

1 can low-sodium crushed tomatoes

1 tbsp sugar

1/2 tsp balsamic vinegar

1/2 cup chicken stock

Crushed red pepper flakes, to taste (optional)

Salt and fresh cracked pepper
Directions
In a skillet, sauté onion and 2 cloves minced garlic in a tbsp olive oil until translucent. Add tomato and chicken stock. Stir in sugar and balsamic, with salt and pepper

In another skillet, add olive oil and garlic, sauté. Add spinach and stir until wilted.

Slice chicken breasts lengthwise, season with salt and pepper. Place a slice of mozzarella and spinach and garlic over each. Fold and sprinkle red chili flakes.

Cook chicken on both sides for 5 minutes until cheese is melted. Pour the tomato sauce around chicken to reheat.
Summary: Chicken Breast Recipes Are Easy And Delicious
After you try one of these Chicken breast recipes above (or all of them for that matter) – you'll realize how easy it is to cook them, and how yummy they are. Enjoy!