Searching a short guide on how to make Avocado Toast? You've reached the right place. Shout out to avocado lovers all around the world. You are truly an inspiration for making this perfect avocado toast recipe.
The reason why avocado is so freaking loved by millions isn't only the fact that it contains Vitamin A, Vitamin E, Vitamin K, Vitamin B, Sodium, Magnesium, and more but also the fact that it makes so many recipes way more delicious.
Learning how to make the perfect avocado toast recipe will definitely take your breakfast and brunch to a whole new level. 
In this handy tutorial, I will show you 5 easy ways to nail preparing avocado toast!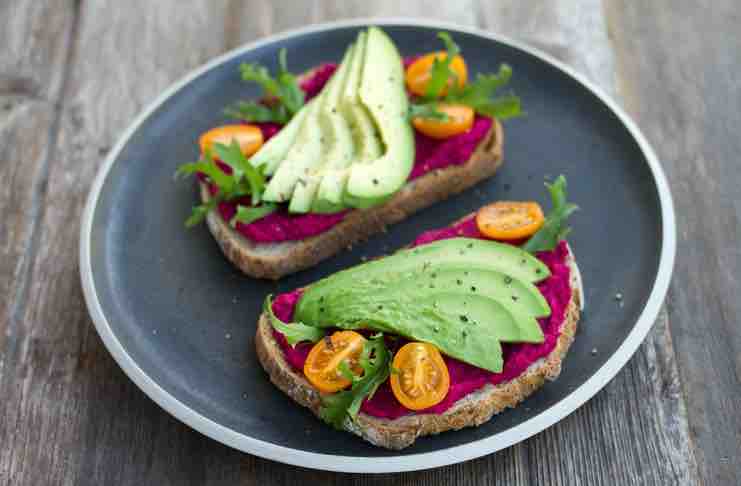 Here are 5 delicious ways how to make avocado toast just like the one you will have in the best restaurant in New York City: 
1. Simple Avocado Toast Recipe
Prep time
10 minutes
Ingredients
Half small avocado 

half teaspoon of extra virgin olive oil

1/8 teaspoon of Kosher salt

Whole grain toast 

1/8 teaspoon of black pepper

Whatever toppings you prefer (as

Meyer lemon zest or

sesame seeds)
Preparation 
Grab your cutie glass bowl and add the avocado, salt, black pepper and lemon juice.

Mash the avocado mixture.

Add the

smashed avocado mixture to the top of the toast.

Drizzle with the extra virgin olive oil and add whatever toppings you prefer.
In this avo toast, ingredients are the key. Make sure you use fresh avocado, crusty whole-grain bread, and excellent extra virgin olive oil.
These ingredients will make you one or two avocado toasts. If you want to make more avo toasts, increase the ingredients accordingly.
2. Avocado Toast with Bacon and Egg
Prep time 
30 minutes
Ingredients 
1 large ripe avocado

2 slices of chewy bread

Lime juice

Streaky bacon rashers

Red chili flakes

2 free-range eggs

Chopped coriander or mint

Butter

Salt and black pepper
Preparation 
Halve, stone, and mash the avocado in a bowl, then add the red chili flakes, lemon juice, chopped coriander or mint, salt, and black pepper.

Heat your oven to 220ºC/200ºC. Then put the yummy bacon rashers on a foil-lined baking tray and cook them from 15 to 20 mins, till the bacon crisps.

Now it is time to fry the eggs in a few drops of oil and toast the chewy soft bread.

Spread the butter over the bread, then top it with the mashed avocado mixture, bacon, and fried egg. And bon appetite!
The secret behind getting the perfect avocado toast with fried egg and bacon is serving it while the butter is sizzling underneath the mashed avocado mixture.
3. Caprese Avocado Toast
Prep time
10 minutes 
Ingredients
1 Avocado

1 c. Mozzarella balls

Lime juice of ½ lemon

2 Thick slices of toasted sourdough bread

Sliced basil leaves

Kosher salt &

Flaky sea salt

Black pepper

Balsamic glaze
Preparation 
Grab a large glass bowl and start to mash avocado and the lemon juice with the back of a fork. Then season the mashed avocado mixture with salt and black pepper.

Spread the smashed avocado on the toasted bread and add the mozzarella cheese and cherry tomato.

Here is everyone's favorite step! Sprinkling with flaky sea salt, drizzling with balsamic vinegar and garnishing with fresh basil. 
4. Avocado Toast with Smoked Salmon and Goat Cheese
Prep time 
5 minutes
Ingredients 
3 pieces thinly sliced smoked salmon

1 Avocado

1 slice 

daves killer bread

or sourdough bread

1 tablespoon of cream cheese or goat cheese

1 teaspoon capers

2 tomato slices

3 thin slices of red onion

Kosher salt and freshly ground black pepper

Extra virgin olive oil

Lemon juice
Preparation 
In a bowl, mash avocado, add the lemon juice, goat cheese, seasonings, and mix.

Brush the sourdough bread with the extra virgin olive oil, then add the creamy avocado mixture to the surface of the bread.

Over the mashed avocado mixture, add the smoked salmon, tomato slices, onion slices, and capers. And now your perfect avocado toast recipe is ready to be served.
You can also prepare this recipe by brushing the sourdough bread with olive oil, adding the goat cheese to the toast, and adding the smoked salmon, sliced tomato, onion, and capers. And finally, sprinkle the lime juice and seasonings.
This recipe is so nutritious and excellent if you are following a healthy diet, especially since it contains Cheese. Check out this article to learn 20 brilliant ways of eating Cheese.
5. Sweet Potato Avocado Toast
Prep time 
10 minutes
Ingredients
1 large avocado

1 large sweet potato

2 smashed garlic

150 grams of cherry tomato

Crumbled bacon

Crumbled feta cheese

Black pepper and salt 
Preparation 
Wash a large sweet potato, then slice it lengthwise into ¼-inch thick slices.

Put the sweet potato slices in the toaster on high till they are thoroughly cooked. 

Let the sweet potato slices toast, and meantime, grab a bowl and mash avocado, add the cherry tomato and garlic, and stir.

When the sweet potatoes are done, top them with the smashed avocado mixture and garnish them with feta cheese and bacon.

Season the sweet potato toast with salt & pepper.
Keep in mind that the duration of this recipe depends on the settings of your toaster, as you might need to toast the sweet potato slices more than once to get the best results.
FAQ about How to Make Avocado Toast:
What is avocado salsa made of?
Avocado salsa is made of chopped grape tomatoes, mashed avocado, finely chopped pineapple, finely chopped sweet onion, lemon juice, finely chopped fresh cilantro, chili flakes, garlic salt, lime tortilla chips, and black pepper.
What does avocado toast do for you?
Avocado is so nutritious that it provides your body with the healthy fat it needs. This is especially good for vegetarians. A single mid-size avocado contains 75% monounsaturated fats, reducing harmful cholesterol levels and lowering the chances of getting heart diseases.
They contain healthy fibers that help in digestion and weight loss. Avocados aren't only high in fiber but also contain 20 different kinds of vitamins and minerals, including; contains Vitamin A, Vitamin E, Vitamin K, Vitamin B, potassium, magnesium, and more.
Is it OK to eat avocado and egg together?
Avocado toast with fried egg is such an excellent healthy recipe for all the right reasons. It facilitates dopamine production and contains D and B-complex vitamins, which reduce anxiety and keep you away from depression.
The sliced avocado with a fried egg or boiled egg recipe is rich in Monounsaturated and polyunsaturated fats, including Omega 6 and 3, which help regulate blood pressure and keep your heart healthy.
Not only this, but this meal is also anti-aging and excellent in protecting your skin from oxidative stress damage.
Avo toast with egg is also one of the best natural home remedies for fighting insomnia.
Final thoughts
Now you know our five delicious ways of How to Make Avocado Toast, we expect you to make your family the yummiest avo toast in record time!
Want to read more of our latest posts? Check out these kitchen tools you'll need for cooking Asian food.