A Review by Emma Rudy
Amongst the best neighborhood in Manhattan, Saigon Shack offers classic Banh Mi and Po for incredibly cheap prices.
S.S. Classic Banh Mi at Saigon Shack
MacDougal street is one of the greatest blocks in New York City. Featuring the best comedy clubs in the world, rowdy bars, jazz clubs, quiet coffee shops where you can still look out the window and see the city walk past you, and restaurants serving food from every country. There is one particular restaurant I frequent; Saigon Shack, a Vietnamese restaurant located in the middle of MacDougal that remains busy all day by locals, comedians getting off their set, and anyone who knows (or wants to know) the secret to their famous $5.00 classic Banh Mi. 
Prices that beat your favorite corner store bodega sandwich 
The beauty of dining in the city is admiring the often offbeat and exciting ambiance of New York City. Spending less than you would on your $7 bodega sandwich may have seemed impossible, but this is why Saigon Shack is on the top of my list to share with readers. The S.S classic Banh Mi is $5.00 and packs in the delights of Vietnamese ham, pate, and their house bacon. 
Also packed into this glorious sandwich includes mayo, cucumber, cilantro, carrots, and daikon. The key with Saigon Shakes Banh Mi is the bread. Even though I have yet to experience a baguette straight out of the oven in Paris, I feel like it is the closest I have been to comparing the two. Sounds crazy right? If the bread was not as fresh or crunchy, I do not think the sandwich would be as noteworthy. 
Brisket Banh Mi
After demolishing the S.S. classic Banh M I had to see if the other sandwiches offered on the menu for $5.00 more were worth the try.  I went with the spicy brisket topped with onions, pineapple, and spicy au jus sauce. Consistency is key, and I was relieved to bite into the same warm, crunchy, fresh bread I was so excited about with the classic. As a little girl, my Bubby would make her famous brisket with soft carrots and celery. She would make this for Hanukkah and I would savor each bite as I watched the candles on the menorah slowly burn down.  
My mother and grandmother sipping Manischewitz wine as the plate of brisket slowly vanished. When I see brisket on the menu I remember the soft taste of my grandmothers. As nothing will seem to compare, memories remain when eating this tender meat. I admire the authentic touches to the Banh Mi. Juicy hand-carved brisket, a touch of citrus that brings together the savory and spice to make a perfect sweet and spicy sandwich. 
Vegetarian diets welcomed 
Saigon Shack welcomes noncarnivores eaters as well. "The vegetarian" with seasoned soy protein is just as exciting. Without the mayo or meat, you can still get the protein and crunch of the cucumbers, carrots, and daikon. You can season any of the sandwiches or pho with hoisin sauce; a sweet, tangy, thick sauce commonly used as a glaze for meats. Not to mention the Pho offering a vegetarian option containing the soy protein from the Banh Mi, along with other vegetables. 
Pho Real, it is worth it. 
From the list of Pho, you have options of brisket, vegetarian, beef ball, oxtail, and spicy short rib. I recommend that first-timers get a Banh Mi and Pho to share. Both are a must-try and the portions are generous enough to enjoy each dish. I would order the classic Banh Mi and any Pho of your choice. The brisket Banh Mi is my favorite however, for your first experience sometimes you have to stick with the classic. Unfortunately, they do not serve alcohol but try the coconut Vietnamese iced coffee or the Thai iced tea. They also offer multiple lemonade flavors. 
Vermicelli or Rice Bowls
Recently I came to dine here and saw a massive bowl that was headed to my neighboring table brimming with meat, shrimp, and potstickers laying atop a bed of noodles. This massive bowl contains, (depending on what you order) all that Saigon Shack has to offer. You can choose one protein such as lemongrass chicken or shrimp. You can choose a trio which my waiter recommended, of either pork or chicken, shrimp, and fried spring rolls over your choice of rice or vermicelli. I chose vermicelli, a fine noodle made of rice that is commonly used in Asian cooking. Similar to angel hair pasta, these fine noodles are a perfect complement to the dish and tend to slip right off your chopsticks.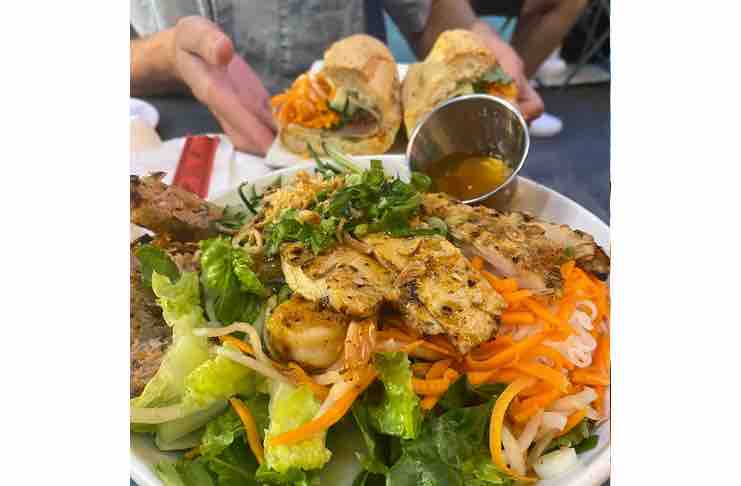 Ambiance 
Saigon Shack is a place where you can enjoy diverse, high-quality food in a relaxed setting. You are amongst the best block to people watch as you experience the casual feel and quick service. When dining in a neighborhood like MacDougal you want to feel as if you are part of the crowd. Sit back and make a mess of crumbs, noodles, and sauce. The casual setting completes the experience and you are in front row seats enjoying the McDougal show.
A True Gem 
Part of my food adventures is finding local, affordable gems that I can share with my readers. Saigon Shack offers an atmosphere where the quality, quantity, and prices are unbeatable. A late-night comedy show calls for a post-theatre snack. Chow down a Banh Mi on your way home or enjoy a Vietnamese beverage and continue cruising through the lively street.
The To-Go Window
Inside the restaurant, there is a to-go window where it normally takes under 10 minutes to get your food. You are a few blocks from Washington Square Park where benches and grass are another great front-row seat to enjoy your meal and admire the dancers, skaters, and musicians. Order a few appetizers (the sweet potato fries are their most popular) a Banh Mi, some refreshments, and you will have yourself a memorable feast. Unquestionably, Saigon Shack is one of the most affordable, authentic, quick-service eatery in Manhattan.
Want to read more of our reviews? Check out our review of Greene Turtle.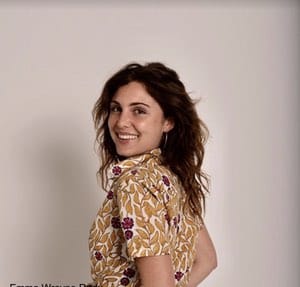 Emma Wrayne Rudy is a food connoisseur ready to indulge in every chance she gets to explore the beauty of New York City's endless food scene. Emma's writing style focuses on local hidden gems, food carts, food trucks, ma and pa joints, and eats that are affordable for everyone to try. With the diverse culture New York offers, she wants to emphasize on the foods that are less talked about and create a story behind each one. Growing up in Los Angeles at the age of seventeen Emma's curiosity for food started as she went to every restaurant she could and wrote reviews on her experience, the ambiance, and her meals. Moving to New York a year ago she is ready to take on the immense food culture New York City has to offer, and continues to dedicate her days to writing as much as she can to pursue her dream as a food writer and storyteller.