By Emma Rudy
The paint splattered on the building gives you a glimpse into what awaits you once you enter the magical doors at Paint 'N Pour. Loud colors, neon signs, graffitied walls, smiling faces, murals, a childhood dream with a twist. Paint 'N Pour is a brilliant concept creating an ambiance for painting, drinking, eating, and creating masterpieces that you can bring home and proudly hang on your wall. 
How does Paint 'N Pour work?
Paint 'N Pour (Check out their website ) offers two hours of painting and bottomless cocktails with a purchase of a ticket. Once you are seated, your canvas, brushes, and paint are all set up for you. An art instructor will circle the room displaying the art piece you will be drawing and will guide you along the way. (You do not choose a painting the instructor will have a painting for you to recreate). Each room I walked through had different drawing options. If you have never picked up a paintbrush before, don't worry. Remember, Paint 'N Pour is all about having a good time, enjoying yourself and your company.
Did I hear Boozy Shakes?
Paint 'N Pour and MikeyLikesit are teaming up to create delicious limited-edition boozy milkshakes. Mikey himself is a New York Native who sought out to create a pop-culture-inspired ice cream shop with locations in the Lower East Side and Harlem. Your childhood memories will come alive as you pick up you're paintbrush and indulge in a boozy version of your favorite childhood shake. 
Cookies 'N Keith
Named after Keith Haring, this shake took on Keith's black and white signature style by creating cookies and cream milkshake. Keith was an American artist creating pop art that emerged from New York City's graffiti scene in the 1980s. Cookies 'N Keith features, "Ice Ice Mikey" Vanilla ice cream, Baileys, whipped cream, and crushed Oreos sprinkled on top. A true black and white special, topped with a cherry.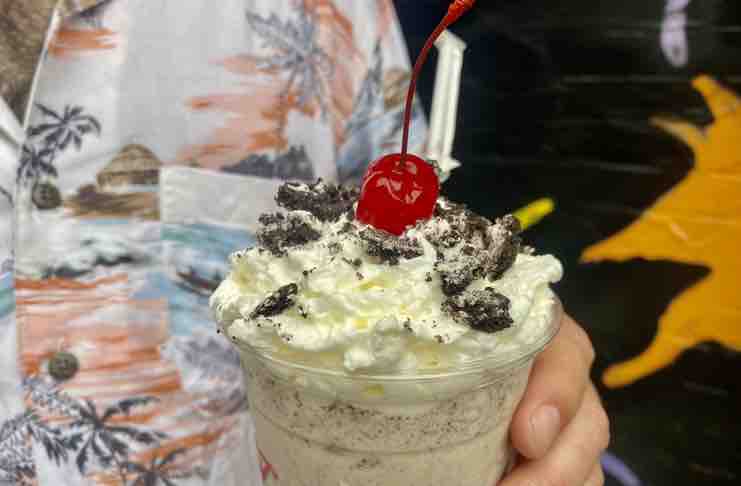 These milkshakes are not included in the open bar however, they are definitely worth a try. I'd recommend going for the full experience and ordering a shake for your party so you can all enjoy a few sips of shake heaven. These are limited edition shakes, so try them while you can, as the PNP peeps do not know when the next boozy milkshakes will return. 
Warhol's Bananas? 
Paint 'N Pour offers a space to get your artistic juices flowing, so creating a banana shake naturally calls for being named after the man himself. Warhol's Banana shake truly resembles the style of the great Andy Warhol. His artistic expression is reflected in the way PNP creates this tasty shake while knocking the traditional shake clean off the canvas. Additionally, they offer Mikey's Vanilla Ice Cream, Bacardi Dark Rum, organic bananas, whipped cream, salty caramel drizzle, topped with a cherry. If you like a bit of sweet and savory, this shake is for you.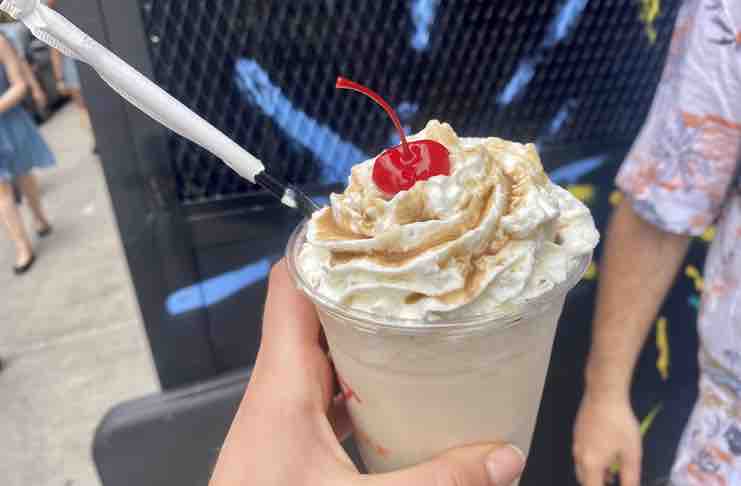 The epic ambiance of PNP
There are three rooms, all in different themes, as well as outdoor seating. One room is titled the Graffiti Room which, during my visit, was reserved for a party. This room can fit up to 30 people. The next room is the Keith Haring room, which can hold up to 15 people. The Andy Warhol room features a collage of the Notorious BIG on the back wall. The outdoor area offers seating for small or large parties. Wandering through the space you will see neon signs spread across the walls, Hey Arnold characters wearing Supreme clothing, and in front of the bar, you have a collection of current artists painted on canvas displaying a pop-art theme. Throughout your Paint 'N Pour experience, you are amid incredibly creative pieces of art in every direction you look. 
Food and cocktails
Paint 'N Pour offers small plates which are shown on each table along with your bottomless cocktail options. Offerings include wings, cauliflower bites, potstickers, quesadillas, and much more. The cocktail list is in theme as well, serving Picasso Punch, Mona Lisa Margarita, Da Vinci Double Shot, and a selection of wines. 
Paint 'N Pour is worth the visit, as shown by their Reviews
As the PNP peeps say, "paint like Picasso, drink like Van Gogh." Once you open those doors, you are surrounded by masterpieces as well as a finished masterpiece of your own. This puts a creative, fun twist on your usual date nights. Relax with friends or get a group together and bring out your artistic side. Choose an assortment of delicious cocktails, boozy milkshakes, enjoy a variety of snacks, and show yourself what you're made of. Who knows, maybe you are the new Picasso?
Want to read more of our latest posts? Check out our tips for dining in Times Square, or our review of the Casa Birria Food Truck.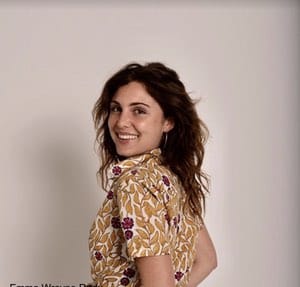 Emma Wrayne Rudy is a food connoisseur ready to indulge in every chance she gets to explore the beauty of New York City's endless food scene. Emma's writing style focuses on local hidden gems, food carts, food trucks, ma and pa joints, and eats that are affordable for everyone to try. With the diverse culture New York offers, she wants to emphasize on the foods that are less talked about and create a story behind each one. Growing up in Los Angeles at the age of seventeen Emma's curiosity for food started as she went to every restaurant she could and wrote reviews on her experience, the ambiance, and her meals. Moving to New York a year ago she is ready to take on the immense food culture New York City has to offer, and continues to dedicate her days to writing as much as she can to pursue her dream as a food writer and storyteller.