It's sweltering and my companion and I are running late. I call and ask to push back the reservation; the host does not hesitate and is incredibly understanding. We are grateful, and varying degrees of sweaty, by the time we arrive. The façade is subtle and tasteful with cream-colored crown molding and a distinctly European bistro vibe. Amazingly, there are people eating outdoors. We immediately bypass them in favor of the greatest gift known to humankind – air conditioning.
We are greeted rather enthusiastically and are led deeper into the restaurant, where our table for two awaits. The energy from both staff and guests is warm and effusive, and although I have no problem imagining families dining here, tonight the ambiance feels distinctly mature. 
The Beverages at Parma Nuova
Upon recommendation, I order the Parma Nuova Signature Martini, an enticing combination of Svedka blueberry and raspberry vodka, St. German elderflower liqueur, muddled fresh blackberries and sage, and freshly squeezed lemon. It is surprisingly honeyed, floral, and herbaceous, although the flavored vodka gives it the slightest bit of artifice on the aftertaste.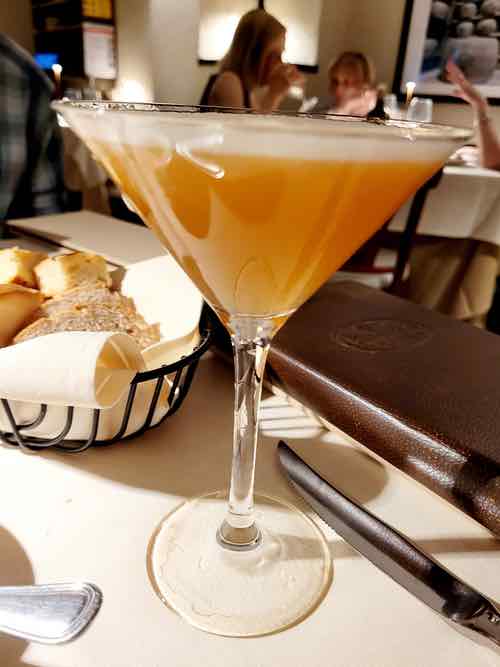 My companion orders a Kentucky mule, made with Maker's Mark bourbon, and it is surprisingly good – very ginger-forward, smooth, with a clean aftertaste and lingering warmth. My companion (who very generously offers to take notes of his own), writes, "great sour/sweet balance, smooth and silky flavor, with ginger beer [having] very subtle and balanced spice levels." It's so good, I order one for myself. If you want to try it at home – check out this recipe at Foolproof Living.
We also share a mojito just for kicks, mostly because it is so incredibly hot outside. My companion thinks it is heavy on the mint; I disagree, but possibly because I am still trying to outgrow the mentality of making the alcohol disappear. Either way, it is refreshing and not too sweet.
The Bread
The breadbasket and dipping oil arrive first. There is a cheese breadstick, not soft and fluffy but very stick-like in appearance, with a delightful crunch and pleasantly strong cheesiness.
There is also what appears to be whole wheat sourdough, along with a classic sourdough, and these are warm and smell fresh but are dry as if they had been left in a hot box a hair too long and had become mildly dehydrated. The flavor, however, is unquestionably delicious – slightly fermented and yeasty.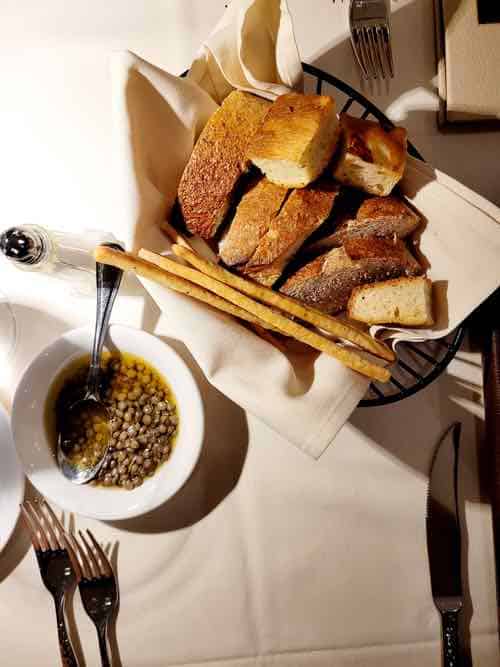 The dipping oil is lentils with extra virgin olive oil and fresh rosemary. It is complex and tasty, with the grassy olive oil lending a refreshing bite to the earthy lentils, and the rosemary providing the needed olfactory oomph.
Paired with the already dry bread, however, the starchy lentils add to this sensation, and I end up spooning them over something else entirely (see below). 
The Antipasti
We order fried calamari, which, for some unknown reason, comes with fried cauliflower. I'm not mad about this; it turns out, despite the excellent paper-thin batter on the calamari, the seafood itself tastes slightly overcooked and rubbery.
Brownie points for the batter though, it coats the cauliflower fantastically and lends much-needed crispiness to a vegetable often overwhelmed by its own water content. (I end up preferring the cauliflower.) 
Thankfully, my companion thoroughly disagrees and happily consumes the majority of the calamari, pausing only long enough to write, "thin, battery batter, great crispiness, sweet and slightly spiced sauce, very rich." While "battery batter" is not how I would have described it, the accompanying sauce is admittedly a delicious counterpart to the savory seafood.
The lovely and attentive waiter recommends the burratina over the beef carpaccio, and since I am never not craving cheese, we follow his advice. It is admittedly jewel-like in its presentation, the single burratina cheese folded perfectly to protect its luscious center, gently resting on a bed of sweet roasted peppers, marinated eggplant, and sundried tomatoes. 
The burratina is decadent, fresh, and likely house made – it tastes creamier and more acidic than traditional, industrially-produced burrata. It not only pairs well with its declared accouterments, but also delightfully finds a home on top of the otherwise dry sourdough, breathing new life into both as the cheese provides the necessary moisture and the bread provides a change in texture and flavor. Topped with the aforementioned lentils, this antipasti becomes remarkable.
The Pasta / Risotto
Upon hearing the risotto del giorno, we are in immediate agreement – we're getting that. The risotto of the day is lump crab meat with arugula and tomato. It most certainly does not disappoint, with the rice being perfectly al dente for perhaps the first time ever in my risotto experience.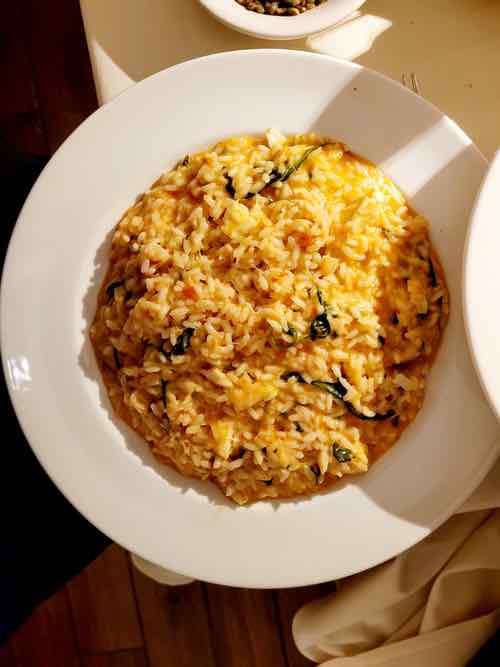 The dish at large presents a different type of umami, with a complex combination of deep sweetness from the natural sugar in the tomatoes and the rich savoriness from their glutamates formed during the cooking process. The peppery arugula is tolerable and the crab meat chunks are generous, soft, and melt into the risotto. 
This is my companion's favorite dish by far, and his notes are as follows: "cheesy, saucy, extremely savory, crab is very prominent and flavorful, rice perfectly cooked and thick/fluffy, arugula brings needed bitterness to [the] sweet tomato." An overall accomplished dish that I would not hesitate to recommend. 
The singular dish that I insist upon ordering, far before even stepping foot into Parma Nuova (drooling over online menus is a thing, okay?), is the cacio e pepe alla Parma. Literally, "cheese and pepper," I cannot order it. It has the added bonus of swapping out the traditionally used pecorino Romano in favor of Parmigiano Reggiano, so I am actually just trying something new and exciting in the name of gastronomic experimentation. 
It does not, sadly, appear in the center of a euphoric wheel of cheese. It does, however, arrive in a bowl of crispy baked Parmigiano Reggiano, which my companion happily dives into once I'm done demolishing the perfectly cooked pasta. 
The cheese substitution is noticeable in its heavier scent and in its more pronounced flavor of mushrooms, caramel, and toasted nuts, along with a slightly less salty flavor profile. An overall umami bomb, this dish is a game changer. Honorable mention to the house-made spaghetti (in fact, all the pasta here is house-made), whose inimitable texture leaves me speechless and provides the necessary surface area and texture to be lovingly coated in the beatific sauce.
The Entrees
There are several tempting options, but we ultimately decide on the Mediterranean sea bream, which comes with shrimp and garlicky spinach. The shrimp and sea bream are both lightly floured and are served with a white wine sauce; the shrimp is slightly overcooked but the filet is not, and its soft, flaky texture and mild flavor are perfectly highlighted. 
The sauce is simple but well-executed with no breakage. The spinach has a lovely, roasted garlic aftertaste and is clean on the palate. After the savory walloping provided by the pasta and risotto, this dish is elegant and understated. 
Dessert
The waiter does not know me well, and understandably appears surprised when I request two desserts. My companion, who knows me better, also appears surprised and leaves me feeling a tad insulted. Everyone knows there is a separate stomach saved singularly for desserts.
We order (or rather, I order) the daily selection of gelato and sorbet, which we are told is vanilla gelato, with peach and lemon sorbets. The vanilla gelato is very good, heady in scent and milky in the way that good gelatos are, where the lower cream content makes each spoonful melt just a bit quicker and puddle a bit more on the palate than an ice cream of equal caliber.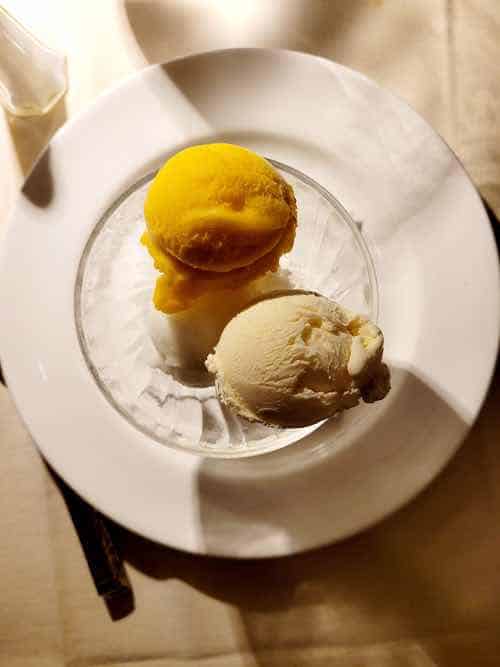 The lemon sorbet is refreshing but we both agree it skews on the side of too sweet; it is reminiscent of store-bought lemon ice. The peach sorbet is floral and tropical and tastes like mango…to the point where, by my last spoonful, I am convinced that it is not peach flavored at all but is, in fact, mango sorbet. 
The delizia al limone is a lemon glazed custard sponge cake, and it changes my life a little bit. The glaze is remarkably thick, and the sponge cake has a good crumb to absorb the custard, and all the textures combined create a sensation not unlike très leches cake. Milky, soft, with a magnificently tart glaze, this cake has undoubtedly been made by a pastry chef who knows what they're doing. My companion, on the other hand, is hilariously underwhelmed and writes simply, "[the] cake was cake." Don't believe it for a moment, it is a magical cake. 
Overall impressions
Calming and upscale ambiance, good drinks, better pasta. Lovely hospitality. I would recommend this for anyone looking to impress anyone else.
You can read more reviews on Yelp.
Three best bites
The

risotto del giorno

, with its savory seafood and tomato combination, proves to be a classic.

The lemon glazed custard sponge cake, because it was objectively a magnificently executed dessert that also happens to be delectable.

The cacio e pepe, with its house-made spaghetti being perfectly cooked and the cheese sauce being perfectly untraditional.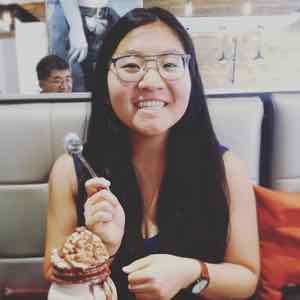 Katherine Chin was raised in upstate New York and grew up with the mindset that good food can, and does, exist anywhere. Now living and working around Manhattan, she spends most of her breakfasts pondering what she'll eat for dinner. She advocates for food that tastes good, and believes that sharing is caring – the best food is often eaten together. You can find her either walking or eating anywhere in Manhattan, when she's not planning her next food-centric adventure.