By Kate E. O'Hara
Taproom No. 307 is the perfect place to go when you want to meet up with friends, grab a bite to eat, and indulge in some tasty craft beer. The atmosphere is lively, festive and fun. Inside, high-top wooden tables flank booths that run along an exposed brick wall adorned with paintings and a vintage-esque light-bulb pizza sign. On the outdoor sidewalk small bistro tables sit underexposed bulb lighting; a perfect spot on a warm autumn evening. Joanne and I loved that the bistro tabletops were inlayed with beer caps (come on, how apropos is that?!)
With a close second to red wine on my favorite list, we began our visit with craft beer. We decided we were going all-in: we each had a flight. Beer Sommelier Mickey Alexander made the selections. Mickey is not only passionate about beer, but he's super knowledgeable too. It was a treat to have him select and explain all our delectable choices. With ten beers between us (yep, ten!) we kicked off the evening just right. We sampled pale ales, IPA's, white ales, amber ales, sour ales, and stouts. Taproom No. 307 has forty beers on tap and sixty seasonable bottles, many of which are rotated weekly so that patrons can experience new beers each time they visit.
By far my favorite of our flights was Gun Hill Benedict Arnold Palmer. Wow, the taste was uncanny! (no pun intended!). Next up for a favorite was Founders Rubaeus (Nitro). Who would have thought this IPA / Stout girl would love sweet and sour so much? Well, thanks to Taproom No. 307, I now do.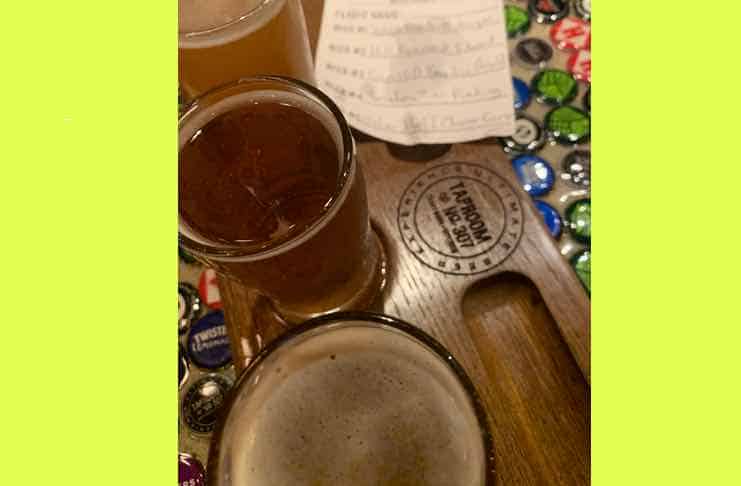 As we sampled beer, we also tried one of the Oktoberfest Specials: Bratwurst and Sauerkraut. The sausage had a seared, crisp casing and a mild filling. Since the Bratwurst was mild, I would have preferred spicy or whole grain mustard, but the yellow was a smooth finish to the smoky light char. The cabbage was even grilled too!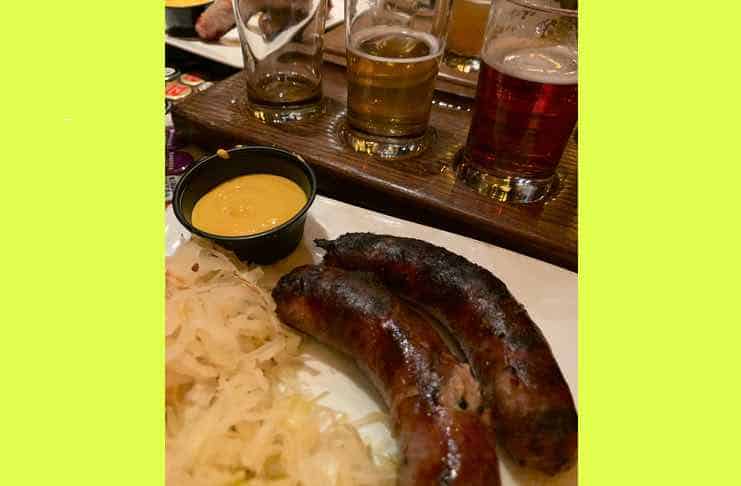 We then had the Bacon Brussels Sprouts. The dish title says it all. The roasted sprouts played equal billing to big pieces of robust tasting bacon. Also apt was the "to share" classification–the portion was more than enough for the two of us.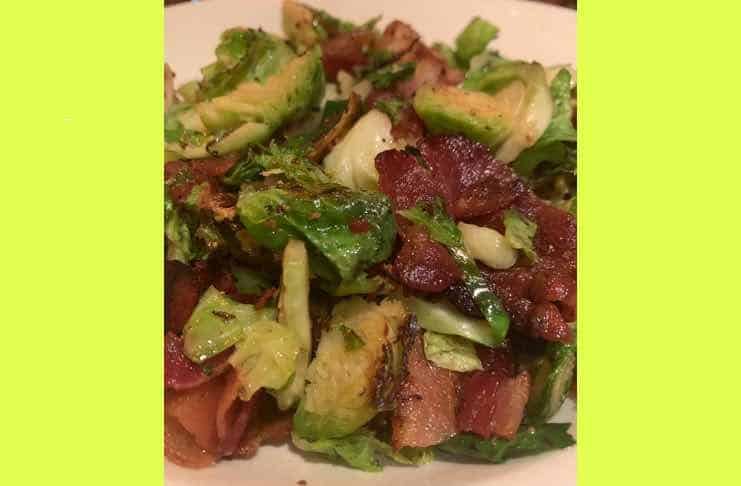 After hearty meats and beers, we decided to give the Faroe Island Salmon a try. The fish arrived on a bed of rice, and mixed vegetables which included Brussels sprouts, cauliflower, green peppers, and onions. The vegetable combination did not balance together well, nor did it compliment the fish. Unfortunately, the salmon itself was heavily salted. But, one noteworthy aspect was that the salmon was cooked perfectly! I asked for medium, and the dense pink center flaked with every forkful of the lightly grilled filet.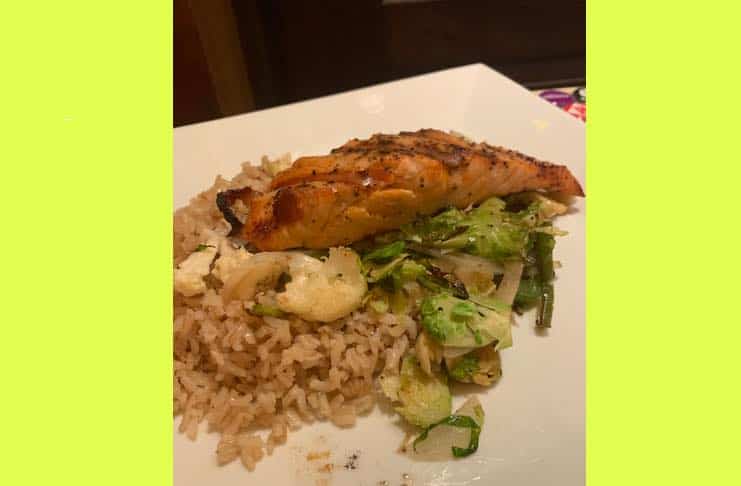 After sharing the salmon, we then sampled a flatbread pizza. Our "Shroomer" pizza was made with mushrooms, bacon, arugula, Parmigiano Reggiano, and truffle oil.  Most significant was the generous portion which was served on our own mini wooden pizza paddle. The ingredients sat atop a dense, yet airy dough, that was made with Taproom No. 307 signature IPA. Delicious. I most definitely like the idea of beer as one of my pizza ingredients.
Before we parted ways with Taproom No. 307, Mickey put in an order of chocolate chip cookies for us. Now I'll warn you, these aren't your average cookies. They are warm rounded drops of lightly crusted dough, with a touch of sweetness, and melting bits of chocolate, dusted with powdered sugar. Scrumptious is an understatement. And, do you want to really go over the top? Pair the cookies with the Left Hand Milk Stout, leaving your palate with a creamy hint of coffee.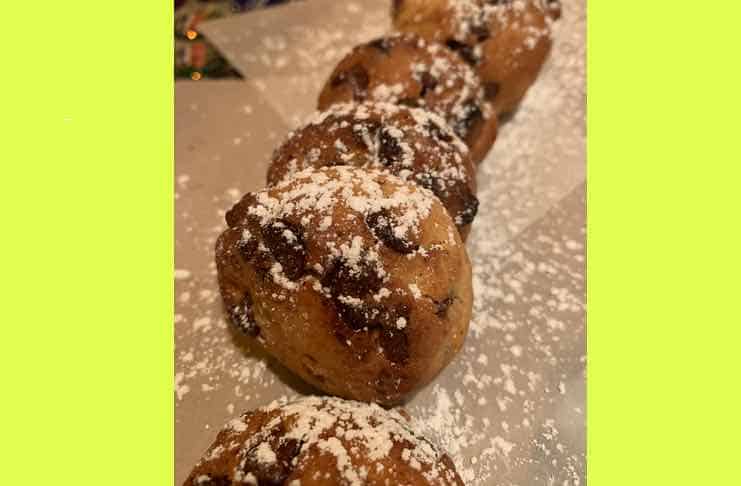 When we said our goodbyes, the atmosphere inside was still bustling and lively. Overall, it was a fantastically fun way to spend a Friday night. Okay, wait a minute–we were actually there on a Wednesday. Well then, even better —head on over to Taproom No. 307 for a festive midweek pick-me-up! And don't forget to order your cookies.
Want to read more of Kate's Reviews? Check out these:
NYSF Review: Authentic Middle Eastern Food Arrives in Union Square
REVIEW: Old Traditional Polish Food Truck
Celebrating "Riesling Month" at the Brooklyn Wine Exchange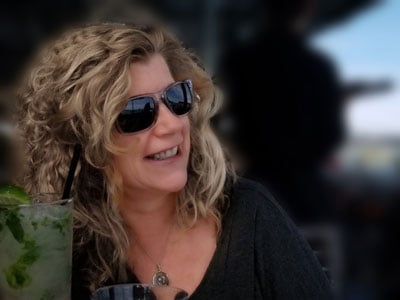 Kate E. O'Hara is a New York based freelance writer and photographer who loves all things food—especially the people who make it and market it. Her writing aims to capture the essence of the food experience; the stories that go well beyond a plate of ingredients. In addition to her love of food, Kate is also known to have a hankering for red wine and craft beer.