A fresh review by Kate E. O'Hara
As of August 2018, there's a new eatery in the Union Square area, with an atmosphere that is bright and vibrant –much like their food. Panorama Middle Eastern Grill, located at 820 Broadway is doing more than their part in delivering authentic Middle Eastern food to New York City.
Owner, Shaheryar Mian believes, "Middle Eastern cuisine is underrepresented in New York." He explained that he wanted to create an "everyday spot."And that he did.
I experienced a feast of flavors from a menu that was developed with the help of Culinary Director Julien Iaconelli. My culinary partner in crime, Joanne, joined me.
We started with the Halloumi fries which were salty, tangy (somewhat addicting!) treat. Then onto the Chicken Shawarma, seasoned with 7 spices—and spices that are imported for their freshness, directly from the Middle East, and classified with a grade level above those available in the States. And, even though the chicken was tender and delicious all on its own, there was another layer of indulgence; your chicken can sit atop a heaping of crisp French fries, drizzled with garlic sauce and tahini. Is your mouth watering?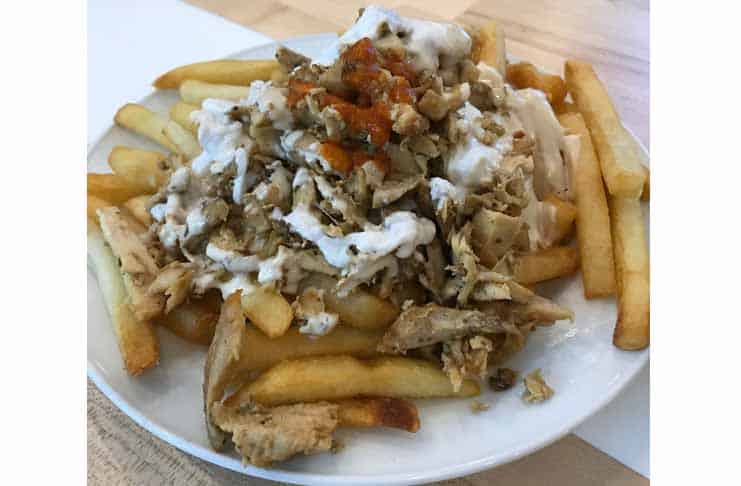 From there we had Popcorn Falafel. The falafel had a crisp exterior with a drier consistency than I've had before but the taste was intense, with a little heat for the finish. That's where the sauces come in–the tahini sauce is creamy, with delicate roasted sesame–the perfect accompaniment.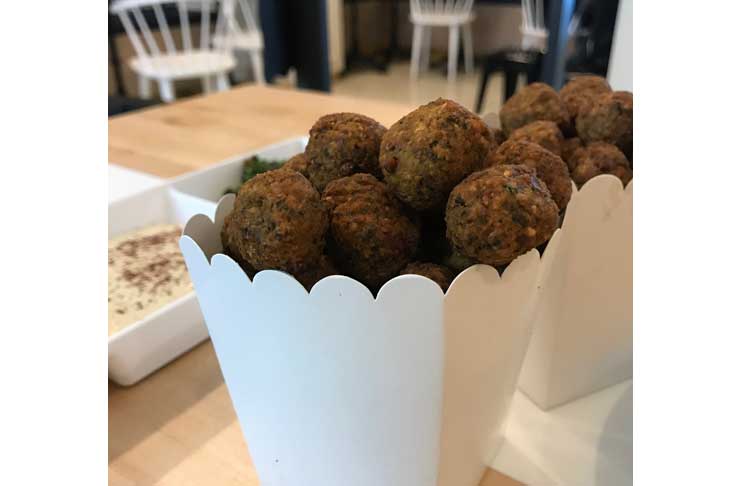 Next up, the supergrain freekeh. Panorama's had a distinct smokiness to it, firm and nutty—perfect alone or an accompaniment to all the toppings and proteins they have to offer. The pita was just as tasty—a light pocket for your meal, and baked daily at their own commissary.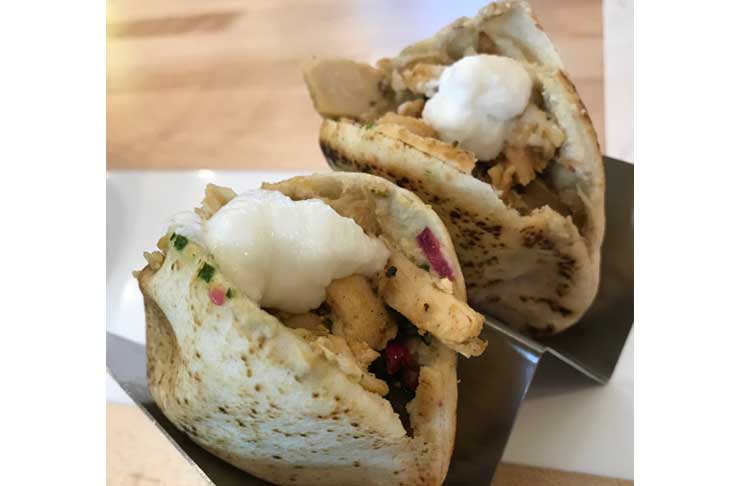 The Babaganoush, made with grilled eggplant, had a depth of flavor that is not to be missed. General manager, Ziad Khoury described the cooking process: the eggplant is char grilled, peeled, drained and then the juices are mix back in as part of the preparation. We also sampled pickled turnip; tart, tangy, and juicy. It was explained that the Lebanese use them on their sandwiches, but I loved them all on their own.
We then sampled the tabbouleh. When I think of tabbouleh, I think of bulgur salad with parsley and mint. This was the opposite—this was dense with greens and savory herbs, and a bright lemon taste. Each mouthful was a little pop of a summer garden.
Our feast ended with the hummus. The 72-hour Hummus. Yes, a 72 hours cooking and preparation process! The hummus begins with imported chickpeas and spices and ends with some of the most delicious hummus I ever ate. It was soft and velvety in consistency and packed with flavor. Equally as amazing was the baklava: a perfect bite size portion of flaky pastry, finely ground nuts, and sweetness. Baklava is one of my favorite desserts so Panorama's was a delight. In fact, I ate my three pieces so fast, it never had a chance to be photographed.
In addition to food made fresh daily, Panorama also offers a selection of homemade juices and signature "Lebonade" which is a sparkling rosewater and mint limonada.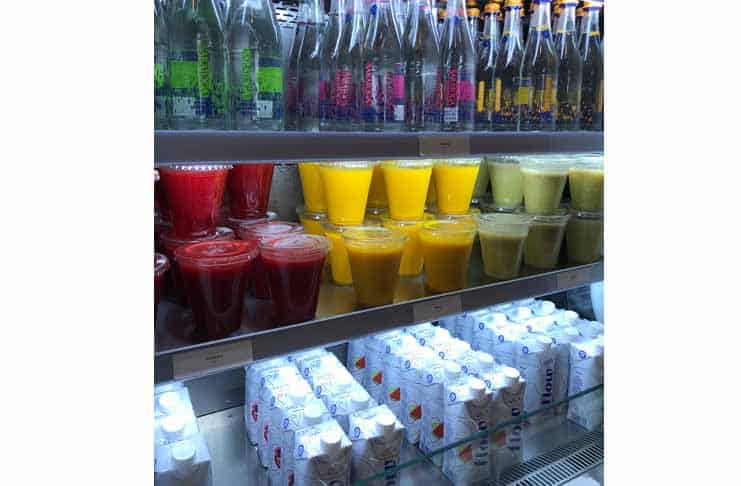 Next time you are looking for some clean, natural, healthy food head over to Panorama Middle Eastern Grill. After you indulge in all they have to offer I bet you'll make it your "everyday spot."
For more about the Middle East and its delicacies, check out this Travel Blog In The Middle East.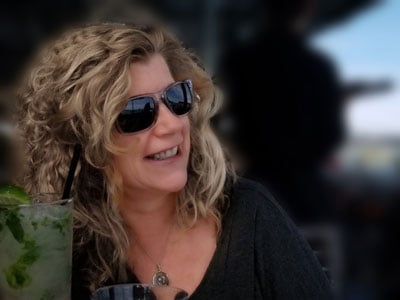 Kate E. O'Hara is a New York based freelance writer and photographer who loves all things food—especially the people who make it and market it. Her writing aims to capture the essence of the food experience; the stories that go well beyond a plate of ingredients. In addition to her love of food, Kate is also known to have a hankering for red wine and craft beer. You can also find Kate on Instagram @foodpeoplepossibilities