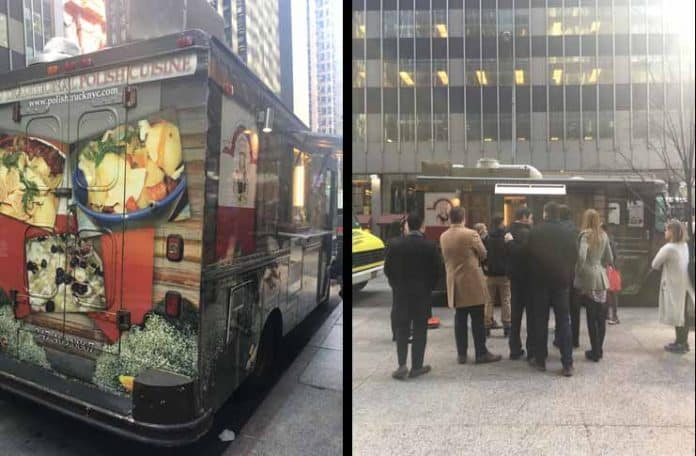 A new yummy Review by Kate E. O'Hara
With the morning light still coming through the midtown buildings, the line of customers was already taking shape. Through the muted sunbeams stands the Old Traditional Polish food truck, with its funky faux wood and appetizing aroma.
When I arrived I met Eva. I had spoken earlier in the week with Eva and learned a bit more about the history of the Old Traditional Polish food truck. The truck was started four years ago in March (Yay! Happy Anniversary!) by Eva's husband, Grzegorz (Greg in English) Gryzlak, and his best friend Przemyslaw (Mek in English) Motyka. It truly is a family business with all hands helping out. Eva works full time in another profession yet is able to organize and coordinate all of the catering inquiries, marketing, and public relations. And, she handles them with a smile. She has a warm, friendly, welcoming demeanor that adds that family touch to any of the classic and traditional Polish fare being served. Eva explains, "The Old Traditional Polish Cuisine food truck has became a destination for eaters looking for food reminiscent of their Polish grandmothers, and eaters who are new to Polish fare alike."
Eva packed me a lunch that was mouthwatering by the smell alone. As I walked back to my office the thought crossed my mind that kielbasa and pierogis would not survive the Styrofoam packing, but that was not true.
Here's what I opened. What a view, right?!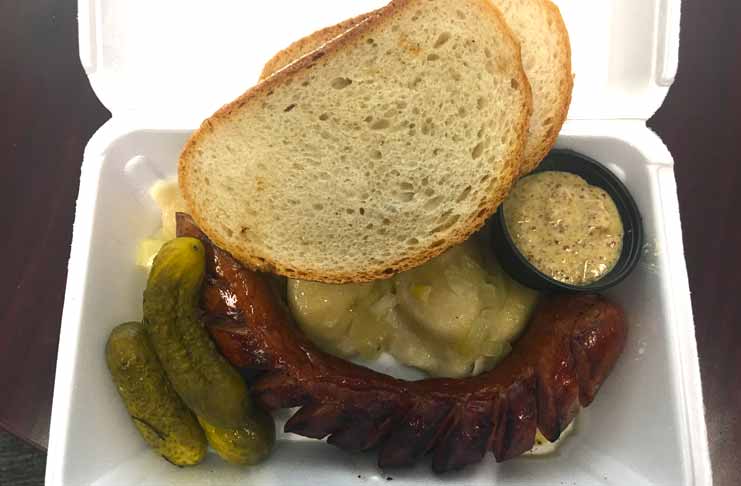 This "lite" combo comes with four potato and cheese pierogies and a kielbasa link, pickles, mustard and a slice of bread. For me, Kielbasa is typically too salty but not so this time. The light char of the grill with a hint of smokiness was unbelievable; the crunch of the skin, with a pop of flavor I am not sure how to describe it other than, "wow." The mustard (my new favorite condiment) is imported from where else but Poland, and is so good I could have eaten it straight from my cup (ok I did). It is stone ground and certainly added another dimension to the Kielbasa, but not needed. The imported pickles were sour with a mild, sweet finish—and also a couple of slices of soft seedless rye. This all sits next to potato and cheese pierogies which were small bundles of deliciousness: soft dough, packed with velvety savory contents.
By now I'm thirsty so it was perfect that Eva packed me some drinks. All drinks served by the Old Traditional Polish food truck are products of Poland (I love the authenticity straight on through!) I drank Nałęczowianka; natural carbonated mineral water. It had lighter carbonation than America seltzer, which I found to be more quenching. I also tried Tymbark cherry apple drink, which was in a bottle with a very cool flip top. It was lighter and less sugary than I expected. I found it refreshing with a stronger cherry than apple flavor, with no heavy aftertaste that can sometimes detract from what you're eating.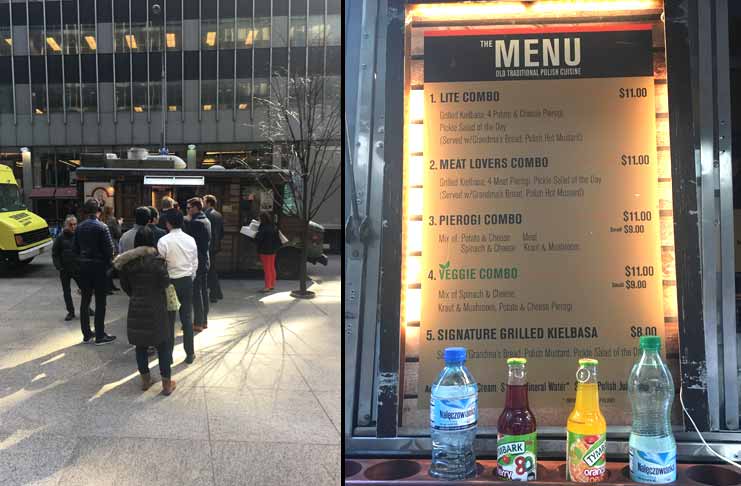 With a little hydration, I was onto my second container: the pierogies!
The potato and cheese are a must on my return trip. But, there are a few that might be in the running as well. The meat pierogi was seasoned mildly, almost too mild but when you added a forkful of sautéed onions it brought it all together in a scrumptious bite. Then there was the sauerkraut pierogi with the earthiness of mushrooms that did not fall short of a delicate flavor combination. Lastly, was the spinach pierogi which was an incredible way to eat your daily dose of veggies. Just add in the subtleness of the cheese, and it just might have been my favorite. Or was it the meat…or the…?
All I could say when I opened my two lunch boxes was, "My goodness, I can't eat all this food." Guess what? I ate all the food. I was as stuffed as the pierogi with little ambition to do anything but take a nap. But I knew with time (5-7 minutes?) I would have enough room in my stomach to fit a Pączki which would give me the lift I needed. The Pączki did not disappoint.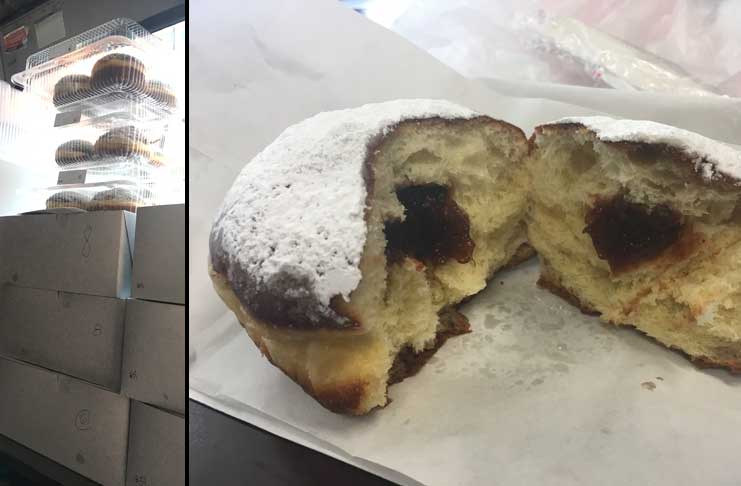 Pączki are pastries traditional to Polish cuisine. They are said to be similar to doughnuts. I never heard of, nor ate anything like them before. I can't believe what I have been missing! The dough was almost bread-like—sweet and airy with a light crust that can be pulled apart to uncover the rose jam center. As if that wasn't enough indulgence, the Old Traditional Polish Pączkis are dusted in a healthy layer of powdered sugar.
If you can't catch the Old Traditional Polish food truck on the streets of NYC, they also do catering with a special menu that includes fare not found on the truck. And, their future plans include incorporating delivery services. Delivery? Oh, that could be dangerous…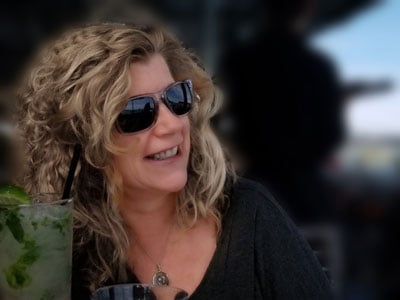 Kate E. O'Hara is a New York based freelance writer and photographer who loves all things food—especially the people who make it and market it. Her writing aims to capture the essence of the food experience; the stories that go well beyond a plate of ingredients. In addition to her love of food, Kate is also known to have a hankering for red wine and craft beer. You can also find Kate on Instagram @foodpeoplepossibilities