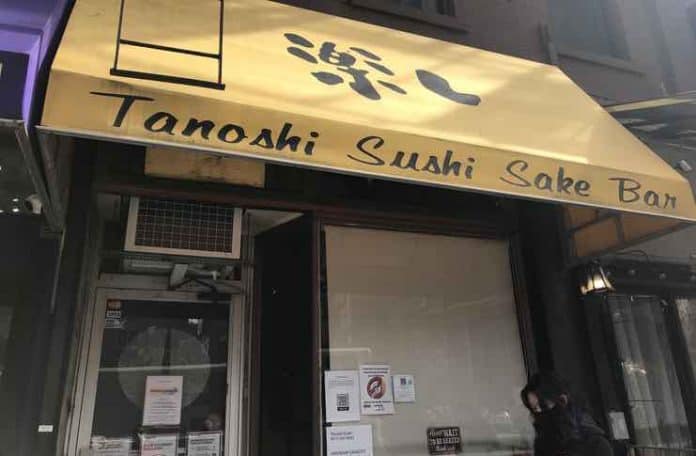 By Ron Rossi
Little when we think about it we can go home. But this time to a place called Tanoshi Sushi Sake Bar, that reminds of us our home but looks a bit different. It's smaller. Simpler. Clean. The owners are there, and the food is too. But this time the food is wonderful. It reminds us of a time and place that was our home, and we love it.
Welcome to Tanoshi Sushi Sake Bar. It's your basic sushi restaurant that you would find if you visited and lived in Tokyo. It is not large. No more than 10 seats at a time at the counter. The chef is on one side and you sit on the other.
The food is fresh. Fresh off the boat and the water. It's prepared properly so that it can be used by the chef to create a delightful meal. And that is what life is about.
Our Tokyo Times…
My wife and I lived in Tokyo many years ago as I worked over there. We fell in love with the city, the people, the country, and the food. It was wonderful. We learned to do everything Japanese. Including the way, we learned to eat. Every day, and every way it was always Japanese. And that was whether we ate in our home or went out for a meal over the weekend. It was life.
This time we were on the east side of New York City on York Avenue and about 73rd Street. When we went to visit Tanoshi Sushi we almost passed it by. Yet when we saw it and talked to the manager we were excited to go. Once we stepped inside we felt warm and welcomed.
Inside Tanoshi Sushi Sake Bar
The chef was standing behind the counter. The host greeted us and set us upright by the counter for the lunch we were here for. As it is, the lunch meal is the same as the evening dinner meal. There is no difference as to the time and the meal. It is the same as if you were back in Japan.
We sat at the counter and a cup of warm green tea was brought to us. It was the right
temperature, fresh and tasty when you tried. We already felt like we were going back to Tokyo.
We then waited for the first item to meet. Being typical in Japanese meals you do not worry about what you might have. That is the selection of the chef who will make each item you have fresh one at a time.
Omakase Lunch at Tanoshi Sushi
Nothing comes to a complete dish. Instead, he makes the item and places it in front of you. He tells you what it is and how it is made. It's very straightforward. Nothing fancy. This is authentic. With it on the plate, you are to observe, listen, consider and review.
Then you put your chopsticks in your hand to try the first portion. This can determine everything.
As an Omakase lunch, there was a select amount of items to come for lunch. There will be
around 6 items of Nigiri and at least one or two sushi rolls that the chef chooses for the meal. Each was made in front of you prior to eating. You can talk to the chef and discuss what you are having, your experience, and what you like when eating a true Japanese meal.
6 Separate Courses at Tanoshi Sushi Sake bar 
The lunch we had consisted of 6 separate courses. Each item of sushi was different and each unique. It was a combination that was most interesting and exciting as you enjoyed it. Taste. Freshness. Interest. It's all you need.
According to tradition, Omakase is a Japanese term that means "I will leave it up to the Chef". The Chef will have full creative freedom to decide what specialty dishes to serve and unless otherwise instructed upon booking.
A Bite To Enjoy As You Enjoy…
First up the chef made us a piece of Sea Bream Sushi on a selection of steamed rice that was slightly warm with a bit of ginger. Nothing more. There was no soy sauce. No wasabi. Nothing.
It was fresh. Room temperature. And the right selection. Nothing else. There was some fresh ginger. That was it. And that was enough. This was a perfect tasting.
The Bluefin Tuna
Next up we had BlueFin Tuna. Again, it was simple and direct. Again it was on a selection of steamed rice with a pinch of wasabi. No soy sauce. Nothing else. The fish was room temperature and excellent. You take a bite or eat it all at once. Take your time and enjoy the flavor. Wonderful.
Next up we tried the Tuna Mas with a touch of fresh ginger on top as it rested on the warm rice. It was different from the other pieces and does balance it out with flavor.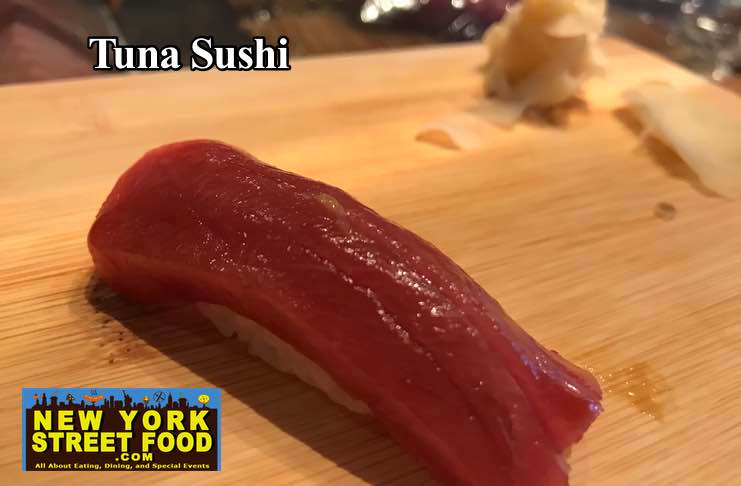 Fluke Marinated with Kelp
Next followed Fluke marinated with Kelp. This one had rice with a flavor that was different. It was something to enjoy. And we did. As we spoke with the chef we learned more about the meal, the fish, his background and what we liked to enjoy.
It was like being back in Tokyo and talking to the chef near where we lived. They are friendly and kind, and great chefs at the same time.
The Special Item
Next was the special item. GoldenEye Snapper with slight ginger and topped with a cherry blossom leaf. This is different if you've never been in Japan during the cherry blossom festival which happens every spring.
It's very special to have this here now. This follows with a slice of Barracuda on rice that rounds the meal.
On To Sushi Rolls
We then enjoyed tuna and pickled relish as a sushi roll. You have three of them to enjoy, all packed in the nori sheet that is fresh and has a taste that compliments the tuna and rice inside. This is very typical for many Japanese restaurants, but here at Tanoshi Sushi Sake Bar it's authentic once more.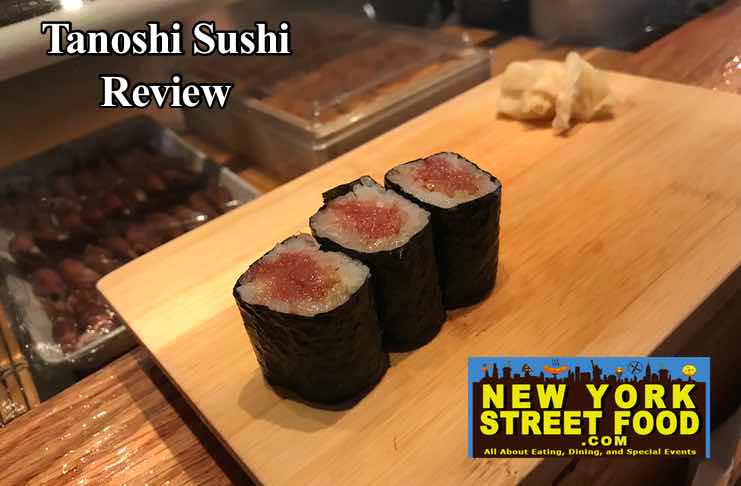 Finally, this is followed with a Spicy Salmon Roll. Again it is in nori but this time it is what we call a hand roll. It is not small. You hold it in your hand and enjoy it. It's slightly warm and filled with a mild flavor you can enjoy as you take a bite.
The Traditional Soup To End The Meal…
To end this meal we now have a bowl of miso soup. It's filled with a few slices of tofu and some slices of seaweed. Nothing more. Nothing less. Miso soup is very traditional as it's served to you warm and tasty in a dish that compliments what you have just completed. It is served with a spoon, but I eat it without a spoon and use my chopstick to stir it.
In the traditional Japanese way, we drink it with our mouth and not a spoon. That's the normal way to taste it and experience it as you finish your meal.
A Tradition in New York
Our visit to Tanoshi Sushi Sake Bar here in NYC was amazing. Our host came back and we had another talk. We could not stop on the meal itself, but we did learn more.
Chef Tomoki and the manager, Nako, both came over to the States from Japan. Nako was actually from Tokyo and not far from where I used to live when I was there. Chef Tomoki was about one hour north of Tokyo prior to when they moved over.
They kept everything small and designed it like a usual Japanese sushi restaurant. They had three places next to each other. The first two were the actual restaurants that could have guests stop in and eat a meal. These offer the Omakase meals to order for lunch or dinner. Each is a select item. You can also order special additional items if you wish. There
is sushi and even sushi rolls.
The third location was designed for other dishes you can order and take home with you. These would include Teriyaki, Bento Boxes, Curry meals (yes they have Curry to order), and orders of sushi bowls. There is also a selection of items such as miso soup, tofu, salads, and a few more items.
How Much Is It At Tanoshi Sushi Sake Bar?
Prices are appropriate for the meals you select. An Omakase meal will run you between $50 to $75 depending on which level you select. The other meals are appropriate and what you would expect.
Traditionally in Japan, sushi courses do not have any menus. The Chef is in charge. Here,
Omakase is a spiritual companion and counterpoint to a kaiseki meal, which is an elaborate multi-course Japanese meal built around seasonality, quality ingredients, and simple preparations. Omakase changes with each occasion. So nothing is always the same. It
changes. And that is ideal in the world we live in.
There are many similar places here in New York. But not everything matches what you will find in Japan. In this case, Tanoshi Sushi Sake Bar is the place to find, discover and return to. It's not a usual little place to find. When you come here you have entered an experience where you go and learn a way to eat and live. And, having lived in Tokyo, you will understand. Maybe this time you visit, or the next time you want to go.
As I told one friend before when visiting a place like this you remember to learn life from the Chef. It means "I leave it up to you."
………………………………………………..
Tanoshi Sushi
1374 York Avenue
(between 74th and 73rd Street)
New York, New York 10021
Phone: 917-265-8245
Website: www.tanoshitei.com
Want to read more of our Japanese Food posts? Check out Ron's review of Chef Katsu's Japanese Burger, or Anthony McGovern's review of Okiway's Japanese Pancakes. Lastly, you can check out these 7 traditional Japanese Desserts you can get in NYC.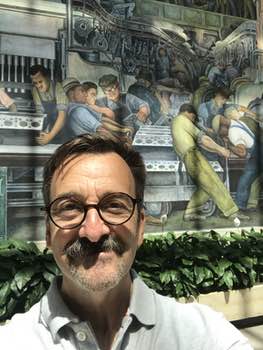 "The Jaded Traveler". Ron Rossi was born and raised in New York. A globalist at heart, Ron is a marketing director by trade, and has lived and worked around the world including Asia, Europe, Africa, and South America. Food is one of the best ways to learn about a country, a people and a culture. So, Ron is always looking for the best in mid-range to budget and street food. He is always on the hunt for a good meal anyone can afford. It is the food of the average citizen that excites him. And with having visited close to 100 countries on 6 continents so far, there have been some pretty good meals.