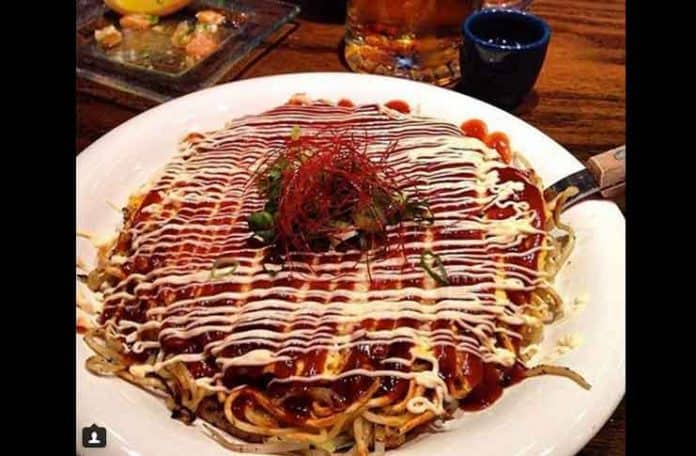 A Review by Anthony McGovern (this was made prior to COVID-19)
Okiway sits on the corner of Morgan and Flushing Aves, only a block or two from Momo Sushi Shack and King Noodle (of spam noodles fusion fame).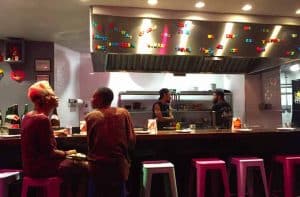 The space has a playful atmosphere, balancing a Japanese pop culture aesthetic with Bushwick's obligatory toned-down cool. The primary-colored magnetic letters you remember from pre-K cover a stainless steel hood above an open kitchen, occasionally spelling out words like ponzu, and a vinyl toy collection lines the top of the wall, cast in the vivid pink glow of the neon 'Okiway' sign that greets you as you step inside.
Their signature dish is Okonomiyaki, a type of savory Japanese pancake — think of the comfortingly mushy, ginger-spiked filling you find in a veggie dumpling lightly fried into a mayo-topped patty. The dish is relatively unfamiliar in the US so it's prominently featured and explained on their website. You might understandably think it's meant to be the focus of the meal, but rather, look at it as a kind of a side dish; filling, with a mild, palate-cleansing flavor. Resist the urge to each order one of the several varieties on offer, and instead get one to share or you'll miss out on the full experience.
Sharing is the essence of Okiway, which could be described as Japanese fusion tapas, and the eclectic offering will hopefully serve as its own topic of conversation during your meal.
A great example is the Edamame, its ubiquitous steamed-and-sea-salted presentation eschewed in favor of a saute and toss in a soy brown-butter sauce; the smokiness of the lightly-charred bean pod and the richness of the butter cast the familiar dish in a new light. Or the Wasabi Guacamole, which seems unremarkable until you squeeze the lime over top and the distinctive flavor of the wasabi comes alive. The okonomiyaki is interesting and enjoyable, but this kind of subtle fusion twist is Okiway's real draw.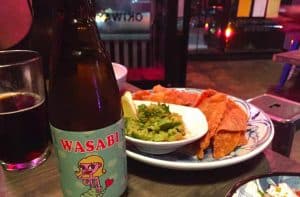 The Beef and Cheese Yaki, a dish served by Japanese places in France, is like a fried cheese stick that wraps the hunk of Swiss in a thin layer of beef rather than breadcrumbs. It's unavoidably delicious and will make you momentarily wish it wasn't a small plate restaurant.
Prefer to listen to the review rather than read through? Click the video below:
The same could be said for the Corn Tempura, another unusual but welcome take on a staple. The loose corn kernels fried together in fritter-like balls does everything tempura should, highlighting the crisp sweetness of the corn, and really shines when topped with seasoned salt and a squeeze of lemon.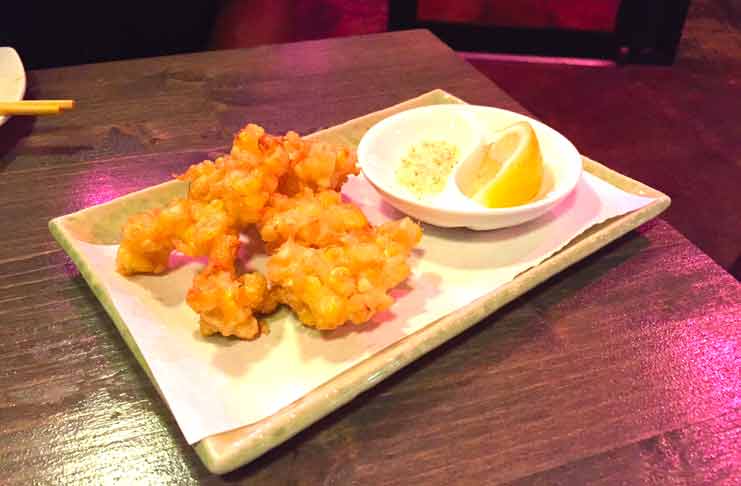 Those who enjoy more traditional Japanese fare, have no fear, they are equally well-represented. Standouts are the paper-thin slices of the Octopus Carpaccio in a light citrus vinegar sauce; and the Shinaji, small white mushrooms and shredded fried tofu in a light soy sauce. They're both served cold and are delightfully citrusy and refreshing.
Okiway features an equally interesting selection of beer and sake to complement the food. For those who don't typically enjoy Asian beers, try the Asahi Black, stout-like but smoother; for those who do, the Wasabi Nigata elevates the mild, bitter flatness of a typical japanese beer with a spicy note. Or opt out of Asia altogether and go for Columba, a white beer from the owner's hometown in France.
Okiway is deeper than it seem at first glance, and demands more time and attention than a quick stop for ramen. Highly recommended for couples or groups that are in the mood to spend a little bit more, both in time and money, in exchange for a unique and eclectic meal.