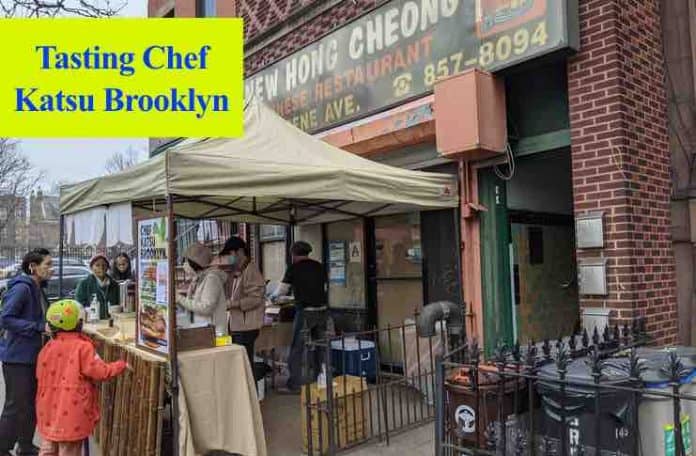 A Review by Ron Rossi
The day I walked to Chef Katsu Brooklyn for their burger it was like walking home to Tokyo, Japan. Having lived over there for four years I knew of the food I have fallen in love with. Japanese food was always wonderful. But during those times to get a real Japanese Burger was extra special. We would walk in our neighborhood and stop by a small restaurant that would make the perfect Japanese burgers that we would enjoy so much. 
Fresh, warm, and tasty was the way to enjoy a Japanese burger that was just made by the Chef. It was new and different than what we had here in New York. Instead, it offered a flavor that was even better and special as you tried it. 
New Japanese Burger Shop to Open on Greene Avenue
So, to visit Chef Katsu Brooklyn this past weekend was ideal. They are building a new Japanese food shop at this location on Greene Avenue, which will open in mid-January of 2021. In the meantime, it is more like what we would find in Tokyo. It is an area outside the shop where they cook the burger and put it into the bun with the topping and the sauce that is typical in Japan. 
Chef Katsu was outside cooking the burgers and making the sandwich. We talked to Chiemi, his wife and co-owner, and mentioned the three different Japanese burgers we would like to try for this day. She mentioned the order with us and we stepped aside to wait for the meal. It was worth the wait. 
First up: Pork Katsu Burger with Miso Sauce
The first item we had was the ideal Pork Katsu Burger with Miso Sauce. It was a combination of Shio-koji Marinated Pork Cutlet with shredded Cabbage and Shiso, the Chef Matsu Brooklyn Original Original Miso Sauce, and Mayo. The pork loin was cut into thin slices and beat lightly into a perfect size. It is coated in flour and then into the panko crumbs and sesame seeds as it prepares for cooking.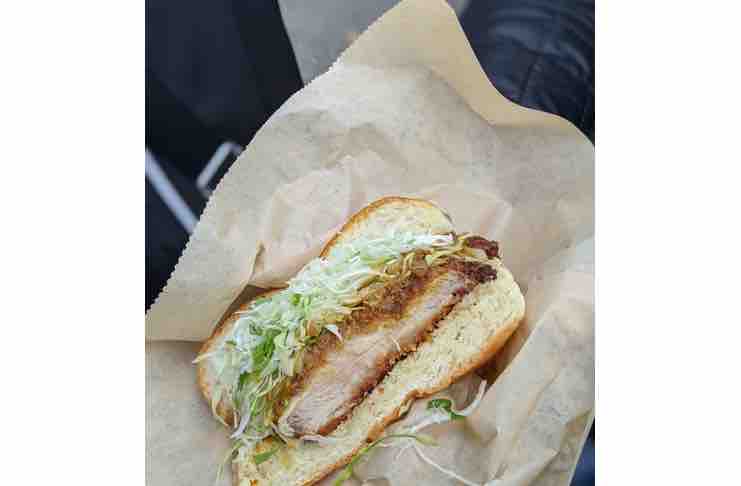 For the buns, they are first cut in half and brushed with melted butter. They are cooked on a pan over medium heat until they are warm and golden. As they are assembled the Japanese burger is tossed with some of the miso mayo right before serving.
It looks wonderful when you receive it. But once you taste it you have a new taste that is different and unique. It is fresh, tasty, and seasoned. The pork is moist and wonderful. It has just enough spice and herbs that make it fresh with each bite. You can taste the pork, the cabbage slaw, the shiso.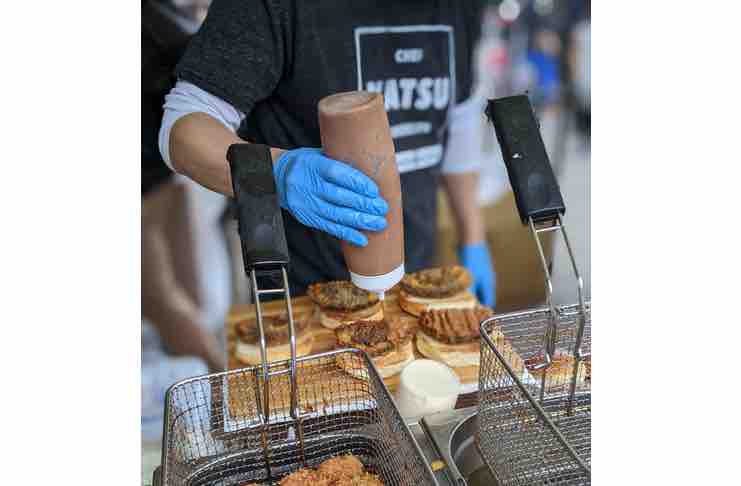 The Miso sauce and mayo are just enough to add some flavor but not to overpower it with one flavor, and one flavor only. Instead, it brings a variety of tastes to you that are new but traditional. They are there for you to enjoy with each bite you take. As we took each bite we could close our eyes and feel as if we stepped back to our neighborhood in Tokyo where we had lived for several years. 
It was that good. It was traditional. Inspiring. And it brought us back home. 
2nd Up: Chicken Katsu Burger with Curry Sauce
Next up was the Chicken Katsu Burger with Curry Sauce. It was Shio-koji Marinated Chicken Cutlet with shredded Cabbage and Shiso, plus a touch of the Chief Katsu Brooklyn Original Curry Sauce and Mayo. 
The chicken was fresh and tasty. Take a bite and it was moist inside. You can make a meal out of it alone. Warm with a mix of spice and flavor, it was a taste that was ideal with each bite. The commendation of cabbage slow and the special curry sau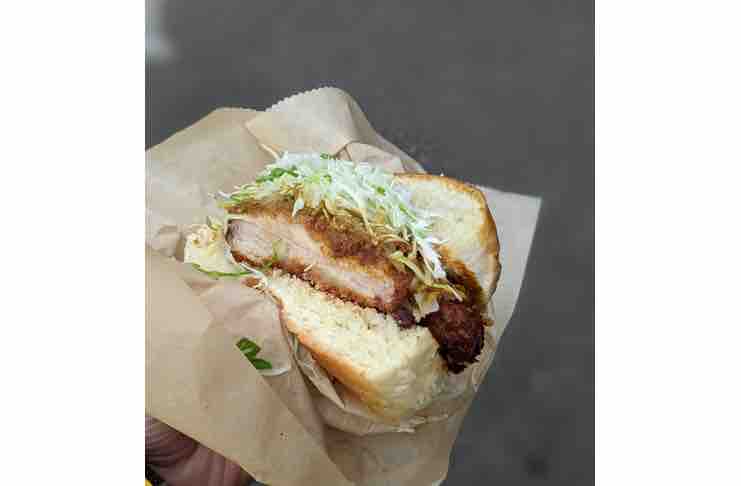 made the burger perfect with each bite you took. The panko crumbs that cover the chicken as it cooks gives it a firm crunch as you take a bite. It is light, airy, and has a taste as you bite in and enjoy. 
Next: Portobello Katsu Burger with Miso Sauce
Finally, we had the Portobello Katsu Burger with Miso Sauce. Crisp Fried Portobello Mushroom filled with Cheddar Cheese, topped with Shredded Cabbage and Shiso, Truffle Oil, and the Chef Katsu Brooklyn Original Miso Sauce and Mayo. 
This, too, was fresh and delightful. For those of us who are vegetarians, you can enjoy the same type of dish that is offered. It is made with the same concept and with the same ingredients. As you take a bite you receive the same flavor with each taste. It is moist, flavorful, and prepared with spices to give it the look we enjoy. The miso sauce on the bun makes it even special as you enjoy the taste you take with each bite. 
Lastly: A Typical Japanese Dessert
After all this was complete we had what is typical in a Japanese dessert after a meal. It was the Yuzu Cheesecake. Made with a Yuzu-Japanese Citrus Fruit flavored baked cheesecake, it is a refreshing taste to enjoy after a rich and delightful dish you just had. The cheesecake is the right size to fill the palate. It is just enough that rounds out the items you just had. For more Japanese dessert ideas in NYC – check out this post.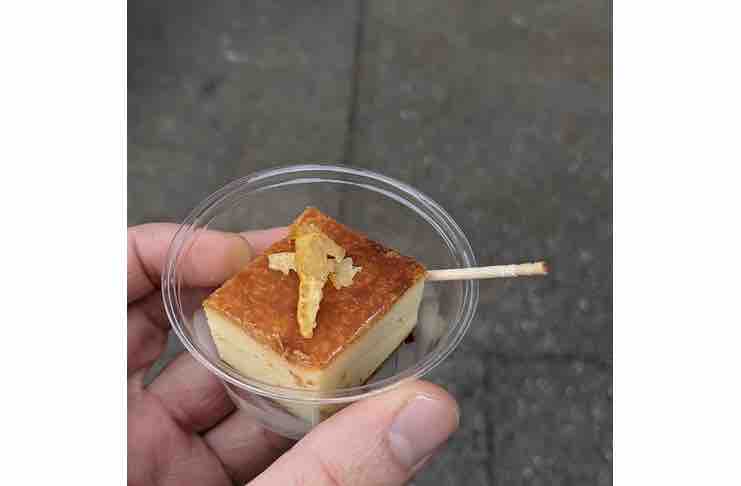 And a Yuzu Mint Lemonade 
Being the fall, we needed something warm to drink along with our meal. We went for the Yuzu Mint Lemonade option to drink with our meal. It was a combination of Yuzu-Japanese Citrus Fruit, Lemon slices, and Fresh Mint. 
Best of all in the cold weather, we now have, it was warm. This makes it an extra special taste with each sip. It is a counterbalance with the meal, and the dessert, we have just had. It is warm, refreshing, and worth a meal itself.
There are more than Japanese burgers offered at Chef Katsu Brooklyn. You will also find other styles of burgers and, one of our favorites, special rice bowls. There are also soups and side dishes to choose from. This alone is worth the trip here. 
Prices are perfect for the meal you order. Each item is the right size as you savor the meanings and the taste. It is not common, but special to the area, the concept, and because of the Chef. 
I did speak with Chiemi and Chef Katsu. They are wonderful to talk with. Both are from Japan and are bringing the flavor with them. They spend time perfecting the dishes and working to make this very professional. They will open the location in mid-January 2021 here at 143 Greene Avenue in Brooklyn. Spending time with the Chef I knew he had worked at some Japanese restaurants before as a chef on traditional meals. Chef Katsu Brooklyn is now a place with great recipes, design, and concept. It is a taste and style he is making perfect for all who attend. 
This place will be something to look forward to. Chef Katsu Brooklyn is worth a visit to enjoy a meal that is very special and different for all of us. 
As we mentioned to them, it is enjoyable. For us, it was as if we were closing our eyes and going home to Japan with each bite we took. 
Domo Arigato. Watashitachi wa modotte kimasu. (Thank you. We will be back.) 
LOCATION: 
Chef Katsu Brooklyn, 143 Greene Avenue, BROOKLYN, NEW YORK 11238 
Manager: Chiemi Machida
Email: km@chefkatsubk.com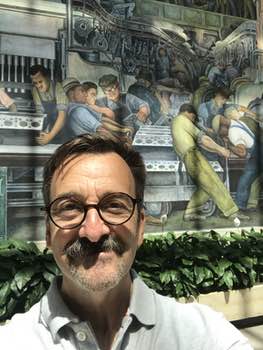 "The Jaded Traveler". Ron Rossi was born and raised in New York. A globalist at heart, Ron is a marketing director by trade, and has lived and worked around the world including Asia, Europe, Africa, and South America. Food is one of the best ways to learn about a country, a people and a culture. So, Ron is always looking for the best in mid-range to budget and street food. He is always on the hunt for a good meal anyone can afford. It is the food of the average citizen that excites him. And with having visited close to 100 countries on 6 continents so far, there have been some pretty good meals.