By Emma Rudy
"Life is all about the pleasure and happiness we find in food, art, and beauty." – Maribel Lieberman, Chocolatier
Mariebelle, the Chocolatier 
Leave behind the busy streets of Manhattan and enter into an oasis of unique chocolates that require specific artisanal techniques to create, and a team of passionate chocolatiers who do the creating. The interior reveals an elegant, bold, Parisian style. Chandeliers glowing above you, creating an angelic light over each chocolate, and flower bouquets that set the ambiance for a calm, enchanting feel.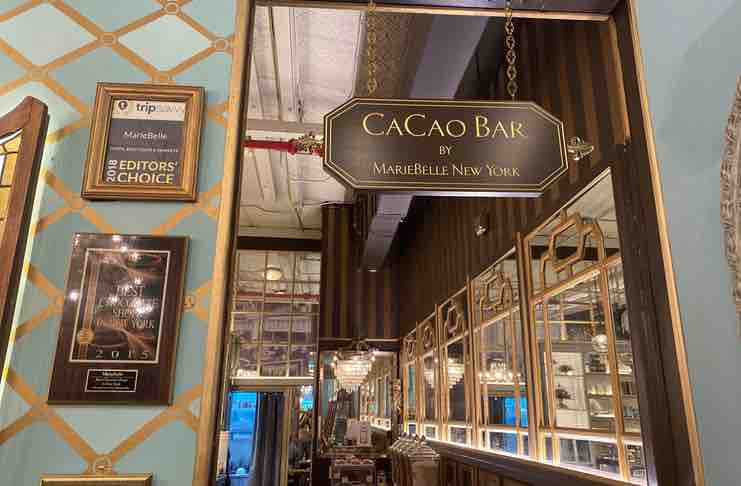 A daring selection
As you enter, the distinct aroma of dark Aztec chocolate permeates the air. Bite-size pieces of chocolates decorated with New York City landmarks bring exciting flavor to your palate. Fillings vary but may include whiskey, matcha, truffle, and cherry. Mariebelle offers custom pre-arranged boxes that include a collection of chocolates with individual paintings on each square, including a story behind each delicate bite.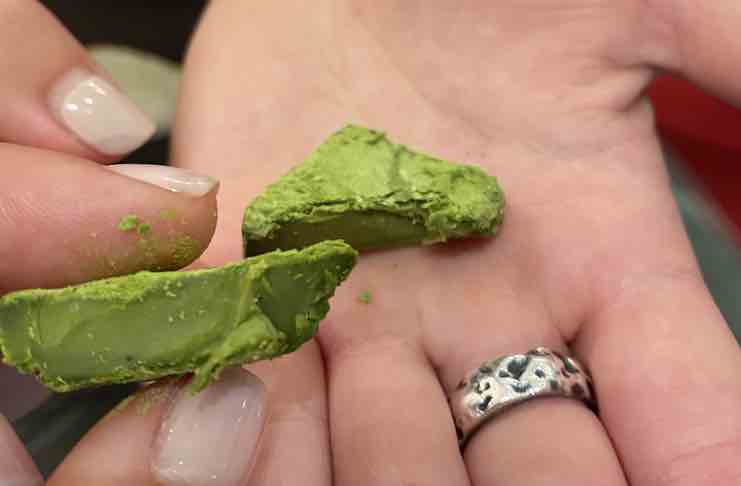 A story behind each bite
Continue this epic chocolate journey through the small yet pristine selection of chocolates. Take a bite of the Big Apple by purchasing a themed box titled, "I love New York." This caramel box contains the iconic Marilyn Monroe as the cover for your unopened chocolate bar, Illustrations of neighborhoods across Manhattan and Brooklyn on others, and a very special hot chocolate packed into a decorative cylinder that Oprah Winfrey has been known to indulge in. Other available collections such as the Ganache blue box are described as a "delicious jewel box." Ranging from 25 to 100 pieces of bite-sized chocolates, every Ganache collection you choose includes a small booklet with tasting notes and a poem written and inspired by MarieBelle. 
Maribel Lieberman, the woman behind it all. 
Perhaps it is fair to say most of us love chocolate in one flavor or form. However, to turn your passion into a full-time career, it takes a remarkably dedicated and talented person of which there are few. Maribel Lieberman sought out to discover and ultimately, reinvent an atmosphere that diversifies how we eat and drink chocolate. 
As a young girl, Maribel sold sugar candies to neighborhood friends in her homeland of Honduras. She later attended Parsons school of design for a short but educational period, followed by her entrepreneurial venture into an upscale catering company named Maribel's Gourmet Cuisine.
Fashion meets chocolate 
With her flair for fashion and deep understanding of cuisine, Maribel opened her first storefront, "Lunettes et Chocolat." Focusing on designer chocolates and glasses, she found a home where she could showcase her talents in the fashion and culinary world. With much success at Lunettes, Maribel's drive to continue her entrepreneurial spirit led her to open Maribelles in Soho. 
Cacao bar lounge
As you make your way from one heavenly room to another, you will be welcomed into the cacao bar lounge. With the smell of steaming cacao, teapots, and cups clinking in cheerful toasts, and the sips of soft champagne, you will find yourself sitting in a different place than when you arrived. 
I liked to think I was in Paris, at a small quaint cafe sipping my drink and enjoying my pastry. As the waiter passed by with a three-tier showcase, he slowly walked past our table to show us what we must get; The high tea for two. 
High tea for two 
The bottom tier contains what will remind you of your childhood snack; thin sandwich bread with the crusts removed, however and thankfully, a bit more sophisticated. Assorted finger sandwiches; ham and gruyere, salmon with dill cream cheese, and an avocado and endive sandwich. The second tier contains warmed pastries that with each bite, your teacup will be the fortunate recipient of the delicate crumbs that fall from your lips. Slather some butter and orange marmalade that is included to fully pamper your experience. The third tear contains a mini fondue set up; macarons, mini cacao fudge cake, fresh fruit skewers, all dippable for your warm chocolate sauce.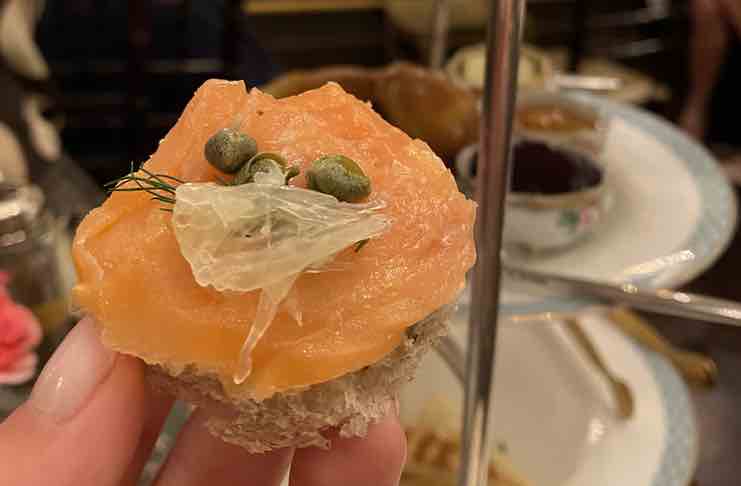 This dreamy palace awaits you
Whether dining, or exploring the seductive chocolate-filled room, this is a place you can come to solo, with a date, or even with your kids. Taking a bite of chocolate you never knew could be so powerfully overwhelming. The richness your taste buds may not have acquired satisfies your ceaseless sweet tooth. Who knew just one bite could do the trick? 
Sip on an icy, foamy chocolate shake that cools your entire body as you maneuver your straw to sip the very last bits. As you will notice, this shake has no added ingredients. With fine chocolate like this, it is not needed. If the high tea for two does not fit the occasion, sip on a tea and choose one of the many pastries offered. Any appetite is welcome. By the way – if you're into vegan chocolate like me and work in a company that does lots of events – you can ask the events organizer to check Mid-Day Squares. They offer delicious vegan chocolates that we order every month.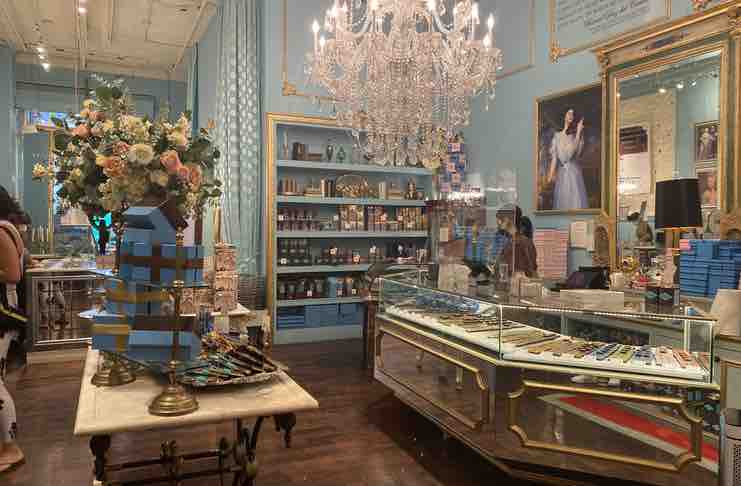 Johnny the trouble maker 
Dining at an establishment is half the experience without an engaging server. Specifically, servers who are selling a product many of us restrict ourselves to indulge in. If you're lucky enough to have "Johnny the trouble maker" as your server, you are in for a real treat. He made the experience all about making sure I was having a good time and explaining each item I received.  He shared stories of Mariebelle, and showed me every item and beverage he was bringing to another table so I could take a peek. 
Treat yourself to a world of surprises 
With locations in Soho, Brooklyn, and five locations in Japan, lose yourself to an optimum indulgence in this quintessential palace. Pick and choose single chocolates, purchase customized boxes that make for a charming gift, enjoy a hot chocolate in the cocoa lounge, or pop your head in the doors to take a look at creative and edible masterpieces.
Check out the Mariebelle website here.
Want to read more of our latest? Check out our review of Mikey Pomodoro.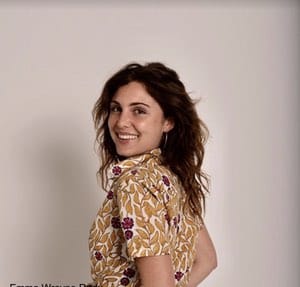 Emma Wrayne Rudy is a food connoisseur ready to indulge in every chance she gets to explore the beauty of New York City's endless food scene. Emma's writing style focuses on local hidden gems, food carts, food trucks, ma and pa joints, and eats that are affordable for everyone to try. With the diverse culture New York offers, she wants to emphasize on the foods that are less talked about and create a story behind each one. Growing up in Los Angeles at the age of seventeen Emma's curiosity for food started as she went to every restaurant she could and wrote reviews on her experience, the ambiance, and her meals. Moving to New York a year ago she is ready to take on the immense food culture New York City has to offer, and continues to dedicate her days to writing as much as she can to pursue her dream as a food writer and storyteller.