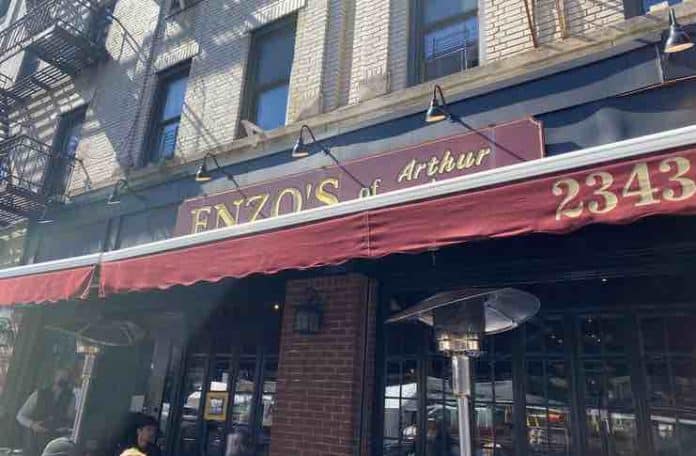 A Review by Faith Rein
It was my first visit to Enzo's of Arthur Avenue, in the Bronx Little Italy.
All my life living in NY I've never found myself in the Bronx apart from a Yankee game or two. 
It's now a year from the beginning of Covid and there's hope in the air as Spring is peaking in.
Lifting some restrictions and warmer weather makes you want to get out in NYC. 
Arthur Ave has been the destination I had always wanted to reach and a perfect weekend stroll.
This past weekend I did just that. 
The Bronx Little Italy: The True Little Italy?
The Bronx little Italy proudly boasts that they are the true little Italy. 
Bustling streets of families and couples out on a sunny weekend. Socially distant and masked the obvious go-to place is Enzo's. 
Directly across the street from Arthur Ave Market you get a sense you have stepped back in time to men sitting around drinking espresso smoking a cigar and watching the world walk by.
Shoppers in line for cannoli at the many bakeries nearby. 
The Center of it All: Enzo's of Arthur Avenue
You approach Enzo's and their beautiful outdoor seating and charming spacious indoor dining is in the center of it all. 
The staff greeted us immediately to offer temp taking and registering for contact tracing.  The new normal routine and happy to do so. 
Arbie our server sat us at the corner table. The best seat in the place was as reminded with a plaque on the wall stating this was Gil Teitel's Corner. 
An honor and reminder of a little Bronx history. The Teitel Brothers have been in the heart of the Bronx's Little Italy, at the corner of Arthur Avenue and East 186th Street, the family-owned business which opened in 1915.
Enzo's of Arthur Avenue is also a family-owned business for the past 17 years welcoming all old-established customers and new. 
I asked Maria who owns Enzo's with her husband how they have done this past challenging year. 
Graciously Maria spoke about how delivery only was difficult. Enzo's of Arthur Avenue is a destination, and no one was traveling for takeout. They pride themselves on having so many customers driving from Westchester and Brooklyn, but the lockdown kept everyone home. 
Outdoor space was limited, and NY winters were not always kind. 
Despite it all, she was able to maintain 40 employees on staff through it all. 
"They are family. We had to take care of them. "
A testament to strength and perseverance in such a difficult time. 
Calamari Alla Enzo
The family atmosphere is evident in the staff and how they make all their guests feel. 
The food is warm and a step above just comfort food. 
As recommended by Arbie we had the:
Calamari Alla Enzo – tossed in white wine, cherry peppers, arugula, mushrooms, and honey.
This was a must-have. It was lightly fried the way calamari should be. 
A sweet and savory bite that was close to the best calamari I ever had. 
SIGNATURE FRIED MEATBALLS
Beef and Veal meatballs topped with sautéed onions and hot peppers
A lovely meatball with a bit of a kick. 
Hot and spicy. 
When you hear they make their own pasta you have their pasta.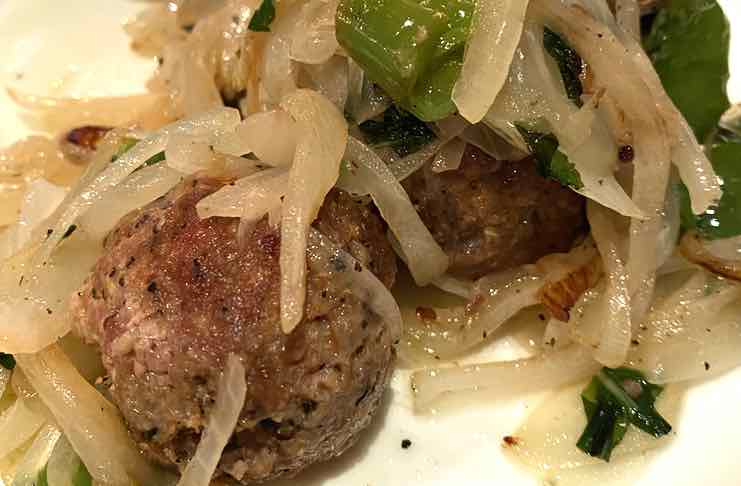 CLAM SAUCE
Chopped clams and vongole in either a red or white garlic and oil sauce
Beautiful pasta in a light clam sauce. Plate licking good
Enzo's menu is quite extensive and this afternoon I was totally undecided.
As I do in moments like this I offer a challenge to the server. 
What should I have? I like everything but want you to bring me your best dish. 
It was the best dish.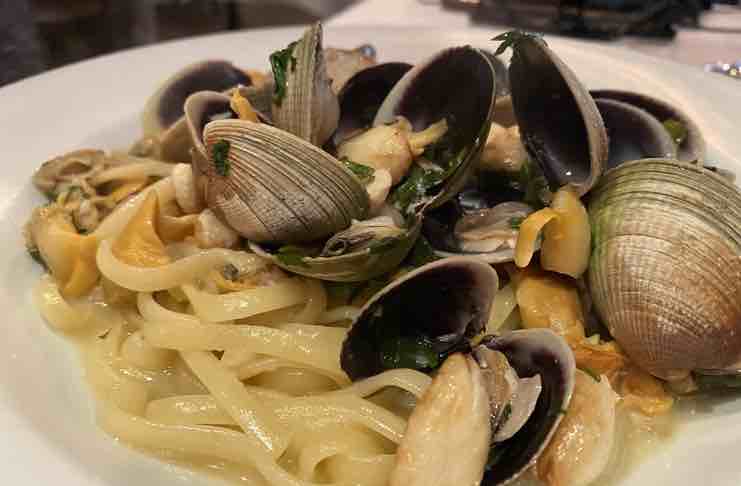 CHILEAN SEABASS MARECHIARA: This Is What I Would Order Again and Again
With clams, and mussels with fresh tomato.
I am a big fan of Chilean sea bass in miso sauce. 
Enzo's Chilean Sea Bass Marechiara was the brightest surprise of the day. 
The fish was cooked perfectly and sat as the star around mussels and clams in a delicious red sauce. 
This is what I would order again and again.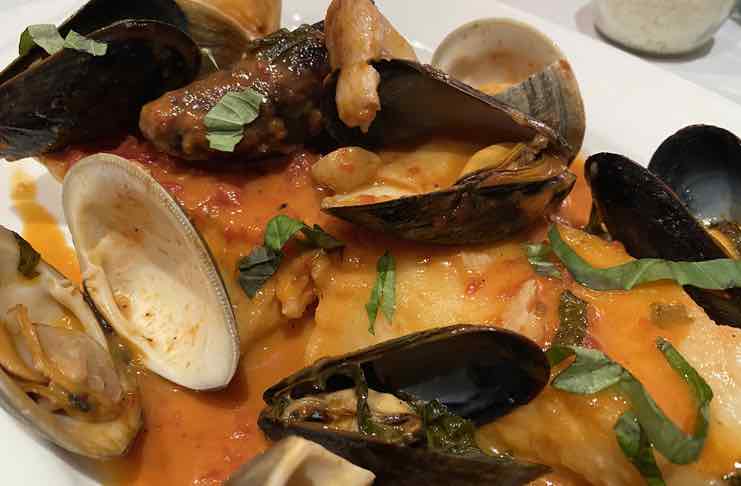 The afternoon was completed with PANNA COTTA and espresso to end this lovely visit to the iconic Arthur Ave.
It will take some time for NY to come back but we are. 
Restaurants that have survived need your help and we need them. 
Enzo's of Arthur Avenue is worth the destination.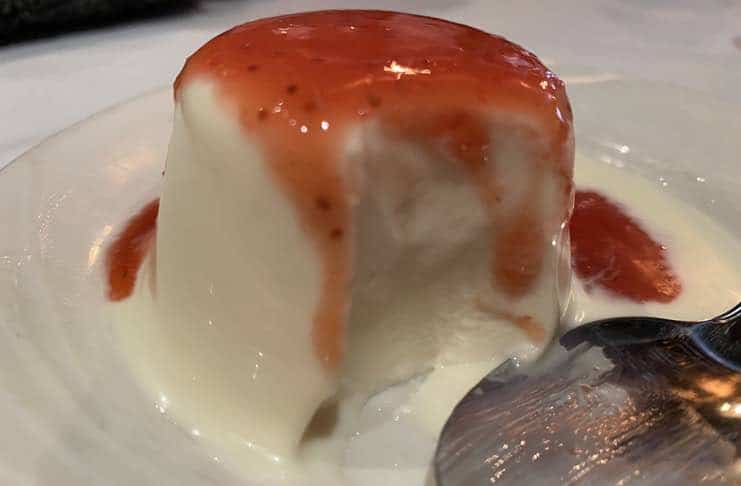 Where? Enzo's of Arthur Ave
2339 Arthur Ave, The Bronx Little Italy, Phone: (718) 733-4455
Want to read more of Faith's reviews? Check out her review of King Wang's or the one of Mighty Quinn's and Otto's Taco.
Living and loving in NYC, food has been a passion of hers. East Coast to West, Faith's goal is to explore and learn with the contribution of other like-minded foodies. Faith Rein has written for 2Girlsfromabar@blogspot.com. Youtube channel – faith.rein, love food love faith. You can find her @: Faith.rein/facebook (always looking to add friends) / faith rein@twitter / faith.rein@instagram / faith.rein@gmail.com