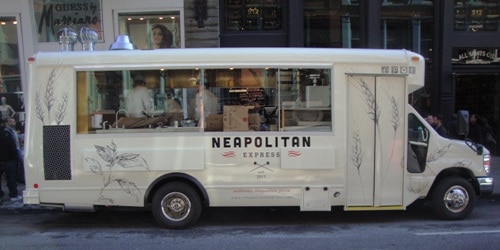 Feel like bufala pizza? A few weeks ago, we told you about the new Neapolitan Express pizza truck. It was touted NYC's first "green" truck, but that's not entirely true.
Nevertheless, they use compressed natural gas, which emits nearly 75% less carbon emissions than gas and diesel food trucks. That's a wonderful thing.
But we're here to talk about what really matters – the pizza!
During our NYSF First Look, we tried the Margherita Pizza and a Cioccolato Pizza for dessert. The pizzas (or is it pizzae?) were both very good.
Next on our list was the Bufala Pizza, made with buffalo mozzarella, which costs $9. Let's get cooking!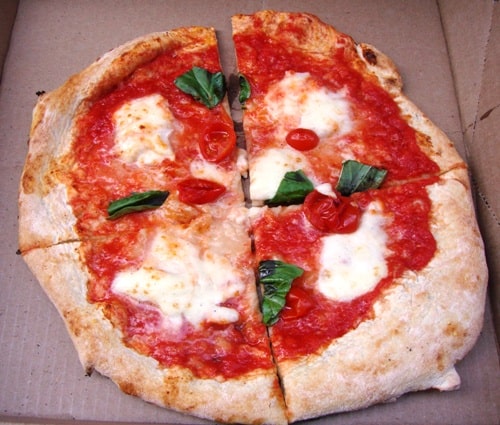 Speaking of cooking, there are two brand spanking new pizza ovens on the truck. They cook each pizza in 75 seconds, which is an important factor to keep lines down during the lunch rush.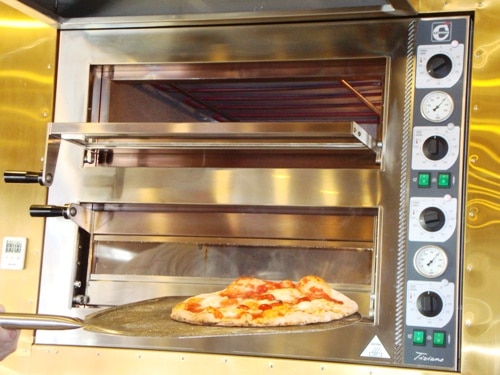 We previously mentioned the top of the pizza box is perforated cardboard. It's intended to be used as 4 plates if you eat outside.
The bufala pizza itself was very tasty.
The tomato sauce was not on the sweet side. It had more of that natural raw tomato taste, with possibly a smidgen of parmesan cheese hidden away in there.
There were some small grape tomato halves on top, in addition to a few leaves of basil.
The bufala mozzarella was thick and creamy and a little chewy. There was also some nice browning on half the mozzarella from the high heat of the pizza oven. There was a small difference between the regular and bufala mozzarella, but nothing huge.
In the pizza world, we prefer a thick crust to a thin crust, and this was a good crust. It was light and airy, with some parts more well done than others. Pizza is not supposed to be uniform. Some bites of crust were crisp, while others were more chewy.
Neapolitan Express officially opened on Friday, March 15th, but service has been irregular. The best way to find them is on twitter here or on our Mobile Munchies twitter feed, with lots of other great vendors. Their full menu is here.
If you like Nutella, we definitely recommend the Pizza Cioccolato for dessert…or lunch.