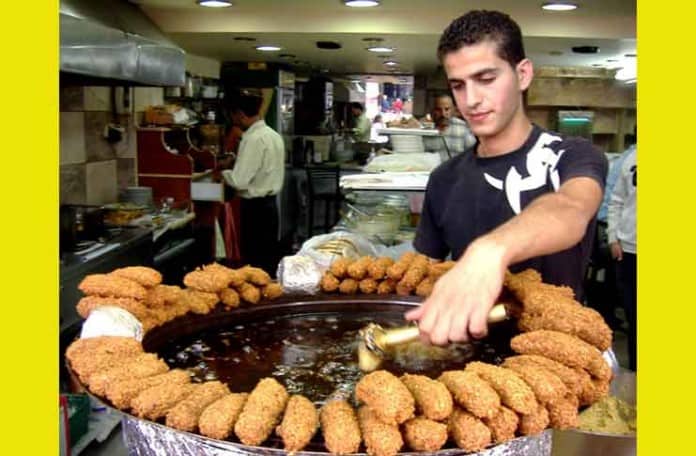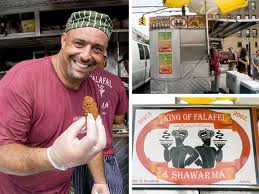 When you talk about the best street food vendors in New York, one name continually pops up – Fares "Freddy" Zeidaies a/k/a The King of Falafel and Shawarma.  Freddy is on the corner of 30th St and Broadway in Astoria, Queens and has such a large and loyal following, he's been a Vendy Award finalist three times – 2007, 2009 and again this year, 2010, but has not won the top award.  Will the third time be the charm?  Tune in to our Vendy Awards coverage on Sept 25th to find out.
We can't think of a more deserving New York Street Food Featured Vendor than the King of Falafel and Shawarma.  We recently had the opportunity to speak with Freddy.  Click through to find out why he is so popular, what he has planned for the Vendys this year, and the story behind his unusual oval-shaped falafel.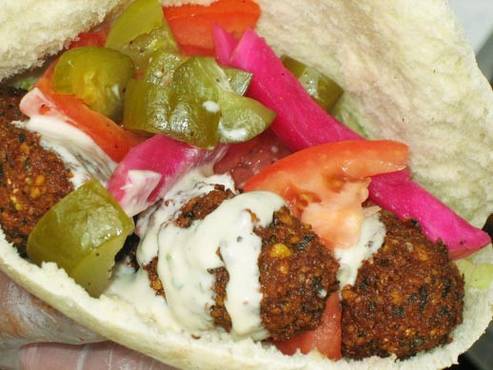 NYSF: When and where did you start the King of Falafel and Shawarma cart?
FZ: I started the business  in 2002 and have been on the corner of 30th St and Broadway in Astoria ever since.
NYSF: Did you have any prior food or business experience?
FZ: I had a coffee shop in NYC that opened in 1996 and I was the chef.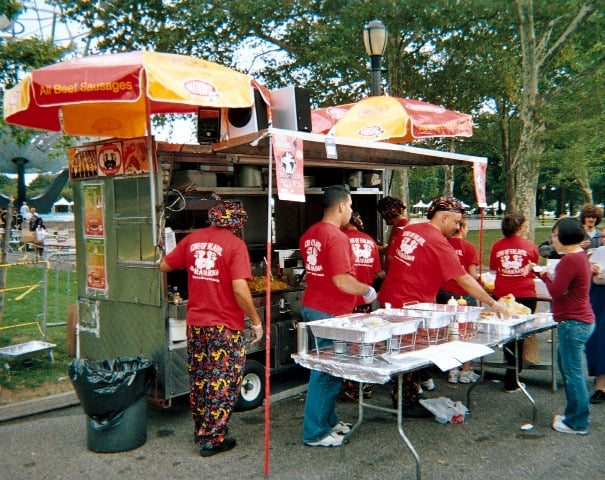 NYSF: What made you decide to open a food cart?
FZ: There were not a lot of places in the city to get falafel and shawarma back then. It's not like today.  I also wanted to see and serve people my food, and not be stuck in the kitchen.  I love being around people all day.
NYSF: You've had a lot of success with your cart. To what do you attribute your success?
FZ: We give people good quality food.  It needs to be good for them to come back. I love what I'm doing, and it comes through in the food.
NYSF: This is the 3rd time you've been nominated as a Vendy Award finalist.  Do you have anything special planned for this year?
FZ: I'm not going to change anything. I've been nominated because of the food I serve, and I'm not going to change that.  Last year, I was the last one to serve the judges, right at the end of the day, and closed up right after.  This year, I would like the judges to try my food earlier in the day.
NYSF: Your website has a lot of information on Arabic cooking, such as the various herbs and spices used, as well as a bunch of recipes. Are these your cart's recipes, or do you have your own secret recipes?
FZ: The recipes on my website are good, but I have my own secret recipes.  If you want my falafel, you have to come to my cart.  But the maklouba (upside down dish) recipe on the website I have served at the cart.
NYSF: What's the deal with your oval-shaped falafel? Everyone else does falafel balls.
FZ: Egg-shaped falafel has a better crust and is moister on the inside.  Round falafel get too crunchy and are not as moist on the inside as mine.  In the West Bank where I'm from, that's how they do it.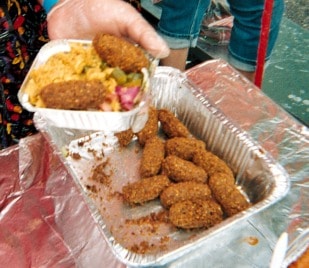 NYSF: What other types of food do you like to eat?
FZ: I love American food, especially steak.  I would love to spend a month in Texas just eating steak and BBQ.
NYSF: I know you're probably focused on the Vendy's in 2 weeks, but do you have any plans for the future?
FZ: A lot of people want me to open a cart in Manhattan, which I might do.  But I don't want to grow too much because then the quality suffers.  You need to keep the quality up to stay successful.  Once you're too busy and not concentrating on the food, the quality drops.
NYSF:  Do you have any advice for someone who wants to start a food cart?
FZ: Serve people as you would serve yourself. I think of my customers as family, and I serve them the same way I serve my family.
NYSF: Is there anything else you would like to say?
FZ: I just want to wish everyone luck at the Vendy Awards, and may the best food win.
NYSF: Thank you, and good luck at the Vendy's.  I'll see you there.
FZ: Thank you. I'm looking forward to it.
For the King of Falafel and Shawarma's website, click here.
Below is the video for the King of Falafel and Shawarma created by Food Curated for each of this year's Vendy Award Finalists.