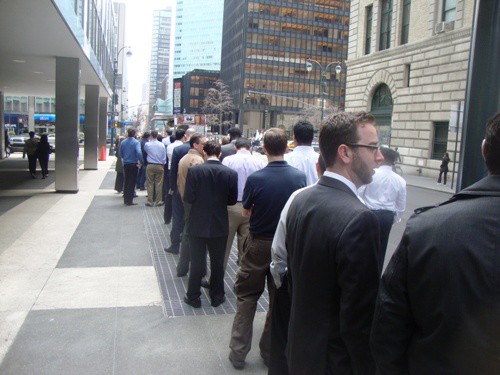 Yesterday was the first day for the King of Falafel & Shawarma's new cart in midtown, and it wasn't all smooth sailing.  Last night Freddy tweeted "okay first day just flashed away so fast , i may(be) did not please every one or i was not fast enough , but promise to make it better." It didn't help that two of his employees didn't show up on this special day – or should I say possible ex-employees.
I got to the NW corner of 53rd & Park at 1:05, so I have no one to blame but myself for having to get on the end of a 30-person line. Luckily, a friend happened to be 2 people ahead of me on line, so the time passed fairly quickly with someone to talk to.
I got a combo platter, which had falafel, chicken shawarma and beef-lamb shawarma.  At $8, the combo platter is the most expensive dish on the menu.  You can also get a falafel sandwich for $4, and there are several sandwiches and platters in between.
The sauces get a little messy because Freddy tops the platter with a warm pita bread before putting on the lid, but don't let that photo fool you – this was an awesome lunch!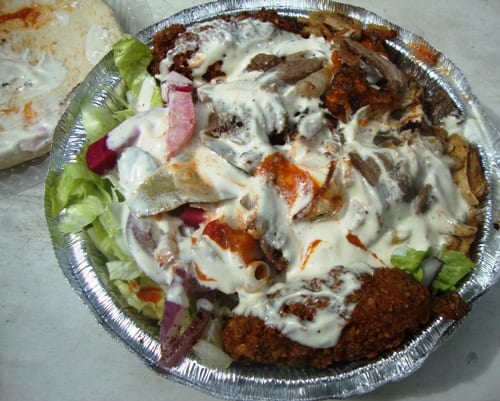 As I mentioned yesterday, there are a few things that set this cart apart.  One is obviously the falafel, which are oval shaped, crunchy on the outside, and soft and moist on the inside.  Definitely one of the best falafels around.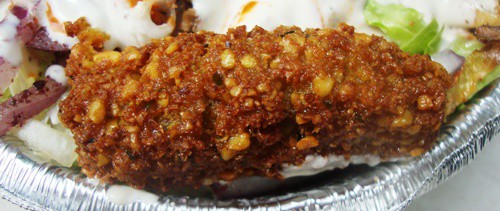 One of the other big differences here is the meat.  Freddy has two spits of meat on the cart that are actually layers of meat stacked and pressed together tightly and roasted.  You won't find any of that processed quasi-meat substance that passes for "lamb" on most halal carts.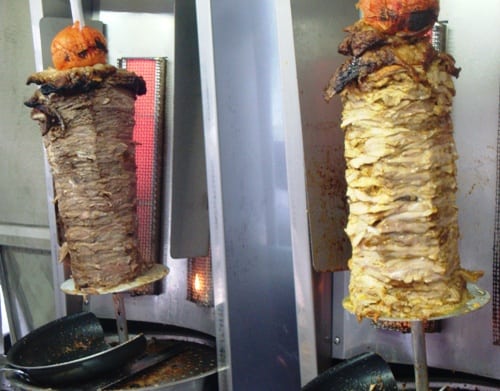 On top of each spit is a tomato, which helps keep the meat even moister when roasting.  When Freddy carves off the meat, there are both crispy and soft, juicy pieces of meat.
The other items in the platters and sandwiches are great too.  The pickle slices and (mild) pickled turnips add a lot of flavor and texture, in addition to the lettuce, tomato, onions and three (!) sauces.
Other than the wait, the food was mostly up to Freddy's exacting standards.  The only negative was that one of my two falafels was somewhat undercooked, but that's the only thing that wasn't excellent.  I'm sure that had something to do with being shorthanded on his first day.
We'll be checking back in with the King fr0m time to time (which is our way of trying everything on the menu).  It's a tough job, but someone has to do it.