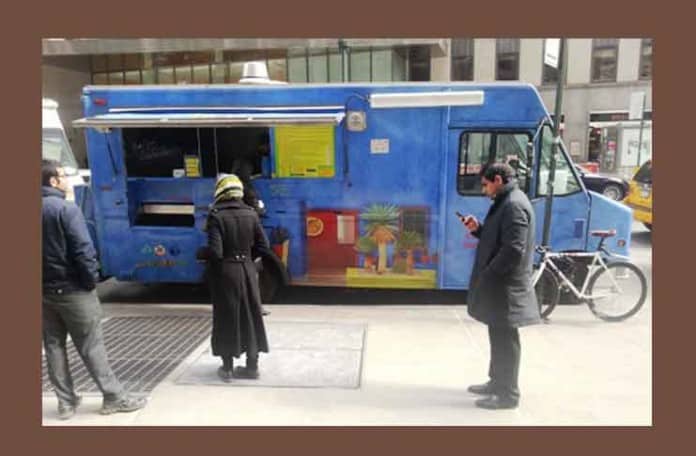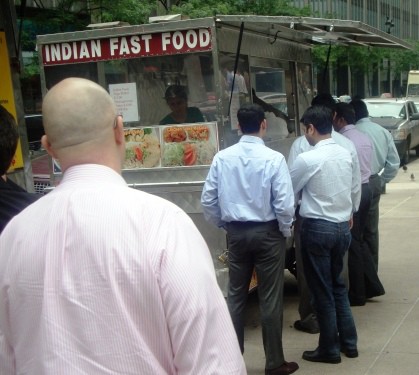 It's a beautiful day for some great New York Street Food from the vendors on the right and the trucks below.
Frites N Meats is giving away a month of free burgers to their 3,000th twitter follower, Kelvin Slush picked the winner of their new motto ("Kicking Slurpee's A$$ since 2010"), and Eddie's Pizza Truck is selling large pies for only $10 all day & night for the start of Monday Night Football (Go Jets!)
nyccravings – 45th st. between 6th and 7th ave. Ready by 11:30!
KELVINSLUSH – Trying a new schedule. Mon, Wed, & Fri @ 5th Ave & 22nd St from 12-8:30 pm. Rest of the week we'll move around so check Twitter. Check out our new kick a$$ motto: http://bit.ly/dlWnb1 Congrats to @sarahark for winning our motto competition! 10 free slushies for you!
fritesnmeats – Howdy Midtown West!! WERE BACK!! Let there be rejoicing!! Were on 46th b/w 5th & 6th. The Burger of the Week is The Italian Job! Simply spectacular! Chili Cheese Frites…need we say more? Ok. Angus Skirt Steak Sandwich! Were closing in on 3000 followers. The 3000th follower gets Free Burger Love for a Month!!! Who will it be?
StreetSweets – St Sweets is on 46th St & 6th Ave all day today, stop by & try an amazing cup of hot / iced coffee, if u don't love it we'll give ur $ back
RickshawTruck – Monday! Back to the grind. DUMBO: Washington + Front as well as World Trade: Barclay + Greenwich See you there! 11a-3p
schnitzeltruck – Morning Water & Broad streets! Missed us? We missed you but we're back and ready to schnitz. 11:30-2:00. Show love:) c u soon
EddiesPizzaNY – Its Mon (9/13) and we are on 26th btwn 11th and 12th until 3pm then off to 32nd and 3rd from 4pm until 9pm! This weeks special is eggplant ricotta pie! We are doing $10 Large Pies ALL DAY and NIGHT in honor of Monday Night Football! Call ahead your orders anytime today for the game tonight!
waffletruck – Happy Columbiaonday! We're on Broadway & 113th til 4:30pm. Verily, order like a renaissance fair character for 1 free dinges this day.
ETRAVAGANZA – Monday of total recovery..begin your week with our eggstravaganza special mexican wraps, nicely spicy, uknow @52 n park see ya!!
CalexicoCart – Today's special on Wooster & Prince is Chicken Mole, enjoy!
joyridetruck – Make your Monday morning coffee a cup of @stumptowncoffee. Joyride is on 52nd&6th from 7:30am-6:00pm.
CupcakeStop – Visit us inside the Limelight Marketplace on 6th and 20th, 1st floor or our bakery in Montclair NJ, 1 Greenwood Avenue!
VLAIC – Sorry but the Kagaroo is sick this morning 🙁 Panda is on 6th at 22nd til 10am then 23rd at 5th ave. We'll keep you posted on the ROO
Hoboken/Jersey City
TheKrave – Schedule – Hudson and Harborside, 12:00-2:00 Columbus and Marin, 5:30-9:30 http://tumblr.com/xl1ifwqxs
1 new tweet.
laspicetruck – The LST is taking some time off to launch Le Petite Temptations speciality desserts. Look for our specials on groupons!